Locative Games
Home - The Grid: Run Your City. How to Play. Fleck: Grow Your World! Turf Wars - a GPS Game for the iPhone. Pervasive game cheap phone mobile. Manhattan Story Mashup - Nokia Research Center Project. Meet your heart between (MYHT) Space Invaders pervasive game project - "Marshotron" PopSci's Future Of: Pervasive Games. Think Design Play. Booyah - Home. iSpy | A fun new way to explore your city. New generation of location games catches on. Location-based social networks Foursquare and Gowalla, which launched the craze of "checking in" at locations such as restaurants or stores in exchange for points, are often described as games.
But they're fairly simple examples as far as games go. Checking in at a bar with Gowalla (or Loopt, or Foursquare, or Brightkite) is done in a matter of seconds. But new location-based games are emerging that hope to command much more of a player's attention. Booyah's MyTown, for example, has over 2 million active users, and the population grows by more than 100,000 players per week. Slashwars. Home | IGFEST. Log - design, cities, physical & social interaction, play. Books I've Read in 2011 In Articles on 9 January 2012 with Comments Off Thought I'd do this again.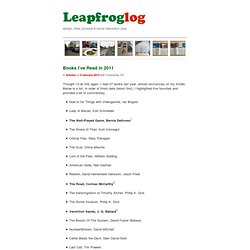 I read 27 books last year, almost exclusively on my Kindle. Below is a list, in order of finish date (latest first). I highlighted five favorites and provided a bit of commentary. The Wild Rumpus. Hubbub – physical, social games for public space. Urban games festival. Log - The theory and practice of urban game design. The Theory and Practice of Urban Game Design In Articles on 23 January 2009 tagged cities, conceptualisation, DGG, education, game design, HKU, ideation, NLGD, play, seminars, urban games, urbanism, VNA, workshops with 7 comments A few weeks ago NLGD asked me to help out with an urban games 'seminar' that they had commissioned in collaboration with the Dutch Game Garden.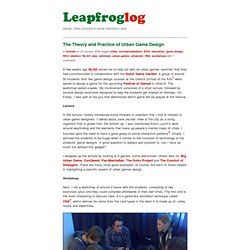 A group of around 50 students from two game design courses at the Utrecht School of the Arts were asked to design a game for the upcoming Festival of Games in Utrecht. The workshop lasted a week. My involvement consisted of a short lecture, followed by several design exercises designed to help the students get started on Monday.
New Games for New Cities at FutureEverything – Hubbub. Chromaroma. IPerG - Integrated Project of Pervasive Games. Pervasive Games - gaming in physical space. Location-based game. A map of players' trails in a location-based game.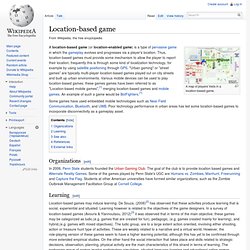 A location-based game (or location-enabled game) is a type of pervasive game in which the gameplay evolves and progresses via a player's location. Thus, location-based games must provide some mechanism to allow the player to report their location, frequently this is through some kind of localization technology, for example by using satellite positioning through GPS. About the Challenge. ARIS - Mobile Learning Experiences - Creating educational games on the iPhone.
My Grove by Kranky Panda Studios. Shadow Cities - Magical location based MMORPG for iPhone, iPod touch and iPad. Situationist App By Benrik. Geo Wars App. Parallel Kingdom. GingerSquid. Tourality – The Ultimate Outdoor GPS Game. The Situationist – props & rules. Gamification has been under well deserved fire, not least because so many implementations end up as a soulless retrofitting of points and badges.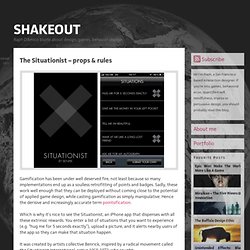 Sadly, these work well enough that they can be deployed without coming close to the potential of applied game design, while casting gamification as simply manipulative. Hence the derisive and increasingly accurate term pointsification.
---