Locative Games
Home - The Grid: Run Your City
The beauty of Alternate Reality Games is that, because the story is spread across multiple platforms, it doesn't matter where you get started. You can discover the story world at your own pace, regardless of your entry point. That being said, The Miracle Mile Paradox consist of two main components: the online world and the live experience. All you need to do is follow what happens with our main character: Rexford Higgs. This is Rex. He found a patent for an old mysterious contraption.
How to Play
Turf Wars - a GPS Game for the iPhone
pervasive game cheap phone mobile
Manhattan Story Mashup - Nokia Research Center Project
Meet your heart between (MYHT)
Space Invaders pervasive game project - "Marshotron"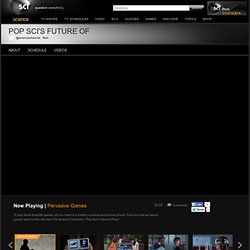 PopSci's Future Of: Pervasive Games
Now Playing | Pervasive Games 142 To play these futuristic games, all you need is a healthy curiosity and a smart phone. Find out how pervasive games work on this clip from The Science Channel's, "Pop Sci's Future of Play." playclip02:22 PopSci's Future Of Pervasive Games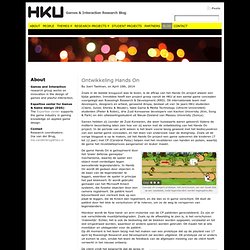 Think Design Play
By Lies van Roessel, on November 22nd, 2013 Afgelopen week hebben we in Enschede het Hands On project afgetrapt. In dit project gaat HKU G&I samen met Roessingh Research & Development (RRD) werken aan een game voor kinderen met Cerebrale Palsy. Met deze game kunnen kinderen hun fijne motoriek trainen als onderdeel van hun fysiotherapie. RRD is een onafhankelijke organisatie in Enschede die zich specialiseert zich in de inzet van technologie binnen revalidatie. Bij GATE Project Dream heeft Jaap Buurke, clustermanager bij RRD, al deelgenomen in de klankbordgroep.
iSpy | A fun new way to explore your city
Location-based social networks Foursquare and Gowalla, which launched the craze of "checking in" at locations such as restaurants or stores in exchange for points, are often described as games. But they're fairly simple examples as far as games go. Checking in at a bar with Gowalla (or Loopt, or Foursquare, or Brightkite) is done in a matter of seconds. But new location-based games are emerging that hope to command much more of a player's attention. Booyah's MyTown, for example, has over 2 million active users, and the population grows by more than 100,000 players per week.
New generation of location games catches on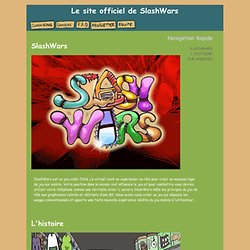 SlashWars est un jeu qui utilise tout la puissance du système d'exploitation Android Toujours connecté SlashWars est un « persistant game », le monde virtuel continu d'évoluer même lorsque le joueur ne joue pas. Il a donc besoin d'une connexion à internet pour interagir avec ce monde.
slashwars
Like all great festivals sometimes we need to take a year off to let the land recover. This year igfest will not be parading through the streets with giant cardboard death robots nor hurling paint bombs at you from afar. But it's ok, the rest is for the best. Next year we will be back with the baddest igfest ever. In the mean time you can still go and play 2.8 Hours Later everyone's favorite giant citywide zombie chase game.
Home | IGFEST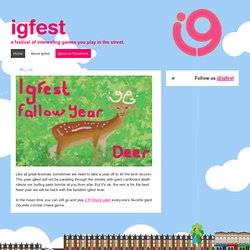 log - design, cities, physical & social interaction, play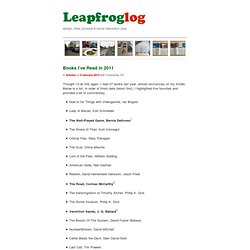 Books I've Read in 2011 In Articles on 9 January 2012 with Comments Off Thought I'd do this again. I read 27 books last year, almost exclusively on my Kindle. Below is a list, in order of finish date (latest first). I highlighted five favorites and provided a bit of commentary.
The Wild Rumpus
Hubbub – physical, social games for public space
urban games festival
log - The theory and practice of urban game design
The Theory and Practice of Urban Game Design In Articles on 23 January 2009 tagged cities, conceptualisation, DGG, education, game design, HKU, ideation, NLGD, play, seminars, urban games, urbanism, VNA, workshops with 7 comments A few weeks ago NLGD asked me to help out with an urban games 'seminar' that they had commissioned in collaboration with the Dutch Game Garden. A group of around 50 students from two game design courses at the Utrecht School of the Arts were asked to design a game for the upcoming Festival of Games in Utrecht. The workshop lasted a week. My involvement consisted of a short lecture, followed by several design exercises designed to help the students get started on Monday.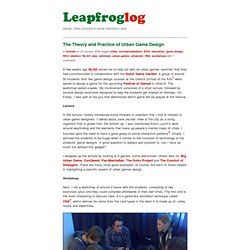 New Games for New Cities at FutureEverything – Hubbub
IPerG - Integrated Project of Pervasive Games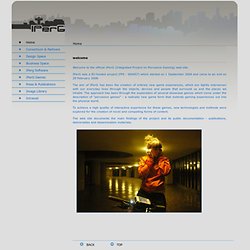 Welcome to the official IPerG (Integrated Project on Pervasive Gaming) web site. IPerG was a EU funded project (FP6 - 004457) which started on 1 September 2004 and came to an end on 29 February 2008. The aim of IPerG has been the creation of entirely new game experiences, which are tightly interwoven with our everyday lives through the objects, devices and people that surround us and the places we inhabit. The approach has been through the exploration of several showcase games which come under the description of "pervasive games" - a radically new game form that extends gaming experiences out into the physical world.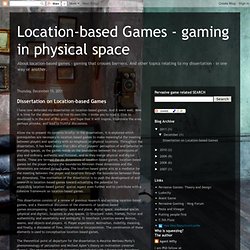 I have now defended my dissertation on location-based games. And it went well. Now it is time for the dissertation to live its own life. I invite you to read it (link to download is in the end of this post), and hope that it will inspire, illuminate the area, perhaps provoke, and lead to fruitful discussions.
Pervasive Games - gaming in physical space
Location-based game
A map of players' trails in a location-based game. A location-based game (or location-enabled game) is a type of pervasive game in which the gameplay evolves and progresses via a player's location. Thus, location-based games must provide some mechanism to allow the player to report their location, frequently this is through some kind of localization technology, for example by using satellite positioning through GPS.
About the Challenge
ARIS is a user-friendly, open-source platform for creating and playing mobile games, tours and interactive stories. Using GPS and QR Codes, ARIS players experience a hybrid world of virtual interactive characters, items, and media placed in physical space. Make Games ARIS is a platform for creating, not just playing. Get involved with us as we create layers of story, science, art and history all over the globe! Launch the Editor Now!
My Grove by Kranky Panda Studios
Shadow Cities - Magical location based MMORPG for iPhone, iPod touch and iPad
Situationist App By Benrik
Geo Wars App
Parallel Kingdom
GingerSquid
Tourality – The Ultimate Outdoor GPS Game
The Situationist – props & rules