Library Blogs
Librarians'-blogs. Annoyed Librarian Bloggers? I'm going to take a break today from annoying you, or boring you, or entertaining you, or puzzling you, or whatever it is I usually do to you.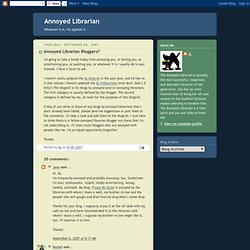 Instead, I have a favor to ask. I haven't really updated the AL blogroll in the past year, and I'd like to. (I also realize I haven't updated the AL Folksonomy since April; bad 2.0 kitty!) The blogroll is for blogs by annoyed and/or annoying librarians. Librarian in Black Blog – Sarah Houghton-Jan. Earlier this week, California Governor Jerry Brown appointed Greg Lucas as the new California State Librarian.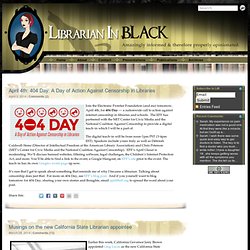 The appointment requires state senate confirmation, which has not happened yet. Lucas is not a librarian, nor has he ever (per information readily available online) worked in a library, volunteered for a library, served on a library Board or Commission, or…well…had any involvement with libraries at all. So what has Lucas done? Stories from the cloud.
---