Cloud reference
How to Avoid the Perils of Virtualization and Cloud Stall | Vision beyond the buzzword "Cloud" Romain Chanut, Hedera Technology : Avec Kanopya le Cloud Computing ne rime pas avec externalisation - Global Security Mag Online | Qui parle d'Hedera Technology ? Why Open Source Is the Key to Cloud Innovation | Vision beyond the buzzword "Cloud" The #OpenNebula #Cloud Corner | Behind the Cloud... La scalabilité des infrastructures informatiques expliquée par des Legos | Qui parle d'Hedera Technology ? HederaTech at Cloud Computing World Expo | Hedera Technology | Qui parle d'Hedera Technology ?
Temps orageux au dessus du "cloud à la française" Le "cloud computing à la française", le projet baptisé Andromède qui doit être financé par le Grand Emprunt, vit un nouveau psychodrame.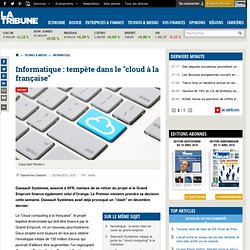 Deux projets sont toujours en lice pour obtenir l'enveloppe initiale de 135 million d'euros qui pourrait d'ailleurs être augmentée: l'un regroupant Orange et Thalès, l'autre, Dassault Systèmes et SFR. Vendredi, le comité d'investissement du Fonds pour la société numérique (FSN) s'est réuni pour examiner les deux copies. Private Cloud infographics | Vision beyond the buzzword "Cloud" Hedera Technology: Please welcome our new mas... Gestion de Cloud : Hedera, la petite start-up française qui monte. Le logo de Kanopya, la solution d'orchestration d'Hedera.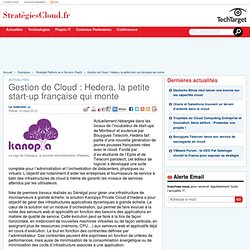 Actuellement hébergée dans les locaux de l'incubateur de start-ups de Montreuil et soutenue par Bouygues Telecom, Hedera fait partie d'une nouvelle génération de jeunes pousses françaises nées avec le cloud. Fondé par d'ex-étudiants de l'Epita et de Telecom paristech, cet éditeur de logiciel a développé une suite complète pour l'administration et l'orchestration de datacenters, physiques ou virtuels. L'objectif est notamment d'aider les entreprises et fournisseurs de service à bâtir des infrastructures de cloud à même de garantir les niveaux de services attendus par les utilisateurs. Big Data and Virtualization – Where the Twain Shall Meet | Cloud Computing Journal | Big Data News. Big Data et les 10 tendances stratégiques pour 2012 par le Gartner — BPM Bulletin | Vision beyond the buzzword "Cloud"
Jean Michel Billaut: Connaissez-vous Jérémie Bourdoncle from Paris ? Hedera Technology booste l'informatique des entreprises grâce à son "private cloud" | Hedera Technology. Big Data and Virtualization – Where the Twain Shall Meet | Cloud Computing Journal | Vision beyond the buzzword "Cloud" Hedera Technology. Hedera Technology. Cloud Computing Adoption is Bottom-Up - Thinking Out Cloud | Vision beyond the buzzword "Cloud" CloudStack 3, une solution open source d'orchestration de cloud par Citrix. Cet article a été publié il y a 1 an 11 mois 11 jours, il est donc possible qu'il ne soit plus à jour.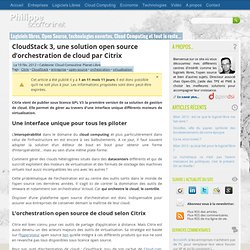 Les informations proposées sont donc peut-être expirées. Citrix vient de publier sous licence GPL V3 la première version de sa solution de gestion de cloud. Le cloud en mal d'interopérabilité::Virtualisation de serveurs::LeMagIT | Vision beyond the buzzword "Cloud" 5 raisons de maîtriser votre cloud - Philippe Scoffoni | Perspective&Vision beyond the buzzword "Cloud"
Is Cloud the "Railway of the 21st Century" | Perspective&Vision beyond the buzzword "Cloud" Cloud Computing Market Hot, But How Hot? Estimates are All Over the Map - Forbes | Perspective&Vision beyond the buzzword "Cloud" SyncNI.com - Northern Ireland Technology, Science & Innovation Community | Perspective&Vision beyond the buzzword "Cloud"
Eucalyptus Launches Test Lab at CoreSite » Data Center Knowledge | Behind the Cloud... Cloud Computing Goes Far Beyond Virtualization | Cloud Computing Journal | Perspective&Vision beyond the buzzword "Cloud" Open Cloud Computing Interface |  About | Behind the Cloud... We are on the same battlefield: VMware Vs. The Old School: Data Center Management Battle - Software - Software Infrastructure - Informationweek | Behind the Cloud...
What is Apache Hadoop? - O'Reilly Radar | Behind the Cloud... Ten cloud computing problems that could break an implementation. Any IT system has the potential to go in the wrong direction, but the new versatility of cloud services will introduce whole new ways to go off the rails.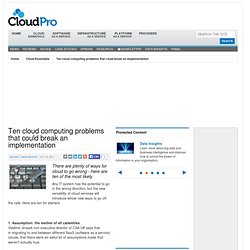 Here are ten for starters 1. Assumption: the mother of all calamitiesVladimir Jirasek non executive director of CSA UK says that in migrating to and between different SaaS (software as a service) clouds, that there were an awful lot of assumptions made that weren't actually true. "IT managers don't realise that in IaaS (infrastructure as a service) the responsibility to manage operating systems and application still rest on their shoulders," says Jirasek.
OpenNebula Releases OpenNebula 3.2 for Data Center Virtualization and Private Cloud Computing. The OpenNebula Project is proud to announce the release of a new stable version of its widely deployed open-source management platform for enterprise data center virtualization.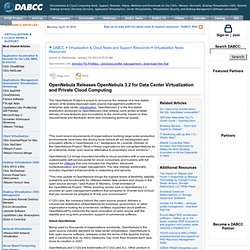 OpenNebula3.2 is the first stable distribution produced by OpenNebula's new release cycle aimed at faster delivery of new features and innovations to the community, based on their requirements and feedback, while also increasing technical quality. "The most recent requirements of organizations building large scale production environments have been the driving force behind all our development and innovation efforts in OpenNebula 3.2," saidIgnacio M. Les entreprises françaises affichent le plus fort taux d'adoption du Cloud par en Europe. Le cabinet IDC estime en janvier que le taux d'adoption du Cloud Computing par les entreprises était plus fort en France qu'ailleurs en Europe sur 2011 !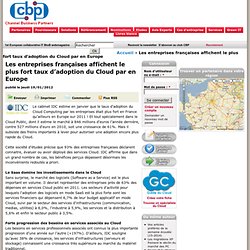 Et tout spécialement dans le Cloud Public, dont il estime le marché à 846 millions d'euros l'année dernière, contre 527 millions d'euro en 2010, soit une croissance de 61%. Mais il subsiste des freins importants à lever pour autoriser une adoption encore plus rapide du Cloud. AMD tente la physicalisation. Par Frédéric Bordage - 17/01/2012 Physicalisation.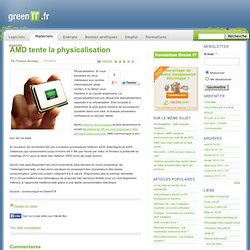 Si vous travaillez ou vous intéressez aux centres informatiques (data center), il va falloir vous habituer à ce nouvel anglicisme. La physicalisation est une démarche diamétralement opposée à la virtualisation. Elle consiste à assembler le plus grand nombre de processeurs possible dans une baie. 6 Predictions for Green IT in 2012. Improving the efficiency of IT tops the list for enterprises as they go into 2012, according to Craig Symons, the principal analyst at Forrester Research.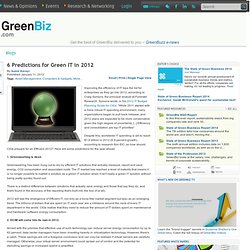 Symons wrote, in his 2012 IT Budget Planning Guide for CIOs: "While 2011 started with a more robust IT spending environment, many organizations began to pull back midyear, and 2012 plans are expected to be more conservative given the high degree of uncertainty. [...] Efficiency and consolidation are top IT priorities" Despite this, worldwide IT spending is set to reach $1.8 trillion in 2012 (6.9 percent growth), according to research firm IDC, so how should CIOs prepare for an Efficient 2012? Here are some predictions for the year ahead. 1.
10 cloud startups to watch in 2012 — Cloud Computing News. Les entreprises françaises en avance sur le cloud… privé. La dernière étude cloud réalisée par IDC auprès de 440 entreprises européennes montre un niveau d'adoption du cloud très élevé en France, avec 93 % des entreprises françaises qui disent connaître, évalue ou avoir déjà mis en oeuvre des solutions de cloud.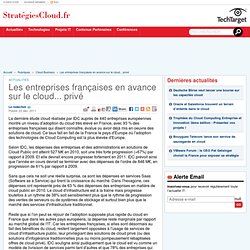 Ce taux fait en fait de la France le pays d'Europe où l'adoption des technologies de Cloud Computing est la plus élevée d'Europe. Selon IDC, les dépenses des entreprises et des administrations en solutions de Cloud Public ont atteint 527 M€ en 2010, soit une très forte progression (+67%) par rapport à 2009. Will PaaS Finally Bring Open Source Love to the Enterprise? | Open Source and Cloud Computing. Open source platform as a service (PaaS) platforms are one of the most exciting topics in the software industry nowadays.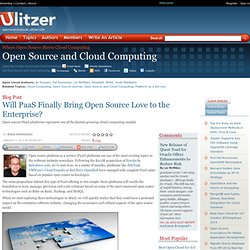 Following the $212M acquisition of Heroku by Salesforce.com, we've seen how, in a matter of months, platforms like dotCloud, VMWare's Cloud Foundry or Red Hat's OpenShift have emerged with complete PaaS suites based on popular open source technologies. The value proposition behind this type of PaaS offering is very simple: these platforms will enable the foundation to host, manage, provision and scale solutions based on some of the most renowned open source technologies such as Ruby on Rails, Hadoop, and MySQL. Emploi Expert administration d'environnement Microsoft - RemixJobs. Expert en administration d'environnement Microsoft at Hedera Technology in metro Porte de Montreuil - Job.
ETUDE / Clarity in the Cloud. LE CERCLE. Le Cloud Computing est un phénomène en voie d'adoption au sein des entreprises qui se déclarent prêtes à lui consacrer plus d'un cinquième de leur budget informatique en 2012. Principal fait marquant : l'adoption du Cloud, au-delà des avantages compétitifs que procure cette technologie, est désormais motivée par une nécessité opérationnelle. Le Cloud tend à s'étendre dans les entreprises qui affirment clairement leur volonté de bénéficier de cette technologie. 74 % des sociétés interrogées ont ou vont démarrer dans l'année qui vient un projet Cloud. Le résultat est plus marqué en France (80% des entreprises interrogées), dont un tiers envisage un usage du Cloud sur des domaines du cœur de métier (core business ou core IT).
Les applications du Cloud les plus courantes sont : la messagerie électronique, le CRM (gestion des ventes), la gestion des ressources humaines et les points de vente. Is The IaaS/PaaS Line Beginning To Blur? Forrester's survey and inquiry research shows that, when it comes to cloud computing choices, our enterprise customers are more interested in infrastructure-as-a-service (IaaS) than platform-as-a-service (PaaS) despite the fact that PaaS is simpler to use. Well, this line is beginning to blur thanks to new offerings from Amazon Web Services LLC and upstart Standing Cloud.
The concern about PaaS lies around lock-in, as developers and infrastructure and operations professionals fear that by writing to the PaaS layer's services their application will lose portability (this concern has long been a middleware concern — PaaS or otherwise). As a result, IaaS platforms that let you control the deployment model down to middleware, OS and VM resource choice are more open and portable. The tradeoff though, is that developer autonomy comes with a degree of complexity.
Emploi Chef de Projet Développement Open-Source - H/F - RemixJobs. Infographie : La montée du Cloud Computing. C'est au tour d'AMD de publier une infographie sur le thème du Cloud Computing. Cette image fait effectivement un état des lieux de l'adoption du Cloud par les entreprises dans le monde.Elle essaye de répondre à la question suivante : La confiance dans le Cloud augmente, qu'est-ce qui nous retient ?
Cette infographie aborde des thèmes très variés comme : Le nombre d'organisation utilisant le Cloud en Europe, US et Asie Comme vous pourrez le constater, c'est en Europe (et il aurait été intéressant de voir le résultat pour la France) qu'il y a le plus d'entreprises qui ne se sentent pas concernées par le Cloud. Ce qui confirme notre retard par rapport aux États-Unis. Vers une explosion du trafic des données transitant par le cloud. Mercredi 30 novembre 2011 Dans son étude Cloud Index, Cisco signale que le trafic de données au sein des datacenters va être multiplié par 4 d'ici 2015 et que les données transitant par le cloud seront multipliées par 12. En 2015, le trafic mondial au sein des datacenters devrait donc atteindre les 4,8 zettaoctets. Rappelons qu'un zettaoctet est égal à 2 puissance 70 octets, mais aussi à 66,7 milliards d'heures de musique en streaming, 15,5 milliards d'heures de web-conférence d'entreprise avec une webcam ou encore 4,8 milliards d'heures de visionnage de vidéo (HD) en streaming.
Présentation du private cloud et de Hedera Technology, sur BFM radio. 400_191111_10. BFM - L'Atelier Numérique. Emploi Ingénieur en Développement Système - H/F - RemixJobs. Kanopya's Profile - GitHub. Cloud Scheduler | Your HTC jobs on the cloud. Cloud Expo Daily. Cloud computing can cut carbon emissions by half, report finds | Environment. Steve Jobs, Apple's CEO, shows an image of the new storage centre for iCloud at the Worldwide Developers Conference.
Photograph: Marcio Jose Sanchez/AP Blue-chip companies could reduce their carbon emissions by 50% if they migrate their data storage operations to the cloud, a new study says. The study conducted by the Carbon Disclosure Project in London focussed on large IT companies in France and the UK and found that they could achieve large cost savings and carbon reductions by 2020 if they moved their IT systems to shared data networks.
Big IT companies are also the developers of cloud services and they are keen to see expansion of the services. The study follows a recent forecast that use of cloud services could triple in the next two years. Confused about IaaS, PaaS, and SaaS? Check out this infograph. Hedera technology : des solutions de « cloud » pour bien gérer les ressources informatiques de votre entreprise | Club Initiative. The Microsoft Private Cloud Paper. Why Zynga moved from AWS to its own private cloud - zCloud. Hedera | Hedera Technology libère l'énergie informatique. Share photos and videos on Twitter.
Share photos and videos on Twitter. Share photos and videos on Twitter. Share photos and videos on Twitter. Share photos and videos on Twitter. Emploi Grand Architecte Web H/F - RemixJobs. TinyURL.com - shorten that long URL into a tiny URL. Le Cloud à la française ! Large-Scale Web Site Infrastructure and Drupal. Costing out the Cloud - Home. Private Cloud Choices.
---