Humor
We count bodies, so you don't have to.
So it turns out all the fuss over the TSA's full-body scanners was a lot of hooey cooked up by hacky cable media and Internet dweebs with overactive imaginations . That hasn't stopped folks from trying to profit off the whole unlovely ordeal. Exhibit A: TSA protest undies by Tim Geoghegan and Matthew Ryan. The undies are printed directly over your naughty bits, some in metallic ink that's theoretically visible under the flash of an X-ray. The image: text of the Fourth Amendment.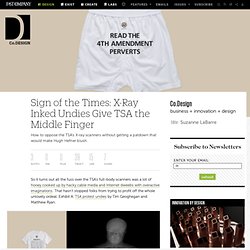 Sign of the Times: X-Ray Inked Undies Give TSA the Middle Finger | Co.Design
Facebook pranks: Trolling your friends on Facebook | Top Tier Tactics
What if conclusions were windows that you jumped out of, instead of on to? Who invented Mondays, anyway? Was it God? Was it Thomas Jefferson?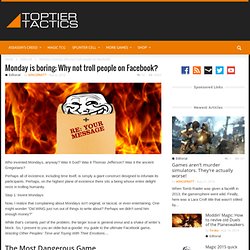 Moustaches make a difference Advertising Agency: TBWA\Singapore, Singapore Creative Directors: Hagan de Villiers, Gary Steele Art Directors: Reginald Ocampo, Danny Teo Copywriters: James Holman, Martin Loh Illustrator: Reginald Ocampo, Roger Tan Developers: Tony Chew, Sean Tan Production Managers: Sally Sim, Allen Pattiselanno Account Service: Jaclyn Lee, Alrick Dorett Published: November 2010 Wonderfull ads for Movember . 29th of November 2010 via Joel Probably Related