Jobboersen
Listing of International Development Jobs, Careers, Vacancies
These are the latest global vacancies submitted to Eldis and aggregated from the job pages of development organisations and services around the world. You can submit individual job adverts to Eldis using our submission form or contact us for information on how to get your jobs advertised through our services. We review each advert submitted to us to try to ensure the jobs included here are genuine and appropriate.
Jobs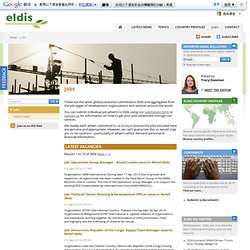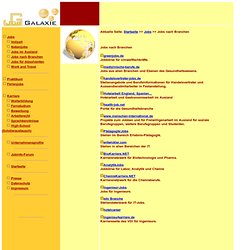 Job Jobs Marketing Hotelarbeit eCommerce Banken Industrie Pharma Chemie IT Beratung
Aktuelle Seite: Startseite >> Jobs >> Jobs nach Branchen Jobs nach Branchen greenjobs.de Jobbörse für Umweltfachkräfte. medizinische-berufe.de Jobs aus allen Branchen und Ebenen des Gesundheitswesens.
Jobbörsen in der EU - Arbeiten in Europa
Hier finden Sie eine Übersicht von über 300 europäischen Jobbörsen. Die Jobbörsen sind nach Ländern unterteilt. Zusätzlich finden Sie noch weiterführende Informationen zu den Gesundheitssystemen ausgewählter Länder. ESS-Europe.de dient als erste Anlaufstelle für Personen die eine Karrierestation im europäischen Ausland planen. In der rechten Spalte des jeweiligen Landes finden Sie noch weiterführende Informationen zu den Sozialsystemen des ausgewählten Landes. Die Seite wird nach und nach ausgebaut.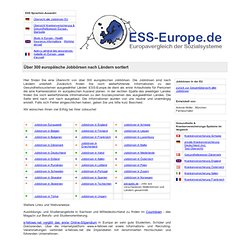 Jobkatalog - Finden Sie Schritt für Schritt Ihren Job, durch Eingrenzung der Suchkriterien. Jobs & Stellenanzeigen Schritt für Schritt mit dem Monster Job-Navigator finden. | Jobsuche online Monster.de
Stellenangebote aus den Bereichen Bildung/ Erziehung/ Soziale Berufe - stellenanzeigen.de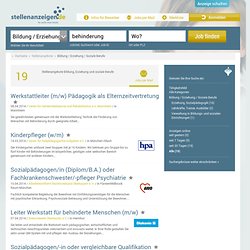 » Startseite » Stellenangebote » Bildung / Erziehung / Soziale Berufe Stellenangebote Bildung, Erziehung und soziale Berufe Jobs per Mail