Politics
Florida Supreme Court smacks down Rick Scott power grab. [ Ruling in favor of a blind food stamp recipient, the Court said she had standing as a citizen and taxpayer to challenge the executive order, and that: The separation of powers doctrine is founded on mutual respect of each of the three branches for the constitutional prerogatives and powers of the other branches.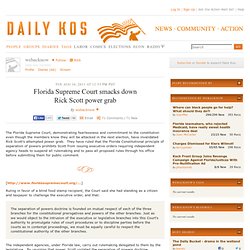 Just as we would object to the intrusion of the executive or legislative branches into this Court's authority to promulgate rules of court procedures or to discipline parties before the courts as in contempt proceedings, we must be equally careful to respect the constitutional authority of the other branches. The independent agencies, under Florida law, carry out rulemaking delegated to them by the legislature. Michele Bachmann's Holy War | Rolling Stone Politics. Warren Buffett: I 'Should Be Paying A Lot More In Taxes'
WASHINGTON -- Billionaire Warren Buffett rebutted claims that the Obama administration is unjustly hurting business orders with high taxes by saying that in fact, the wealthy have never had it so good.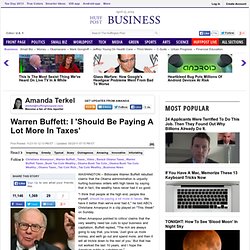 "I think that people at the high end, people like myself, should be paying a lot more in taxes. We have it better than we've ever had it," he told ABC's Christiane Amanpour in a clip played on "This Week" on Sunday. When Amanpour pointed to critics' claims that the very wealthy need tax cuts to spur business and capitalism, Buffett replied, "The rich are always going to say that, you know, 'Just give us more money, and we'll go out and spend more, and then it will all trickle down to the rest of you.'
---