Editors
ZuluPad ZuluPad is a notepad on crack. It's a place to jot down class notes, appointments, to-do lists, favorite websites, annotated bookmarks, pretty much anything you can think of. The great thing about ZuluPad is that it combines the best parts of a notepad with the best parts of a wiki, a concept made popular by Wikipedia . The basic idea has been called a personal wiki or a desktop wiki. Say for instance, you're a music major, and you're studying Bach. You've taken notes on Bach in ZuluPad, and after a long 16 weeks have finally completed the semester.
UltraEdit/UltraCompare
EditPadPro
Notepad2
Current Release: Version 4.2.25 Development Version: 5.0.26-beta4 Project last updated: October 28, 2012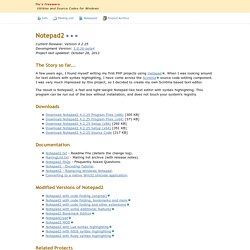 XML Notepad
Wingware Python IDE
Komodo is the professional IDE for major web languages, including Python, PHP, Ruby, Perl, HTML, CSS and JavaScript. You'll enjoy developing faster with Komodo IDE's complete set of tools. Released! See What's New » Advanced Editor Code folding, split view, multi-window editing, smart syntax checking and highlighting.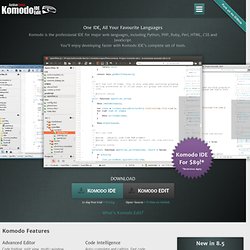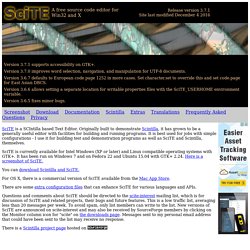 SciTE is a SCIntilla based Text Editor.