Editors
ZuluPad ZuluPad is a notepad on crack. It's a place to jot down class notes, appointments, to-do lists, favorite websites, annotated bookmarks, pretty much anything you can think of. The great thing about ZuluPad is that it combines the best parts of a notepad with the best parts of a wiki, a concept made popular by Wikipedia . The basic idea has been called a personal wiki or a desktop wiki. Say for instance, you're a music major, and you're studying Bach. You've taken notes on Bach in ZuluPad, and after a long 16 weeks have finally completed the semester.
UltraEdit/UltraCompare
Simply the world's best text editor. UltraEdit does text. With its powerful find and replace, highly configurable syntax highlighting for hundreds of languages, and column/block mode editing, you'll never need another editor. UltraEdit is the only editor that includes free integrated FTP/SFTP client and a file compare app.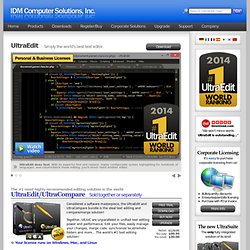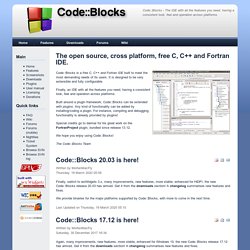 Code::Blocks is a free C, C++ and Fortran IDE built to meet the most demanding needs of its users. It is designed to be very extensible and fully configurable. Finally, an IDE with all the features you need, having a consistent look, feel and operation across platforms.
EditPadPro
Notepad2
Current Release: Version 4.2.25 Development Version: 5.0.26-beta4 Project last updated: October 28, 2012 The Story so far... A few years ago, I found myself writing my first PHP projects using metapad. When I was looking around for text editors with syntax highlighting, I have come across the Scintilla source code editing component. I was very much impressed by this project, so I decided to create my own Scintilla-based text editor.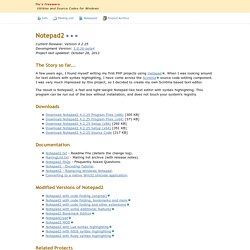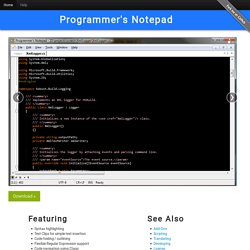 I intend to release Programmer's Notepad 2.3 as the new stable release towards the end of this week. One late bug fix has added a new string, so all translations need at least this one minor update. Some haven't been updated in a while, so need a larger update. Currently 2.3 will ship with the following languages in the installer/portable package:
XML Notepad
Wing IDE works with Python 2.x and 3.x and can be used with Django, matplotlib, Zope, Plone, Google App Engine, PyQt, PySide, wxPython, PyGTK, Tkinter, mod_wsgi, pygame, Autodesk Maya, NUKE, Blender, and many other Python frameworks. See our collection of How-Tos for details. Have questions?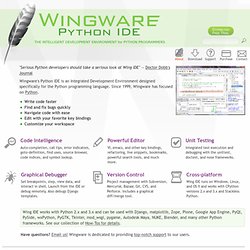 Wingware Python IDE
Komodo IDE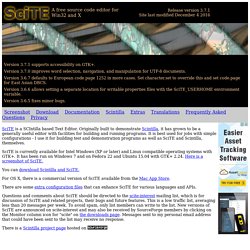 SciTE is a SCIntilla based Text Editor. Originally built to demonstrate Scintilla, it has grown to be a generally useful editor with facilities for building and running programs. It is best used for jobs with simple configurations - I use it for building test and demonstration programs as well as SciTE and Scintilla, themselves. SciTE is currently available for Intel Windows (XP or later) and Linux compatible operating systems with GTK+. It has been run on Windows 7 and on Fedora 12 and Ubuntu 10.10 with GTK+ 2.20.
Skip to main content About Notepad++ is a free (as in "free speech" and also as in "free beer") source code editor and Notepad replacement that supports several languages. Running in the MS Windows environment, its use is governed by GPL License. Based on the powerful editing component Scintilla, Notepad++ is written in C++ and uses pure Win32 API and STL which ensures a higher execution speed and smaller program size.