Pictures
DANIL POLEVOY / PHOTO & DESIGN
Laurids Jensen - Vimity.com
Design and Inspiration Blog | Design Stuff Daily
photo gallery - venice
These structures were commissioned by former Yugoslavian president Josip Broz Tito in the 1960s and 70s to commemorate sites where WWII battles took place (like Tjentište, Kozara and Kadinjača), or where concentration camps stood (like Jasenovac and Niš). They were designed by different sculptors (Dušan Džamonja, Vojin Bakić, Miodrag Živković, Jordan and Iskra Grabul, to name a few) and architects (Bogdan Bogdanović, Gradimir Medaković...), conveying powerful visual impact to show the confidence and strength of the Socialist Republic. In the 1980s, these monuments attracted millions of visitors per year, especially young pioneers for their "patriotic education." After the Republic dissolved in early 1990s, they were completely abandoned, and their symbolic meanings were forever lost.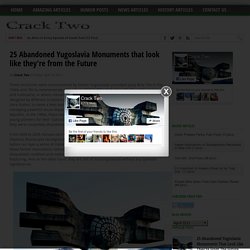 klimanb7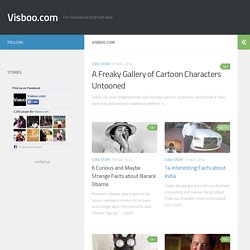 18 months later and he still sleeps 18 months later and he still sleeps with his duck I painted this as a present for a f I painted this as a present for a friend Meanwhile in Mexico… Meanwhile in Mexico…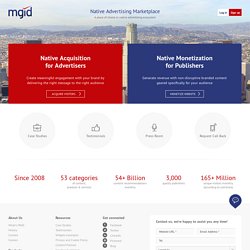 AUDIENCE DEVELOPMENT The opportunity to promote your content in our large network of websites. Grow your audience at no cost learn more FOR ADVERTISERS Advertise your business on MGID Outstanding customer service Compelling widgets at no additional cost Anti-fraud click system Smart geo-targeting system learn more FOR PUBLISHERS Publish the best content on the Web Maximum audience coverage Different capping options Many cooperation options learn more AUDIENCE DEVELOPMENT The opportunity to promote your content in our large network of websites.
Top 10 Unique Bikinis - The Traffic Network - zaparena
Flash Web Gallery | best flash websites
ASHLEY SKYY
GALLERY
Skateboard Skulls: Creative, Creepy &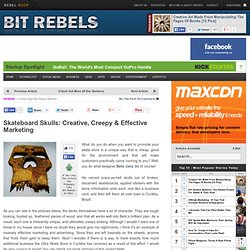 What do you do when you want to promote your skate store in a unique way that is cheap, good for the environment and that will make customers practically come running to you? Well, you do what designer Beto Janz did of course! He carved scary-as-hell skulls out of broken, discarded skateboards, applied stickers with the store information onto each one like a business card, and then left them all over town in Curitiba, Brazil. As you can see in the pictures below, the decks themselves have a lot of character. They are rough looking, busted up, feathered pieces of wood, and that all works well into Beto's brilliant plan.
Blackmarket Arts
One of the few things I remember about my childhood was the ferocity of my dreams. They were so big and strong. They needed to be, for they were responsible for shouldering the weight of a little boy intent on making the world a better place. I've lost more than a few since then. Turned my back on a few more. And now, the few that I have left… are quite literally ALL that I have left.
ASHLEY SKYY