AMT Marketing
7 Facebook Brand Strategies That Work
We live in a creator economy. Facebook has 900 million users with 125 billion friend connections, uploading more than 300 million photos and liking and commenting on 3.2 billion things in a single day. Meanwhile, Instagram has 30 million registered users, 1 billion photos uploaded (5 million photos per day), 575 likes per second, and 81 comments per second. We all contribute to this firehose of content.
Building Successful Consumer Apps in The Age of the Humblebrag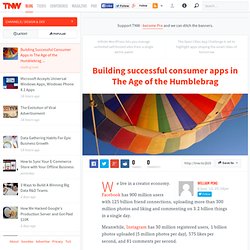 Facebook Showing Status Update Links to Hashtags and Twitter Usernames
Oh, so I guess I've been doing it wrong since 2004, huh? My pro account isn't worth shit, you say? Those tens of thousands of photos I've uploaded don't count, eh? My 300 contacts are also doing it wrong, as are the 400+ people who call me a contact? My photos published in TIme, Mother Jones and all manner of other publications are probably not up to snuff, I guess.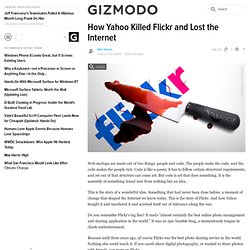 How Yahoo Killed Flickr and Lost the Internet
It's Awards Time In Advertising: See The Top Winners From The One Show
Ad awards season is in full swing and one of the industry's top shows, The One Show, handed out its citations in New York last night. Among the winners, one person stood way above the rest. Because she's 25-feet tall. Little Marina, the animatronic blogging giantess, nabbed Best of Show honors for Target and agency Mother New York at One Club's award show, which celebrates the year's best offerings in creative advertising. Marina was created as part of a Fashion Week promo for the Missoni collection at Target.
OMG This Exists: Inhalable Alcohol Gives An Instant Buzz
Humans have been inventing weird (and often unsavory) ways to get themselves embarrassingly drunk for centuries. But the makers of Wahh, a new inhalable alcohol mist, say their product is designed to do just the opposite. Wahh is the invention of David Edwards, the Harvard professor whose inhalable caffeine and smokable chocolate have appeared on this site before. Edwards's line of "breathable food sprays" (yum!)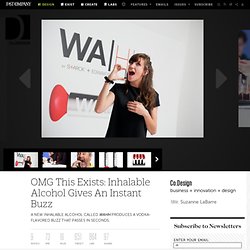 Millennials Don't Think Like Their Parents. How Do You Design For Them?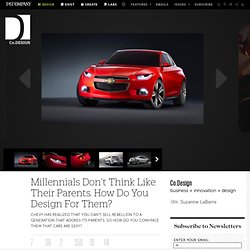 During this year's Super Bowl, Chevy introduced their new Sonic by making it skydive, flip, and bungee jump to the theme of We Are Young. To say they were making a run at the youth market would be an understatement. But what is this new youth market, other than young? You can call us hipsters.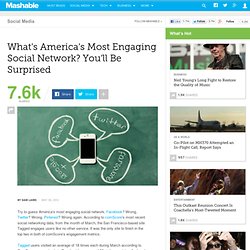 Try to guess America's most engaging social network. Facebook? Wrong. Twitter? Wrong. Pinterest?
What's America's Most Engaging Social Network? You'll Be Surprised
Last month, I talked to Amazon customer service about my malfunctioning Kindle, and it was great. Thirty seconds after putting in a service request on Amazon's website, my phone rang, and the woman on the other end--let's call her Barbara--greeted me by name and said, "I understand that you have a problem with your Kindle." We resolved my problem in under two minutes, we got to skip the part where I carefully spell out my last name and address, and she didn't try to upsell me on anything. After nearly a decade of ordering stuff from Amazon, I never loved the company as much as I did at that moment. Remember, this was a customer-service call, so I was fully prepared for it to suck. Like most American consumers, my experience with service interactions is largely negative, whether it's on the phone, in the murky depths of a commerce site, or in the aisles of an electronics store.
How Companies Like Amazon Use Big Data To Make You Love Them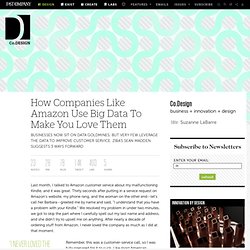 SimpleTV - Home
Special Offer - $50 Dollar Gift Card Whether you like The Mentalist & Merlot, CSI & Chardonnay or Glee & Gernache... television should be made more enjoyable. And to "enhance" the experience we've partnered with NakedWines.com to offer you a $50 gift card redeemable at their site for any of their tasty selections. Nakedwines.com Wine Vouchers are only redeemable by customers over 21 years of age and for shipments to AK, AZ, CA, CO, CT, DC, FL, GA, IA, ID, IL, KS, LA, MD, ME, MN, ND, NE, NH, NJ, NM, NV, NY, OH, OR, SC, TN, WA, WI, and WY. This offer is not valid in MI, MO, MA, VA, WV, TX, HI, NC, VT (A comparative offer will be presented to customers residing in these states who attempt to use a Nakedwines.com voucher). Only one Wine Voucher may be used per customer.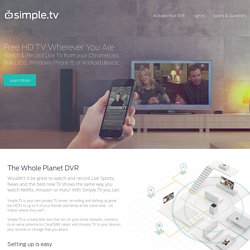 I've been using Gmail for as long as I can remember, and unfortunately I have more unread emails than I care to admit. The service is my lifeblood, but one thing that's missing is the ability to gain insight into how active I am in sending and receiving email. Is there a certain time of day where I get more emails than others? That's the type of thing I'd love to know. A Developer Programs Engineer on the Gmail team, Saurabh Gupta, has posted a note about a neat little Google Apps script called "Gmail Meter" which will send you a report at the beginning of every month with interesting data about your email interactions, as well as the ability to set up your own custom reports. It's not an official Google app mind you, but it seems like a pretty robust script.
Gmail Meter Will Send You Your Interesting Email Trends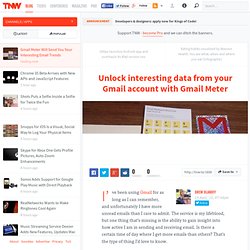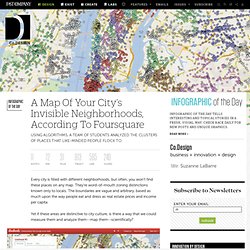 Every city is filled with different neighborhoods, but often, you won't find these places on any map. They're word-of-mouth zoning distinctions known only to locals. The boundaries are vague and arbitrary, based as much upon the way people eat and dress as real estate prices and income per capita.
A Map Of Your City's Invisible Neighborhoods, According To Foursquare
(mt) Client Showcase - Swrve
Location: Los Angeles, CA website: swrve.us (mt) customer since: 2011 (mt) plan: Grid For the most part it's finding something that I think could work better — like a garment that's maybe in my everyday life already. – Matt, Swrve