Twitter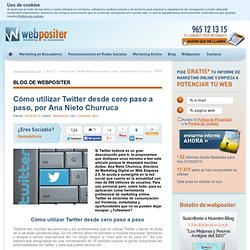 Si Twitter todavía es un gran desconocido para ti, te proponemos que dediques unos minutos a leer este artículo porque te despejará muchas dudas.
Cómo utilizar Twitter desde cero paso a paso, por Ana Nieto Churruca
50 Herramientas gratis para la gestión de Redes Sociales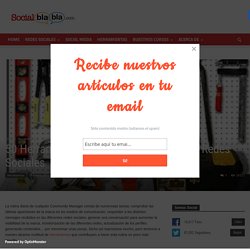 La rutina diaria de cualquier Community Manager consta de numerosas tareas: comprobar las últimas apariciones de la marca en los medios de comunicación, responder a los distintos mensajes recibidos en las diferentes redes sociales, generar una conversación para aumentar la visibilidad de la marca, monitorización de las diferentes redes, actualización de los perfiles generando contenidos… por mencionar unas pocas. Dicho así impresiona mucho, pero tenemos a nuestro alcance multitud de herramientas que contribuyen a hacer esta rutina un poco más sencilla.
Twitter - Building a PLN: education , education, pln, teachers, technology, twitter | Glogster EDU - 21st century multimedia tool for educators, teachers and students
Catorce trucos para manejar Twitter
Your request is loading... Tesco PLC is a British multinational grocery & general merchandise retailer headquartered in Cheshunt, United Kingdom. It is the third-largest retailer in the world measured by revenues (after Walmart & Carrefour) & the second-largest measured by profits (after Wal-Mart). It has stores in 14 countries across Asia, Europe & North America & is the grocery market leader in the UK (where it has a market share of around 30%), Malaysia, the Republic of Ireland & Thailand. The
10 Useful Twitter Apps for Google Chrome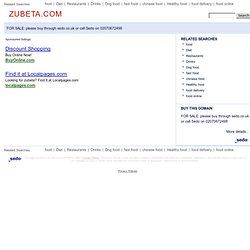 This post is #9 in DailyTekk's famous Top 100 series which explores the best startups, gadgets, apps, websites and services in a given category. Total items listed: 115. Time to compile: 8+ hours. Follow @DailyTekk on Twitter to make sure you don't miss a week!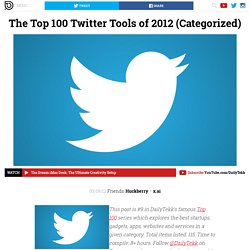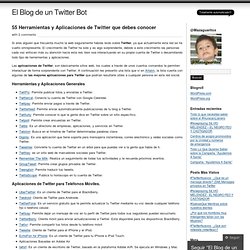 55 Herramientas y Aplicaciones de Twitter que debes conocer « El Blog de un Twitter Bot
Si eres alguien que frecuenta mucho la web seguramente habrás leído sobre Twitter, ya que actualmente esta red se ha vuelto omnipresente. El crecimiento de Twitter ha sido y es algo sorprendente, debido a este crecimiento las personas cada vez enfocan más su atención hacia esta red, bien sea interactuando en su propia cuenta de Twitter o desarrollando todo tipo de herramientas y aplicaciones. Las aplicaciones de Twitter, son básicamente sitios web, los cuales a través de unos cuantos comandos te permiten interactuar de forma sorprendente con Twitter. A continuación les presento una lista que vi en Artatm, la lista cuenta con algunas de las mejores aplicaciones para Twitter que podrían resultarle útiles a cualquier persona en esta red social. Herramientas y Aplicaciones Generales
TwitQuit - Track who follows and unfollows you on Twitter
Experiencias didácTICas con Twitter
Twitter es la red social que más impacto está teniendo mundialmente. Con formato microblogging permite a sus usuarios enviar y recibir mensajes de texto de hasta 140 caracteres, llamados "tweets" (trinos). En este artículo recogemos un conjunto de experiencias didácticas con Twitter llevadas a cabo por docentes de diferentes áreas y niveles.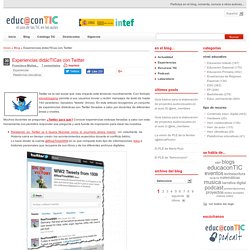 How to use Twitter | Twitter Tutorials
## This is the free version of AIVC. There is also a Pro version with additional features and NO ADS. Other features in the Pro version at the moment: calendar, play music, Google Places, TV-Receiver Control, Wake up mode and a Dialog-mode ## PayPal: http://goo.gl/kpivu Alice is your personal assistant.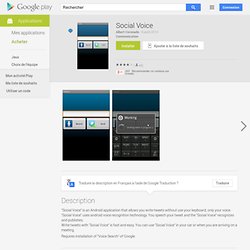 Twitter Voice - Android Apps on Google Play
COMPETENCIA DIGITAL, NUEVOS MEDIOS, NUEVOS LENGUAJES, NUEVOS HABLANTES. Twitter y sus funciones comunicativas Tíscar Lara Escribí este artículo en la primavera del año pasado para la Revista Lenguajes y Textos (núm. 34, diciembre 2011) que publica la Sociedad Española de Didáctica de la Lengua y la Literatura SEDLL. Está orientado fundamentalmente a servir de introducción y guía al profesorado interesado en explorar Twitter como medio de comunicación y expresión lingüística.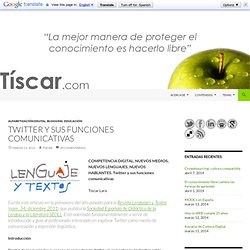 Twitter y sus funciones comunicativas
TwitLonger, utilidad web gratuita para escribir tweets más extensos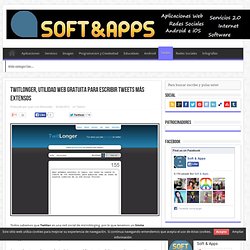 Todos sabemos que Twitter es una red social de microbloging, por lo que tenemos un límite máximo de 140 caracteres para utilizar en nuestras publicaciones o tweets. Esta característica es una de las más importantes de Twitter, ya que nos permite conocer o publicar la actualidad de forma breve, permitiendo leerla de un rápido vistazo. A pesar de esto, puede que a alguien le interese publicar tweets más largos en algunos casos. Hemos visto aplicaciones para este fin, que simplemente dividen el texto en varios mensajes de 140 caracteres. Otra opción similar es TwitLonger. Esta herramienta online y gratuita sólo requiere que nos conectemos a nuestra cuenta de Twitter.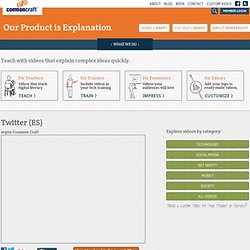 Twitter
¿Qué estás haciendo? Es una de las primeras preguntas que les hacemos a amigos y familiares. Aunque sólo estén cortando el césped o haciendo la cena, nos interesa saberlo.
Parece que, hoy en día, todos usan Twitter. Ya sabes, se mandan mensajitos entre ellos con el teléfono o la computadora. Pues bien, examinar esos mensajitos todos juntos es una buena manera de encontrar gente, noticias y tendencias.
Twitter Search
San Diego State University • Spring 2012 Reading RSS feeds is a great way to keep up with what's happening. But there's another technology that provides a different, more spontaneous window into the minds of other people.
EDTEC 470 - Using Twitter to Learn from Others
Twitter Voice - Aplicaciones en Android Market
twitter 102 for educators
Twitter Diario - Visualiza tus tweets en un diario
Twitter chats are such a great way to stay connected and informed in your professional circle , and education is no exception. Through education chats, you can find out about new methods for teaching, tech resources, even jobs for teachers. Most chats are held weekly, and offer an opportunity to have a regularly scheduled conversation with like-minded educators. Check out our collection to find a wealth of Twitter chats that are great for all kinds of educators. General
Acceso directo : @ : Es el símbolo por excelencia de Twitter. Se coloca antes del nombre de usuario. # : Ver HashTags. Avatar : Es la imagen de cada usuario.
Vocabulario Básico de Twitter