Role-Playing
Welcome to Contested Ground Studios.
RPG's. RPG resources. Aldana Steel: Links. Aldana Steel Here are a few more sites that relate to background and colour in our game: 7th Sea Sites (See also the Webrings on the front page for more sites.)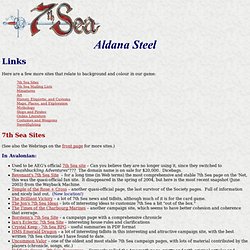 Obsidian Portal - Campaign websites for Dungeons and Dragons and other tabletop RPGs. EN World. RPG.net Forums. Sell me on/off these Gumshoe RPGS. Lohikäärmeen Luola.
---