Photography
Cosplayers Photographed At Their Homes Is Kinda Weird. We're all used to seeing people dressed up at conventions, but taking those cosplayers out of the con and putting them into their homes makes them look a bit surreal.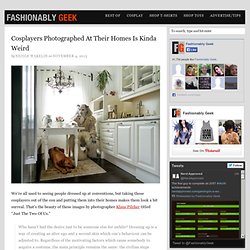 That's the beauty of these images by photographer Klaus Pilcher titled "Just The Two Of Us." Who hasn't had the desire just to be someone else for awhile? The Most Epic Collection of Photography Links (Since Last Week) It's been an action-packed week in the world of photography, and Toad Hollow Photography has been busy compiling a list of the best links to tutorial, great photography and interesting blogs to share with everyone here.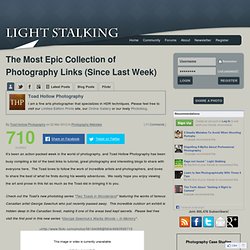 The Toad loves to follow the work of incredible artists and photographers, and loves to share the best of what he finds during his weekly adventures. We really hope you enjoy viewing the art and prose in this list as much as the Toad did in bringing it to you. Check out the Toad's new photoblog series "Two Toads in Wonderland" featuring the works of famous Canadian artist George Sawchuk who just recently passed away. This incredible outdoor art exhibit is hidden deep in the Canadian forest, making it one of the areas best kept secrets. Please feel free visit the first post in this new series "George Sawchuk's Wacky Woods – In Memory". Rant: I Love Photography | Raw File. Editor's Note: This blog post was originally posted by PhotoShelter CEO and founder Allen Murayabashi on the PhotoShelter blog.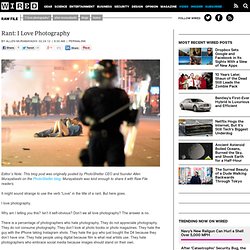 Murayabashi was kind enough to share it with Raw File readers. It might sound strange to use the verb "Love" in the title of a rant. Singapore Picture – Travel Photo. Valokuvatorstai.
Cameras and accessories. Flickr. Guides. Photos. 11 Ways to Print Instagram Photos. Instagram is the easy way to create dreamy camera-phone photos in a flash.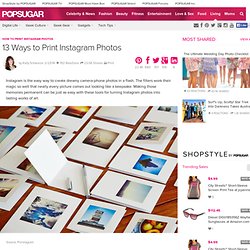 The filters work their magic so well that nearly every picture comes out looking like a keepsake. Making those memories permanent can be just as easy with these tools for turning Instagram photos into lasting works of art. Kamera-lehti | Luovien kuvaajien erikoislehti. Make your own book. Make it great.
The leading free stock photography site. Valokuvaus :: Digicamera.net :: Digikuvaus, Digikamera, Digitaalikamera, Digitaalikamerat, Digikamerat, Valokuva, Digikuva, Valokuvausfoorumi, Kamerafoorumi. JPG: Your World in Pictures. Vuoden Luontokuva 2011 - Vuoden Luontokuva 2011. Dear Photograph.
---