Artists & bands
Latest news | Pure Reason Revolution. Kscope. Kscope Store. The second album from cult Post Rockers Mothlite and the band's Kscope debut.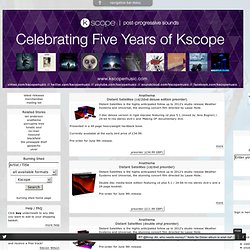 The brainchild of the prolific and eclectic Daniel O'Sullivan (Ulver, Sunn O))), Guapo, Grumbling Fur etc). Mothlite moves in different musical directions from those taken by Daniel's other projects, recalling the ethereal 80's sounds of Talk Talk, Japan and Cocteau Twins, and fusing them with an innovative, forward-thinking approach to programming and sound design. The limited vinyl edition of Dark Age is packed in a 5 colour gatefold sleeve with a matt laminate finish.
All copies ordered from Kscope come with a code to download the album, and the first 500 orders will come with an exclusive, limited edition 7" single. Anathema. L u n a t i c s o u l. Lunatic Soul - Summerland. Home | The Pineapple Thief. Pineapple Thief - This Will Remain Unspoken. Metallica Releases Outtakes EP. Macy Gray Sings Metallica, Radiohead and More on 'Covered' Home : dredg. DREDG | Ilmaista musiikkia, keikkapäivämääriä, kuvia, videoita. Lechium - Dredg. Dredg - The Thought Of Losing You. Banco de Gaia. Last Train to Lhasa. Amy-macdonald. Neko Case - This Tornado Loves You | JapaG's top artists channel. What's This?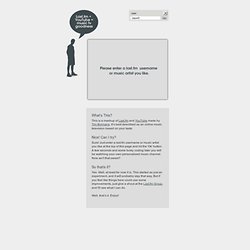 This is a mashup of Last.fm and YouTube made by Tim Bormans. It's best described as an online music television based on your taste. Nice! Can I try? Sure! Green Carnation "Maybe?" Bruce Springsteen News: brucespringsteen.net. Exclusive: Bruce Springsteen Explains His Experimental New Album. Bruce Springsteen: 'What was done to my country was un-American' At a Paris press conference on Thursday night, Bruce Springsteen was asked whether he was advocating an armed uprising in America.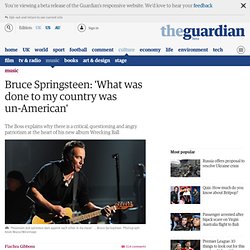 He laughed at the idea, but that the question was even posed at all gives you some idea of the fury of his new album Wrecking Ball. Indeed, it is as angry a cry from the belly of a wounded America as has been heard since the dustbowl and Woody Guthrie, a thundering blow of New Jersey pig iron down on the heads of Wall Street and all who have sold his country down the swanny. Springsteen has gone to the great American canon for ammunition, borrowing from folk, civil war anthems, Irish rebel songs and gospel. The result is a howl of pain and disbelief as visceral as anything he has ever produced, that segues into a search for redemption: "Hold tight to your anger/ And don't fall to your fears … Bring on your wrecking ball.
" Bruce Springsteen - Spirit in the Night - Live 1973 in Los Angeles. Riverside - Conceiving You.
---