Blogs
Web 2.0 Blog - Online Marketing im Web 2.0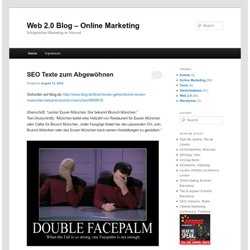 …mal wieder. Eigentlich ist der Slap nichts Neues – das Timing so kurz vor der SMX aber natürlich prima. Schaut man bei den abgestraften Linknetzwerken auf Gemeinsamkeiten so könnte man folgende Attribute herausstellen: Expired Domain mit statischer Seite oder WordPress Neue Inhalte haben keine oder nur wenige (neue) Links
Ibrahim Evsan
mein Name ist Ibrahim "Ibo" Evsan und ich lebe Social Media. Ich bin Unternehmer und Berater für digitale Geschäftsmodelle. Als Internet-Experte behandele ich Themen wie Online-Reputation, Arbeitswelten, 3D Print, Crowdsourcing und das Leben im Lifestream. In diesem Blog werde ich meine Ideen und Gedanken über den Wandel der visuellen Medienlandschaft aufzeigen und einige Einblicke hinter die Kulissen meiner Projekte geben!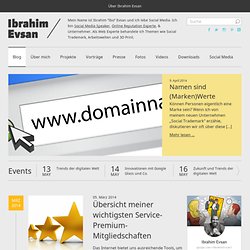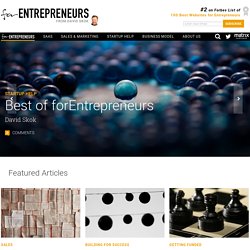 ForEntrepreneurs listed as Number 2 in Forbe's list of 100 Best Web Sites for Entrepreneurs. For Entrepreneurs is a blog for startups and entrepreneurs, written by David Skok, a five time serial entrepreneur turned VC (now at Matrix. Partners). It aims to address the key issues they will face in getting started, getting funded, and building a successful company. Although applicable to most startups, there is strong focus on SaaS businesses, and building a sales and marketing machine. New to this site?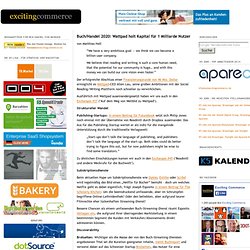 Exciting Commerce
von Matthias Hell "We have a very ambitious goal — we think we can become a billion-user company.We believe that reading and writing is such a core human need, that the potential for our community is huge… and with this money we can build our core vision even faster." Der erfolgreiche Abschluss einer Finanzierungsrunde von 46 Mio. Dollar ermöglicht es Wattpad-CEO Allen Lau, seine großen Ambitionen mit der Social Reading/Writing-Plattform noch schneller zu verwirklichen.
Originally posted on the Guardblog at: http://blog.guardly.com/guardblog/2011/06/28/the-first-300-days/ Guardly has transformed from an idea to a best-in-class application that helps people stay safe everyday. There's an exciting story behind our journey, and it has only just begun.
Startup Life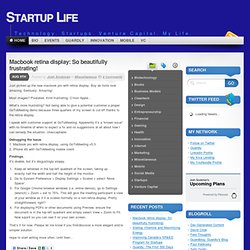 There's been a lot of talk about money lately here in the Valley, it seems. Whether it's a product of the exceptional $19 billion acquisition of WhatsApp by Facebook, Google's $3.2 billion Nest buy, the IPOs of Twitter and Facebook, sky-high valuations of private companies, or a real and growing gap between the 1% and the rest, discussion of venture funding rounds and money often appears to be as big a conversation point as the products and innovation that's made this place unique. As my colleague +Scott Knaster often notes in his blog "Witless to History", he and I are good examples of the typical longtime Silicon Valley employee - people who have been close to the action, but never quite in the center of it. No acquisitions to our name.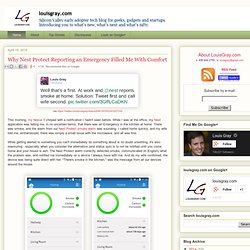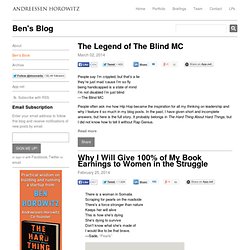 Co-authored with Sten Tamkivi, EIR at Andreessen Horowitz Follow the leader is a title, theme, taskNow you know, you don't have to ask—Rakim, "Follow the Leader" Being someone reasonably well-known in technology, I have been getting a lot of questions lately about Healthcare.gov. People want to know why it cost between 2 and 4 times as much money to create a broken website than to build the original iPhone. This is an excellent question.