Marketing
If you are having a hard time understanding how social media is going to interact with your company of the future (or present!), then I have a great analogy that will create a framework from which you can build a social media plan in support of your company marketing plan. I call it the analogy of the mall. To begin this analogy, let me first propose a question.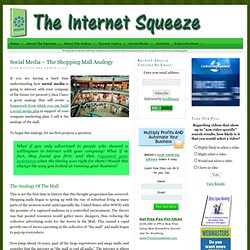 The Analogy Of The Mall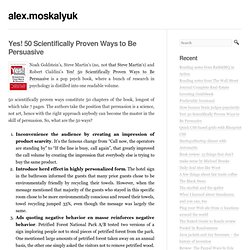 Noah Goldstein's, Steve Martin's (no, not that Steve Martin 's) and Robert Cialdini's Yes! 50 Scientifically Proven Ways to Be Persuasive is a pop psych book, where a bunch of research in psychology is distilled into one readable volume. 50 scientifically proven ways constitute 50 chapters of the book, longest of which take 7 pages. The authors take the position that persuasion is a science, not art, hence with the right approach anybody can become the master in the skill of persuasion. So, what are the 50 ways?
Top Social Media for Marketers: Twitter, Blogs, LinkedIn, Facebo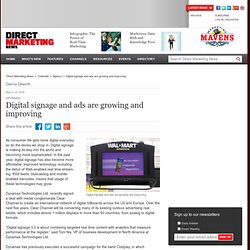 Digital signage and ads are growing and improving
March 24, 2008 Digital signage and ads are growing and improving As consumer life gets more digi­tal everyday, so do the stores we shop in. Digital signage is making its way into the world and becoming more so­phisticated. In the past year, digital sig­nage has also become more affordable.
"How do I get customers in the door?" A question that goes through the mind of many business owners. I want to focus on restaurants in this post, as I experienced something recently that brought this idea on. What do restaurants need to do to attract more of the right business?
Getting Customers In The Door – Troy Claus