Mini Pies
Pies baked in tiny jars. Plump apple pie. Tiny pies. For a while I had been thinking about small food — as in "Look at me, I am a GIANT!"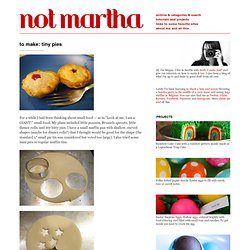 Small food. My plans included little poussin, Brussels sprouts, little dinner rolls, and itty bitty pies. I have a small muffin pan with shallow, curved shapes (maybe for dinner rolls?) That I thought would be good for the shape (the standard 5″ small pie tin was considered but voted too large). Pie in a Jar. Fill your jars with the pie crust.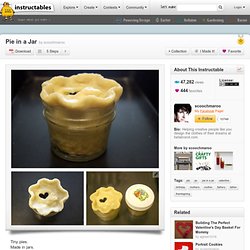 I rolled out the crust to make it pretty thin (so it's not just a jar of crust in the end - though I did make one of those too and sprinkled cinnamon on it and it was delicious), but in the end, you just have to take chunks of it and squish it all around inside the jar to make sure it's covered. Add your pie filling and top it off with a crust. Use the lid ring to cut out the perfect size! Chicken Pot Pie Recipe. 1 Cook the chicken and make the chicken stock.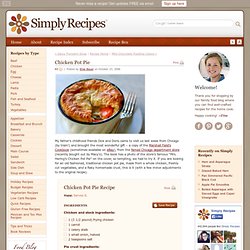 Combine the chicken, carrot, celery, onion and salt into a large stock pot. Add cold water until just covered and bring to a boil over high heat. Reduce the heat to a simmer and cook for 45 minutes.
---