E-learning
TEL_survey_2012_final_ex_apps (application/pdf Object)
Camtasia_Studio_7_Online_Help.pdf (application/pdf Object)
I keep discovering new things about the presentation software Prezi . Asking around, it seems lots of other users didn't know about some or all of these either, so with that in mind I thought I'd draw your attention to 6 useful things. Got any more?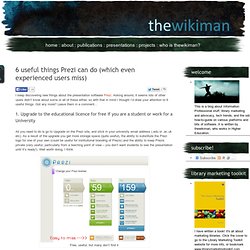 6 useful things Prezi can do (which even experienced users miss)
Screencasting tools
Opening Pandora's box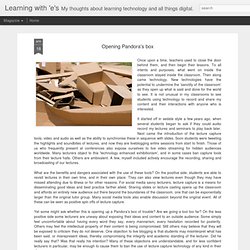 Once upon a time, teachers used to close the door behind them, and then begin their lessons. To all intents and purposes, what went on inside the classroom stayed inside the classroom. Then along came technology. New technologies have the potential to undermine the 'sanctity of the classroom' as they open up what is said and done for the world to see.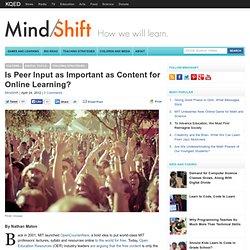 Is Peer Input as Important as Content for Online Learning?
Flickr: Incase By Nathan Maton Back in 2001, MIT launched OpenCourseWare , a bold idea to put world-class MIT professors' lectures, syllabi and resources online to the world for free . Today, Open Education Resources (OER) industry leaders are arguing that the free content is only the starting point.
Lexdis - Ideas for e-Learning
Alec Couros has been described as a 'techno communist', open the learning in his institution to anyone that cares to join by using web tools. With current technology the documentation of learning is incredibly accessible and, Couros argues, incredibly important. Sharing examples of photographs documenting learning moments of his children, and students documenting their learning via YouTube videos, he argued that putting things out there before they are perfect is an important part of learning. These examples were all open and public on the webt, and openness is the key to much of his work. Alec has been runing MOOCs, massive online courses open to anyone. Some of his graduate students take these courses for credit towards their degrees, but they are joined by hundereds online.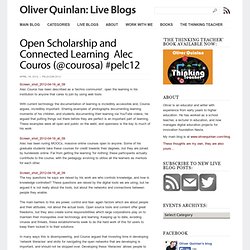 Open Scholarship and Connected Learning – Alec Couros (@courosa) #pelc12 | Oliver Quinlan: Live Blogs
Excited About eLearning UK
Have you recently visited the new British Library Sounds website and tried out its new features? The British Library Sounds website ( http://sounds.bl.uk ) now has 50,000 sound tracks, all freely available for listening online. It represents the most diverse online collection of scholarly sounds anywhere, and now has improved interactive features, including tagging, favouriting, playlist generation and timed annotation features. Simply register on http://sounds.bl.uk , then those features are enabled. Registering allows you to make notes, add tags and personally manage items using favourites and playlists.
Interactivity and British Library Sounds - Sound Recordings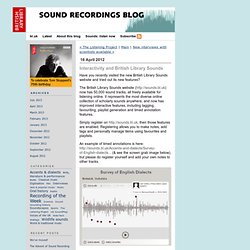 JISC infoNet: e-Learning Programme support (786)
20 tips and resources for using learning technology in higher education | Higher Education Network | Guardian Professional
Allison Littlejohn, director of the Caledonian Academy, Glasgow Caledonian University Blended learning should transform learning, not just replicate teaching: Companies want graduates who can source, filter and use existing knowledge to create new knowledge, and the university is key to equipping students with these skills. Yet we seldom see technology tools being used in radically new ways in HE.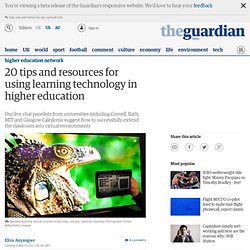 Experiments - BBC - Lab UK - Virtual Revolution
Google generation rubuttal JISC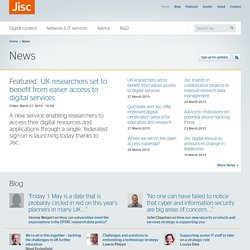 New report reveals the information needs of the researchers and learners of the future
Journal article: critical review of "digital native" concept
A while ago I wrote a blog post about a molecule I was particularly fond of as part of a chemistry meme (May 2010 http://www.possibilitiesendless.com/?p=186 ).
Google First, Think Second « Endless Possibilities v3.0
University of Edinburgh: Background & Context