Technology
17 Screencasting Tools for Successful Virtual Training
Yesterday, I provided a set of screencasting tips for creating great screencasts that you can use in remote training situations. Today, I'm sharing a list of tools (a mix of free and paid) that you can use to develop highly effective and professional screencasts…what do you use? Screencasting Tools ALLCapture A Windows screen recording application that supports full-screen and multi-screen recording, special effects and annotations, audio import, and exporting into multiple formats. ALLCapture also includes a compression technology for producing small demos that are easy to send via email.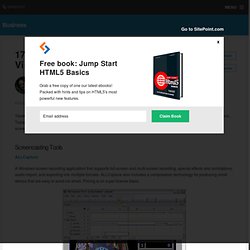 get it out there!
I usually just do a year-end list on Web 2.0 Applications For Education and many other topics, but it gets a little crazy having to review all of my zillion posts at once. So, to make it easier for me — and perhaps, to make it a little more useful to readers — I'm going to start publishing mid-year lists, too. These won't be ranked, unlike my year-end "The Best…" lists, and just because a site appears on a mid-year list doesn't guarantee it will be included in an end-of-the-year one. But, at least, I won't have to review all my year's posts in December… As usual, in order to make this list, a site had to be: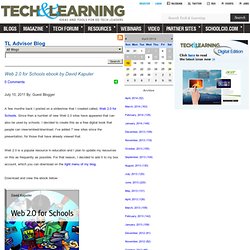 Tech Learning TL Advisor Blog and Ed Tech Ticker Blogs from TL Blog Staff – TechLearning.com
A few months back I posted on a slideshow that I created called, Web 2.0 for Schools . Since then a number of new Web 2.0 sites have appeared that can also be used by schools. I decided to create this as a free digital book that people can view/embed/download.
Graphics for Teachers
PDF to Flash page flip - flipping book software
Virsona: create the virtual you.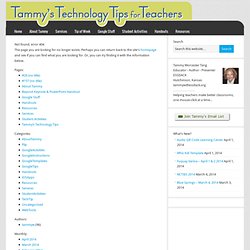 Welcome! Welcome to Tammy's Technology Tips for Teachers. Hopefully you'll find the site easy to navigate and full of fantastic ideas for technology integration.
No man (or woman) is an island – and this statement can't be any truer if you're a designer or developer. Though paid/subscription services like Basecamp and Zimbra are great, individuals strapped for cash have a ton of alternatives that provide similar (if not better) features. In this article, you'll find 15 free tools to help you facilitate remote/web-based collaboration . Whether you need basic whiteboarding/brainstorming tools or fully-featured project management applications – you should be able to find a tool or two that's worth checking out.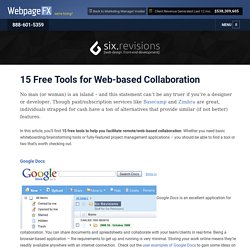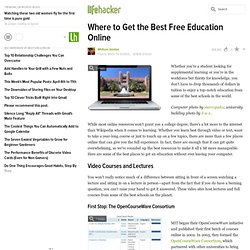 Whether you're a student looking for supplemental learning or you're in the workforce but thirsty for knowledge, you don't have to drop thousands of dollars in tuition to enjoy a top-notch education from some of the best schools in the world. Computer photo by marcopako ; university building photo by J-a-x . While most online resources won't grant you a college degree, there's a lot more to the internet than Wikipedia when it comes to learning. Whether you learn best through video or text, want to take a year-long course or just to touch up on a few topics, there are more than a few places online that can give you the full experience.