Resources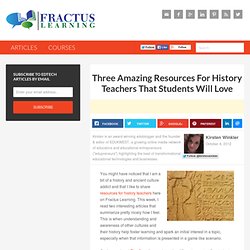 How to Teach With Technology - Online Course Learn how to create custom multimedia products for your classroom or ecourse and other great ideas for the classroom. Explore this online course at You might have noticed that I am a bit of a history and ancient culture addict and that I like to share resources for history teachers here on Fractus Learning.
Three Amazing Resources For History Teachers That Students Will Love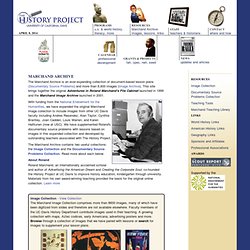 The History Project - University of California, Davis
The Marchand Archive is an ever-expanding collection of document-based lesson plans (Documentary Source Problems ) and more than 8,600 images ( Image Archive ). This site brings together the original Adventures in Roland Marchand's File Cabinet launched in 1999 and the Marchand Image Archive launched in 2001. With funding from the National Endowment for the Humanities , we have expanded the original Marchand image collection to include images from other UC Davis faculty including Andres Resendez, Alan Taylor, Cynthia Brantley, Joan Cadden, Louis Warren, and Karen Halttunen (now at USC). We have supplemented Roland's documentary source problems with lessons based on images in this expanded collection and developed by outstanding teachers associated with The History Project. The Marchand Archive contains two useful collections: the Image Collection and the Documentary Source Problems Collection .
SweetSearch2Day | a daily curated assortment of the best content on the Web for history, language arts, science, news, culture and other topics.
Digital History - Classroom-tested Handouts and Fact Sheets
Digital History
Interactives
Opensource University Resources