Rainforest Conservation
Expedition Amazon » Education » Modules. i2P stages world class expeditions in remarkable locations around the globe and delivers the experience to your classroom. i2P has created a unique interactive environment, that enlists students on the expedition team, as well as the local geography, history and culture to serve as the matrix for a unique experiential education opportunity. i2P is dedicated to establishing means to stretch the boundaries of traditional education by linking the experiences of the expedition to those elements of science, history and culture that serve as the foundation of the life skills necessary to achieve success both in the field and in everyday life.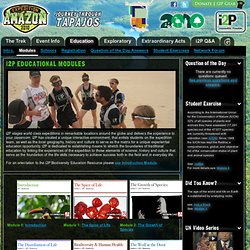 For an orientation to the i2P Biodiversity Education Resource please see Introduction Module. Gorillas.org. Brazil's plan to save the Amazon rainforest. Brazil has its own designs for REDD Accounting for roughly half of tropical deforestation between 2000 and 2005, Brazil is the most important supply-side player when it comes to developing a climate framework that includes reducing emissions from deforestation and forest degradation (REDD).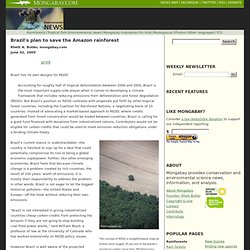 But Brazil's position on REDD contrasts with proposals put forth by other tropical forest countries, including the Coalition for Rainforest Nations, a negotiating block of 15 countries. Instead of advocating a market-based approach to REDD, where credits generated from forest conservation would be traded between countries, Brazil is calling for a giant fund financed with donations from industrialized nations. Contributors would not be eligible for carbon credits that could be used to meet emission reduction obligations under a binding climate treaty. CRISTALINO JUNGLE LODGE.
Built to harmonize with the surrounding forest, the eco-friendly bungalows provide a pleasant and comfortable stay.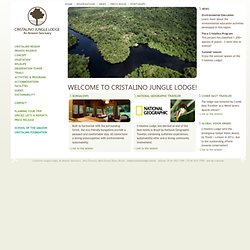 All rooms have a strong preoccupation with environmental sustainability. » Link to the session Cristalino Lodge was elected as one of the best hotels in Brazil by National Geographic Traveler, combining authentic experiences, sustainability ethic and a strong community involvement. » Link to the session The lodge was honored by Condé Nast Traveller as a World Savers Awards winner! International Tree Foundation — Planting, protecting, promoting trees. Blog | TEDxAmazônia | TEDxAmazônia. No próximo dia 12 de dezembro, será lançado em São Paulo o livro-vídeo que comemora 25 anos do projeto Vídeo nas Aldeias , que aproximou o vídeo de 127 aldeias indígenas brasileiras.
O projeto é fruto do trabalho de Vincent Carelli, antropólogo e documentarista que formou diretores cinematográficos indígenas. Ele falou sobre esse trabalho na sua talk no TEDxAmazônia e inclusive adiantou alguns trechos de filmes que estavam ainda sendo finalizados. Nature's gift: The economic benefits of preserving the natural world. 24 October 2010Last updated at 19:12 By Richard Anderson Business reporter, BBC News Forests and the insects that live in them provide huge economic benefits Slowing down the destruction of the Earth's natural resources is essential if the global economy, and the businesses that drive it, are to prosper long term.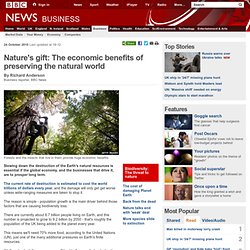 The current rate of destruction is estimated to cost the world trillions of dollars every year, and the damage will only get get worse unless wide-ranging measures are taken to stop it. The reason is simple - population growth is the main driver behind those factors that are causing biodiversity loss. There are currently about 6.7 billion people living on Earth, and this number is projected to grow to 9.2 billion by 2050 - that's roughly the population of the UK being added to the planet every year. Canopy Capital | Valuing the world's rainforests. Ghost Forest Art Project. Global Canopy Programme. The Prince's Rainforests Project. Walking the Amazon: The blog of a journey from source to sea. Rainforest Rescue - Protecting Rainforests Forever. Home — The Amazon Conservation Team. REDD Plus | News, views and analysis on reducing emissions from deforestation and degradation.
The REDD Desk | A Collaborative Resource for REDD Readiness. Rainforest Alliance.
---