Rainforest Conservation
Expedition Amazon » Education » Modules
i2P stages world class expeditions in remarkable locations around the globe and delivers the experience to your classroom. i2P has created a unique interactive environment, that enlists students on the expedition team, as well as the local geography, history and culture to serve as the matrix for a unique experiential education opportunity. i2P is dedicated to establishing means to stretch the boundaries of traditional education by linking the experiences of the expedition to those elements of science, history and culture that serve as the foundation of the life skills necessary to achieve success both in the field and in everyday life. For an orientation to the i2P Biodiversity Education Resource please see Introduction Module .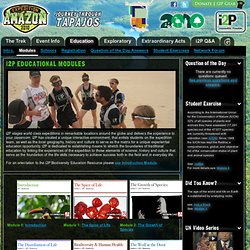 Gorillas.org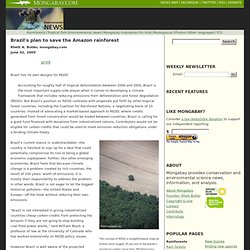 Brazil's plan to save the Amazon rainforest
Rhett A.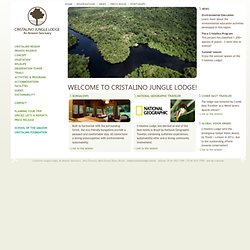 Built to harmonize with the surrounding forest, the eco-friendly bungalows provide a pleasant and comfortable stay. All rooms have a strong preoccupation with environmental sustainability.
CRISTALINO JUNGLE LODGE
Carbon Central Network
International Tree Foundation — Planting, protecting, promoting trees
Blog | TEDxAmazônia | TEDxAmazônia
No próximo dia 12 de dezembro, será lançado em São Paulo o livro-vídeo que comemora 25 anos do projeto Vídeo nas Aldeias , que aproximou o vídeo de 127 aldeias indígenas brasileiras. O projeto é fruto do trabalho de Vincent Carelli, antropólogo e documentarista que formou diretores cinematográficos indígenas. Ele falou sobre esse trabalho na sua talk no TEDxAmazônia e inclusive adiantou alguns trechos de filmes que estavam ainda sendo finalizados.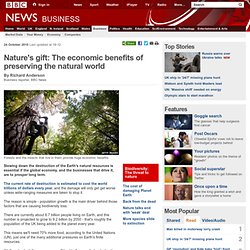 Nature's gift: The economic benefits of preserving the natural world
24 October 2010 Last updated at 14:12 ET By Richard Anderson Business reporter, BBC News Forests and the insects that live in them provide huge economic benefits
Canopy Capital | Valuing the world's rainforests
Ghost Forest Art Project
Global Canopy Programme
The Prince's Rainforests Project
Walking the Amazon: The blog of a journey from source to sea
Rainforest Rescue - Protecting Rainforests Forever
The Yorkshire Rainforest Project | About Us
REDD Plus | News, views and analysis on reducing emissions from deforestation and degradation
The REDD Desk | A Collaborative Resource for REDD Readiness