Random
BBC iPlayer - The Royal Bodyguard: A Watery Grave. Fridtjof Nansen - StumbleUpon. Fridtjof Nansen If you can look at this picture and tell me that this isn't one of the sweetest photos of a dude with a 'stache that you've ever seen, then you obviously need to learn a little something about facial hair and being awesome.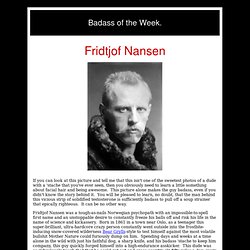 This picture alone makes the guy badass, even if you didn't know the story behind it. You will be pleased to learn, no doubt, that the man behind this vicious strip of solidified testosterone is sufficiently badass to pull off a soup strainer that epically righteous. Portraits of Dogs as They Shake Off Water - StumbleUpon. ThePhobia List - StumbleUpon. Alien Species On MAAR. Use menu below to read about various alien species.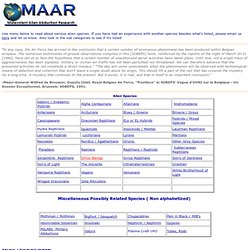 If you have had an experience with another species besides what's listed, please email us here and let us know. Also look in the sub categories to see if it's listed "In any case, the Air Force has arrived to the conclusion that a certain number of anomalous phenomena has been produced within Belgian airspace. The numerous testimonies of ground observations compiled in this [SOBEPS] book, reinforced by the reports of the night of March 30-31 [1990], have led us to face the hypothesis that a certain number of unauthorized aerial activities have taken place. Until now, not a single trace of aggressiveness has been signaled; military or civilian air traffic has not been perturbed nor threatened. Ubokia - What do YOU want? - StumbleUpon. List of common misconceptions - Wikipedia, the free encyclopedia - StumbleUpon.
This incomplete list is not intended to be exhaustive.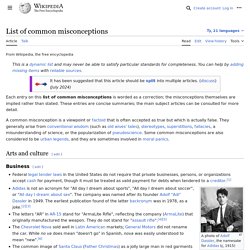 This list corrects erroneous beliefs that are currently widely held about notable topics. Each misconception and the corresponding facts have been discussed in published literature. Note that each entry is formatted as a correction; the misconceptions themselves are implied rather than stated. 10 Common Misconceptions Dispelled - StumbleUpon. Forbidden Fruit: Illegal Fruits & Foods - StumbleUpon. FBI. The FBI's Reading Room contains many files of public interest and historical value.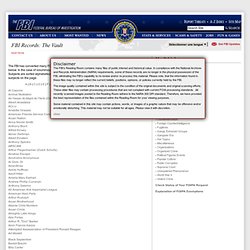 In compliance with the National Archives and Records Administration (NARA) requirements, some of these records are no longer in the physical possession of the FBI, eliminating the FBI's capability to re-review and/or re-process this material. Please note, that the information found in these files may no longer reflect the current beliefs, positions, opinions, or policies currently held by the FBI.
The image quality contained within this site is subject to the condition of the original documents and original scanning efforts. TalkBackwards.com - Backmasking &Reverse Speech - StumbleUpon.
---