Safety
Safety Awakenings. Health and safety in the laboratory and field - Health and safety in the laboratory and field. This unit is designed to introduce you to the concepts of health and safety within a science laboratory or in the field.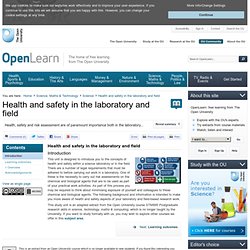 There are a number of legal requirements that must be adhered to before carrying out work in a laboratory. One of these is the necessity to carry out risk assessments on the chemical and biological agents that are to be used as part of your practical work activities. As part of this process you may be required to think about minimising exposure of yourself and colleagues to these chemical and biological agents.
The following background and information is intended to make you more aware of health and safety aspects of your laboratory and field-based research work.
LABORATORY
SafetyPhoto. HSE reminds firms of changes to incident reporting system. New incident reporting arrangements for businesses were introduced from September 2011, the Health and Safety Executive (HSE) has reiterated.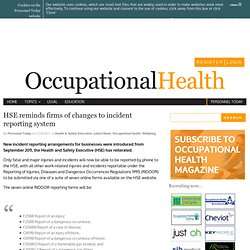 Only fatal and major injuries and incidents will now be able to be reported by phone to the HSE, with all other work-related injuries and incidents reportable under the Reporting of Injuries, Diseases and Dangerous Occurrences Regulations 1995 (RIDDOR) to be submitted via one of a suite of seven online forms available on the HSE website. The seven online RIDDOR reporting forms will be: F2508 Report of an injury;F2508 Report of a dangerous occurrence;F2508A Report of a case of disease;OIR9B Report of an injury offshore;OIR9B Report of a dangerous occurrence offshore;F2508G1 Report of a flammable gas incident; andF2508G2 Report of a dangerous gas fitting.
---