Information
THOMAS (Library of Congress) Why Switzerland Has The Lowest Crime Rate In The World. Cryptome - Spying Guidelines. Barefoot's World. State launches boycott of 'unconstitutional' federal laws. Text smaller Text bigger Tennessee is urging 49 other states to come together and create a "joint working group among the states" to combat unconstitutional federal legislation and assert state rights.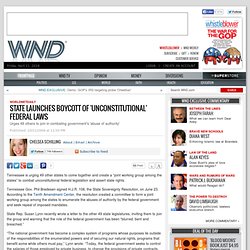 Tennessee Gov. Phil Bredesen signed H.J.R. 108, the State Sovereignty Resolution, on June 23. Brennan Center For Justice. Quotes - Let's Talk Sense. Where is the wisdom we have lost in knowledge?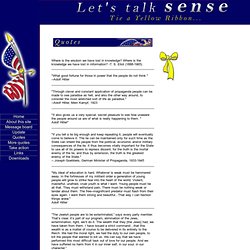 Where is the knowledge we have lost in information? -T. S. Eliot (1888-1965) SCOTUSblog. Libertarian Quotes. – Anonymous A government which robs Peter to pay Paul, can always count on the support of Paul.
It Can't Happen Here" by Sinclair Lewis. The Year of Reading Politically, No. 6: the 1930s Over the last few months, as I've looked at 120 years of novels about American politics, I've been surprised how often American writers have filtered their experiences of the political process into dystopian novels.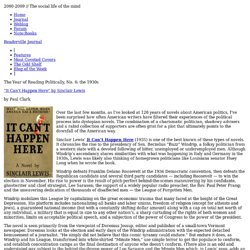 The combination of a charismatic politician, shadowy advisers and a rabid collection of supporters are often grist for a plot that ultimately points to the downfall of the American way. Sinclair Lewis' It Can't Happen Here (1935) is one of the best known of these types of novels. It chronicles the rise to the presidency of Sen. Berzelius "Buzz" Windrip, a folksy politician from a western state with a devoted following of bitter, unemployed or underemployed men. Break the Dam: Access to Public Information in Texas. OpenCongress - Track bills, votes, senators, and representatives in the U.S. Congress. Project Vote Smart - State Officials of Texas. Texas Open Records Search. OpenSecrets.org: Money in Politics -- See Who's Giving & Who's Getting.
---