Stocks
Advice on Starting a Business. Writing a Business Plan, Section by Section Are you starting a business?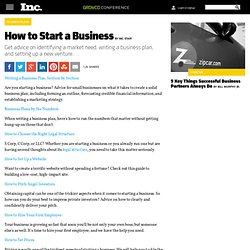 Advice for small businesses on what it takes to create a solid business plan, including forming an outline, forecasting credible financial information, and establishing a marketing strategy. How to Write a Great Business Plan, Page 2. A great business plan is a living, breathing blueprint for your business that can help you navigate and manage your company while also helping potential investors, partners, lenders, and others understand your business strategy and your chances at success.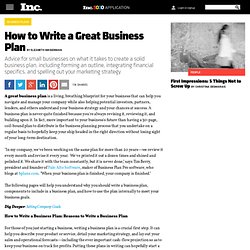 A business plan is never quite finished because you're always revising it, reviewing it, and building upon it. In fact, more important to your business's future than having a 30-page, coil-bound plan to distribute is the business planning process that you undertake on a regular basis to hopefully keep your ship headed in the right direction without losing sight of your long-term destination. "In my company, we've been working on the same plan for more than 20 years—we review it every month and revise it every year. How Life Works. Eight Questions To Ask Before You Start A Business. Are you thinking of starting a web business?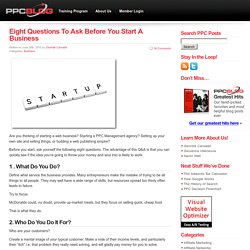 Starting a PPC Management agency? Setting up your own site and selling things, or building a web publishing empire? Before you start, ask yourself the following eight questions. The advantage of this Q&A is that you can quickly see if the idea you're going to throw your money and soul into is likely to work. 1 . 9-ways-to-build-wealth-in-2011-1.aspx?pid=p:paidmrkt&ec_id=m1106156 from... How to start a dividend portfolio with $5,000 « Intelligent Speculator. Anytime we talk about stock picks or building a portfolio, one of the most asked questions on this blog is how to start building the portfolio itself.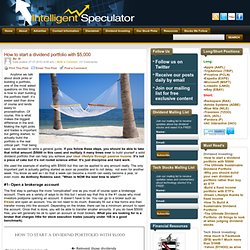 It's easier said than done of course and lends easily to procrastination. Of course, this is what makes the biggest difference in the end. Making the right picks and trades is important but getting started, to actually build the portfolio is the real critical part. 15 Things I Look at Before Trading a Stock. I recently shared my stock trading analysis template along with my recent moves on the stock market.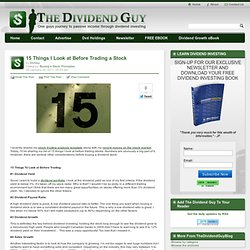 Today, I'll be sharing my list of 15 things I look at before trading stocks. Numbers are obviously a big part of it. However, there are several other considerations before buying a dividend stock: 15 Things I Look at Before Trading a Stock. Best CD Rates (Certificate of Deposit) - Top 10 Highest CD Rates. Short Selling Penny Stocks | Free Penny Stock Picks | Reviews.
---