Law
Life at the department - The University of Auckland
UK case law - Online Library
Case Search
Judgments
House of Lords - Judicial Business
Second annual BAILII LectureDecision-making in the UK's top court by Professor Alan Paterson OBE Given on 9th December 2013 BAILII RSS searches BAILII searches are now available as RSS feeds. When you perform a search, you will now see a link to an RSS feed ( ) for the results. If you copy this link into your RSS reader of choice, you will be notified whenever new items are uploaded that match the search. APPEAL FOR FUNDS Donations enable BAILII to meet the costs of maintaining and developing its website.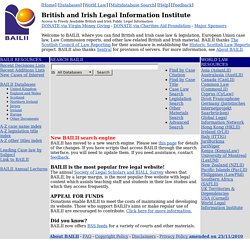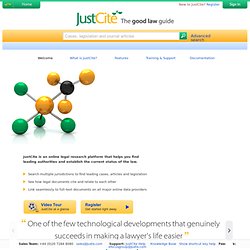 "One of the few technological developments that genuinely succeeds in making a lawyer's life easier" "The most efficient way of finding relevant, up-to-date law" "When finding legal authority, JustCite excels where it matters most: accuracy and scope"
Search
<div class="errordiv"><strong><span style='color:#c94848;'>Unfortunately, your web browser appears not to support JavaScript, so you will not be able to use Justis.</span></strong><br /><span style="font-size:95%">Your Web browser may have JavaScript disabled, or it may be too old to support JavaScript. Please check the <a href="support/tech-requirements.aspx">technical requirements</a>,<br />and <a href="support/faq-javascript.aspx#enable">enable JavaScript</a> if you want to use Justis.</span></div> Justis is an online library of UK, Irish, EU and international case law and legislation.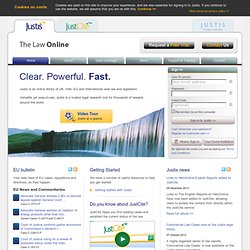 Quick Search
Dictionary of Law. Define Legal Terms at FindLaw
Student Portal - University of London International Programmes - Home
EBSCO Publishing Service Selection Page
the essential source for full-text judgments from the High Court and Court of Appeal
Westlaw UK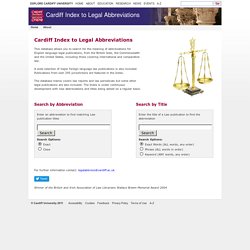 This database allows you to search for the meaning of abbreviations for English language legal publications, from the British Isles, the Commonwealth and the United States, including those covering international and comparative law. A wide selection of major foreign language law publications is also included. Publications from over 295 jurisdictions are featured in the Index. The database mainly covers law reports and law periodicals but some other legal publications are also included.
Cardiff Index to Legal Abbreviations
Lexis®Library: Homepage
Skip to content Sign in to Lexis®Library Use of this service is subject to Terms & Conditions and Privacy & Cookies Policy (Updated).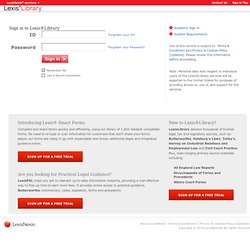 Welcome to HeinOnline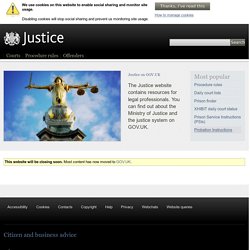 Department for Constitutional Affairs - Home Page
| The Department | Procedure Rules | Freedom of Information | Publications | The legal system | Getting legal help | People's rights | Legal policy | Constitution | Appointments | Judges | Magistrates | Useful links We are responsible in government for upholding justice, rights and democracy. Justice - responsibilities include running the courts, and improving the justice system Rights - responsibilities include human rights and information rights law Democracy - responsibilities include law and policy on running elections and modernising the constitution