Internetly Tools
Learning from My Online Mistakes - The Conversation - Harvard Bu. By Alexandra Samuel | 9:00 AM January 19, 2010 Risk aversion is the number one reason that people and organizations fail to tap the full power of social media.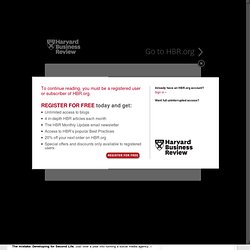 People often tell me that they can't afford to make a mistake online, because any error will be just one Google search away for anyone to see, forever. Unless you're prepared to risk the occasional mistake, however, you'll never do anything interesting enough to earn real attention or foster real conversation.
Welcome to HootSuite - The Professional Twitter Client. Facebook et al risk 'infantilising' the human mind | Media | Social networking sites, such as Facebook, are putting attention span in jeopardy, says Baroness Greenfield.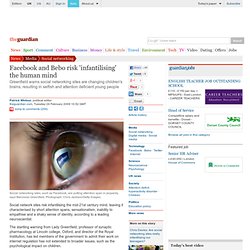 Photograph: Chris Jackson/Getty Images Social network sites risk infantilising the mid-21st century mind, leaving it characterised by short attention spans, sensationalism, inability to empathise and a shaky sense of identity, according to a leading neuroscientist. The startling warning from Lady Greenfield, professor of synaptic pharmacology at Lincoln college, Oxford, and director of the Royal Institution, has led members of the government to admit their work on internet regulation has not extended to broader issues, such as the psychological impact on children. After 70 years, Gourmet magazine ceased publication in October by order of its parent company, Conde Nast.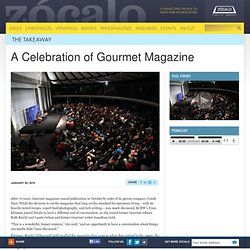 While the decision to cut the magazine that long set the standard for epicurean living – with its heavily-tested recipes, expert food photography, and rich writing – was much discussed, KCRW's Evan Kleiman joined Zócalo to have a different sort of conversation, as she joined former Gourmet editors Ruth Reichl and Laurie Ochoa and former Gourmet writer Jonathan Gold. "This is a wonderful, homey reunion," she said, "and an opportunity to have a conversation about things you maybe didn't hear discussed." Kleiman, Reichl, Ochoa and Gold recalled the magazine they came to when they arrived in the 1990s, the ways they transformed it, and the way it transformed the way Americans see food. Judge by the cover.
12 Quick Tips To Search Google Like An Expert. If you're like me, you probably use Google many times a day.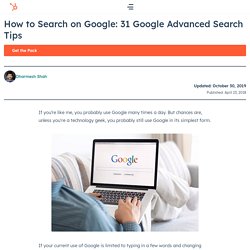 But chances are, unless you're a technology geek, you probably still use Google in its simplest form. If your current use of Google is limited to typing in a few words and changing your query until you find what you're looking for, then I'm here to tell you that there's a better way -- and it's not hard to learn. On the other hand, even if you are a technology geek and can use Google like the best of them already, I still suggest you bookmark this article of Google search tips. Then, you'll then have the tips on hand when you're ready to pull your hair out in frustration watching a neophyte repeatedly type in basic queries in a desperate attempt to find something. The following Google search tips are based on my own experience and things that I actually find useful. How does the Eye-Fi card work?
Facebook
My Favorite Applications : The World :: American Express OPEN Fo. How we read online. - By Michael Agger. You're probably going to read this.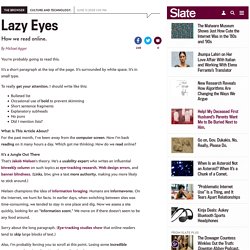 It's a short paragraph at the top of the page. It's surrounded by white space. It's in small type. To really get your attention, I should write like this: Welcome to HootSuite - The Professional Twitter Client. Twitter. Google Wave. Tech Reflections - Digital Muse for Beat Poet. 5 Creative Ways To Use Your Twitter Favorites | Social Media Exa. If you look at most Twitter users' Favorites, this feature is .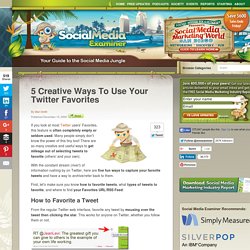 Many people simply don't know the power of this tiny tool! There are so many creative and useful ways to (others' and your own). With the constant stream (river!) WhatTheFont! Wordnik Demonstrates the Future of e-reader Platforms with Smart. SAN MATEO and PALOS VERDES, Calif., June 3 /PRNewswire/ -- At The Wall Street Journal's D8: All Things Digital Conference, a gathering of influential leaders in media and technology, Wordnik, a company creating new ways to unlock the value of digital content, will demonstrate today how media and publishing leaders can enhance discovery and bring new opportunities for monetization inside the e-reader platform.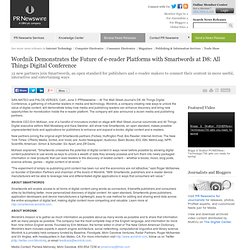 The company will also announce a dozen media and publishing partners. Wordnik CEO Erin McKean, one of a handful of innovators invited on stage with Wall Street Journal columnists and All Things Digital executive editors Walt Mossberg and Kara Swisher, will show how Smartwords, an open standard, makes possible unprecedented tools and applications for publishers to enhance and expand e-books, digital content and e-readers. Wordnik prepares to show off Smartwords, its platform for smarte. Wordnik, the startup that has supposedly built "the most comprehensive dictionary in the known universe," announced an initiative in February to make the text in e-book readers more information-rich.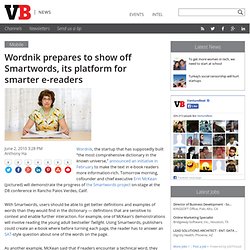 Tomorrow morning, cofounder and chief executive Erin McKean (pictured) will demonstrate the progress of the Smartwords project on-stage at the D8 conference in Rancho Palos Verdes, Calif. With Smartwords, users should be able to get better definitions and examples of words than they would find in the dictionary — definitions that are sensitive to context and enable further interaction.
For example, one of McKean's demonstrations will involve reading the young adult bestseller Twilight. Using Smartwords, publishers could create an e-book where before turning each page, the reader has to answer an SAT-style question about one of the words on the page. Favicon. Wikipedia's favicon, shown in an older version of Firefox (from 2008).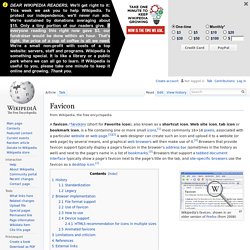 History[edit] In March 1999, Microsoft released Internet Explorer 5, which supported favicons for the first time.[4] Originally, the favicon was a file called favicon.ico placed in the root directory (e.g., of a web site. It was used in Internet Explorer's favorites (bookmarks) and next to the URL in the address bar if the page was bookmarked.[5][6][7][4] A side effect was that the number of visitors who have bookmarked the page could be estimated by the requests of the favicon. This side effect no longer works, as all modern browsers support the favicon without bookmarking.[6] Standardization[edit]
---