Textures
Russian. Content Paradise - Poser Content, Shade Content and more 3D Content, Figures, Clothing, Hair, Poses and Props by e frontier. Texture. Texturing skin in Adobe Photoshop. Part 1: creating the base texture By Dave Nagel Whether you're involved in 2D or 3D, working with UV maps or creating seamless tiles, it's simple to use Adobe Photoshop to create skin textures for your characters.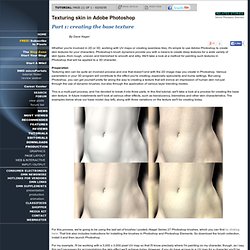 Photoshop's brush dynamics provide you with a means to create deep textures for a wide variety of skin types--from rough, uneven and blemished to smooth and silky. We'll take a look at a method for painting such textures in Photoshop that will be applied to a 3D character. Preparation Texturing skin can be quite an involved process and one that doesn't end with the 2D image map you create in Photoshop. Various parameters in your 3D program will contribute to the effect you're creating--especially specularity and bump settings. Inside Computer Graphics. Curio's Majestic Dragon. Dragon Tongue. Cresswell Graphics. Handspan Studios - Characters and Textures for Poser 4 and Poser 5. Texture Hound - Ultimate 3d Textures Links. All the Human Photo References and Textures 3D Artist Wants. 3dplants.com - Free Textures Library. Acquire USGS Data. Tiling Cloth Textures Tutorial, PSP Brushes. A pointer for using my Cloth Textures collections, if you are using Paint Shop Pro by JASC software, just convert the files to .bmp and drop them in the 'patterns' folder in the PSP program files (or open a tile at the same time you are working on your image, any image that's open will show up as a pattern selction, then you can leave them in .jpg format).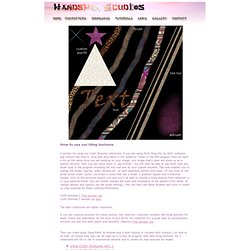 You will then be able to use them with any brush type in the program including the line tool and all your custom brushes. This also enables you to change the angle, opacity, scale, density etc. of each seamless pattern with ease. (If you click on the small arrow under 'styles' you'll see a menu that has a brush, a gradient square and a textured square, click on the textured square icon and you'll be able to choose a tiling texture from whatever is in your patterns folder. You can further change the scale and orientation of the pattern from there. To change density and opacity use the brush settings.) Texture Library.
Texture Downloads. A collection of textures for other people's work.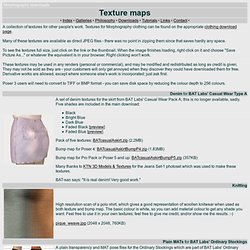 Textures for Morphography clothing can be found on the appropriate clothing download page. Many of these textures are available as direct JPEG files - there was no point in zipping them since that saves hardly any space. To see the textures full size, just click on the link or the thumbnail.
---