Tutoriales
May 04 2008 It's always fun to experiment different techniques and learn how to work with various aspects of Adobe Photoshop to spice up boring pictures and make them into works of arts and masterpieces. So, if you're interested in learning some new skills, whether you're a beginner, intermediate or advanced user, these Photoshop and Illustrator tutorials are for you.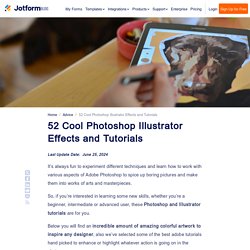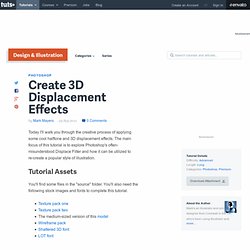 Create 3D Displacement Effects in Photoshop
Today I'll walk you through the creative process of applying some cool halftone and 3D displacement effects. The main focus of this tutorial is to explore Photoshop's often-misunderstood Displace Filter and how it can be utilized to re-create a popular style of illustration. Tutorial Assets
Create a Royal Gold Text Effect in Photoshop Using Layer Styles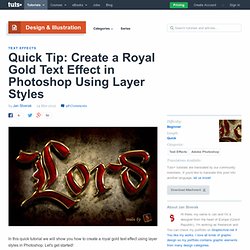 In this quick tutorial we will show you how to create a royal gold text effect using layer styles in Photoshop. Let's get started! Tutorial Assets The following assets were used during the production of this tutorial. Step 1 First create a new .PSD document, 600 x 400 pixels in RGB mode, 72 DPI with any background color.
In this tutorial Nik Ainley walks us through the process of making a spectacular image. This tutorial focuses on the big picture steps taken to create this image. You'll learn some incredible techniques in this tutorial, and get a view into how Nik creates beautiful photo-manipulation based images.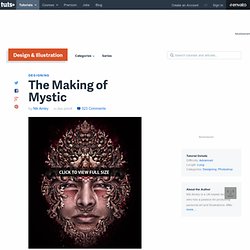 20 PSD Tuts That Will Turn You Into A Photoshop Guru |  Smashing Share
Create Gold Ornamental Text in Photoshop
Ornamental text can be created in several ways. Today we will demonstrate how to combine several stock images to create some nice gold ornamental typography. Let's get started! Resources Used The following resources were used during the production of this tutorial: Step 1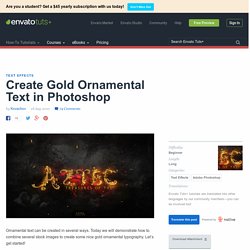 Creating a high-impact and realistic caricature illustration can be a fun but extremely challengi... Creating a high-impact and realistic caricature illustration can be a fun but extremely challenging task. In this tutorial, we will explain how to properly control all the elements of a composition including color balance, contrast, textures, and more, as well as all of the tools and techniques that you will need to know in Photoshop to build a highly entertaining and detailed caricature illustration.
Draw a Victorious Warrior Knight in Photoshop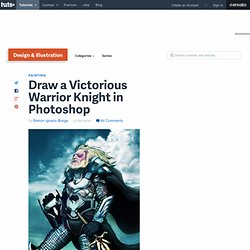 Follow this step by step tutorial to create a realistic pewter style metal text effect in Photoshop. The best part is it's really easy! Just a couple of Photoshop layer styles is all it takes to create the basic effect, with a subtle tweak or two to perfect the lighting to maximise the realism.
Super Easy Pewter Style Metal Text Effect in Photoshop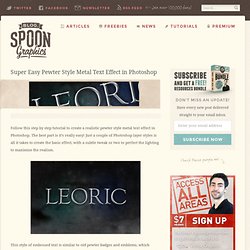 In this tutorial we will explain how to create a severed arm with fleshy stumps and strings of sinew. This will be created by using some basic Brushes and Layer Masks. Let's get started! Video Tutorial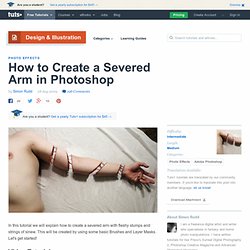 17 Galerías gratuitas de fotos en flash | Groovin'...
Tutorials by `spiritsighs on deviantART
Flashadictos - Video Tutoriales Flash CS4, CS5 y Programación con ActionScript 3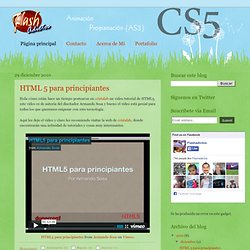 Buenas tardes bueno para los que no se han enterado aún, Luis de Batatastudio ha organizado un concurso :), que consiste en crear un website totalmente en flash, claro que dicho concurso tiene una serie de requisitos muy simples , seguir a batatastudio en twitter, facebook, en su blog y entre otras cosas. Los premios están muy buenos, tiene como patrocinadores nada más y nada menos que a Video2brain y Flashfacilito que realizan videotutoriales realmente buenos y muy profesionales, les dejo el link oficial del concurso para que lo lean y se animen a participar, creo que yo también lo haré. Entra y entérate de las fechas, terminos y premios del concurso, web oficial del concurso : Concurso Batatastudio Les dejo el video realizado por Luis donde explica más sobre el concurso:
illustrator Cs6 | Free Vector illustrator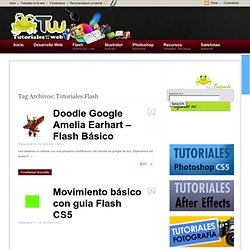 Tutoriales Flash | Tutoriales en la Web
Dibujando con Pixeltool Posteado el 07. Dec, 2010 por tuto. Esto es lo que haremos en Adobe Flash utilizamos un plugin que debes instalar en Flash para que te funcione el efecto de pixel esperamos te guste(...) Continuar leyendo Menu con efecto iluminado
70+ Ultimate Collection Of Inspirations And Tutorial Resources For Designers To Discover The Best Of The Web In August
Smashing Apps has been featured at Wordpress Showcase. If you like Smashing Apps and would like to share your love with us so you can click here to rate us. We are always in search of great free resources, tips, tricks, etc. for our readers. Every day we work hard to find new resources and inspiration for designers like you.
Over years Adobe Illustrator has become the standard application when it comes to illustration design. Artists, illustrators and graphic designers use Illustrator to create vector-based graphics which — contrary to raster-based editors such as Adobe Photoshop — can be easily rescaled without the loss of quality. E.g., Illustrator is often used to quickly transform hand-drawn sketches on a sheet of paper into lively and colorful digital images. However, to master Adobe Illustrator isn't easy; and the creating process of professional illustrations requires both time and patience.
While Adobe Illustrator is the preferred tool by most designers for illustrating and drawing digitally, Photoshop can also be used for some types of illustration. This post includes a selection of tutorials that cover the process of drawing various objects in Photoshop. Looking for hosting? WPEngine offers secure managed WordPress hosting. You'll get expert WordPress support, automatic backups, and caching for fast page loads.
40 Photoshop Illustration Tutorials