Home design
Holder for Charging Cell Phone (made from lotion bottle) My husband and I both have cell phones.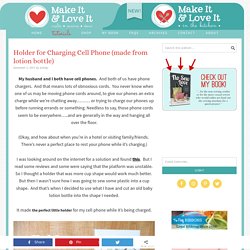 And both of us have phone chargers. And that means lots of obnoxious cords. You never know when one of us may be moving phone cords around, to give our phones an extra charge while we're chatting away……… or trying to charge our phones up before running errands or something. Needless to say, those phone cords seem to be everywhere…..and are generally in the way and hanging all over the floor.
Mason Jar Craft Storage! 6 Summer Bunk Bed Rooms. Whether you have a large family or a busy summer house, a bunk room is an ideal solution for accommodating lots of guests.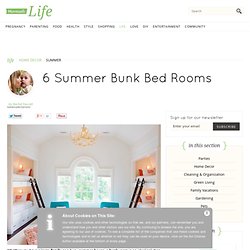 Here are some of our favorites. This nautical-inspired bunk room in a Hamptons home by Steven Gambrel features lots of room for storage with built-ins and under-bed drawers. Custom netting provides safety for the top bunks. An absolutely gorgeous bunk room from the Lerer House in Park City, Utah. 15 Fun + Beautiful Kid's Bedroom.
---