Photo
People And Beauty - Olivier Chauvignat - Stages Photo - Cours Photo - High-Key - High Key Lighting - Low Key - Photo Beauté - Photographe Mode Beauty Fashion Photographer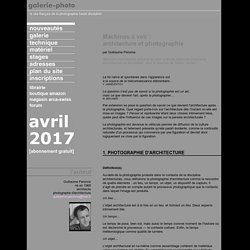 machines à voir : architecture et photographie
par Guillaume Péronne (Mémoire d'architecture présenté en 2007 à l'Ecole Nationale Supérieure d'Architecture de Montpellier, sous la direction de Thierry Verdier) La foi naïve et spontanée dans l'apparence està la source de la méconnaissance élémentaire… V. JANKÉLÉVITCH La question n'est pas de savoir si la photographie est un art, mais ce que devient l'art, après la photographie… W.
Photographie à Genève - G. Fürst - www.exifs.ch, www.exif.ch - exposition, vente
Stop au plagiat sur touche-pas-mon-contenu.org
Mevio | The Art of Photography | With Ted Forbes | Photo Gear, Tips and Techniques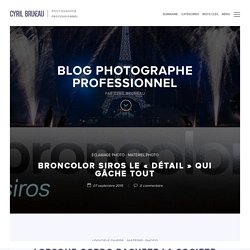 La nouvelle version de Lightroom n'est pas ce que l'on pourrait appeler une mise à jour majeure. Il y a bien entendu des nouveautés intéressantes mais je trouve que les mises à jours précédentes étaient plus importantes. Après l'avoir utilisé depuis quelques semaines, je me rends compte que la nouveauté que j'utilise le plus est la nouvelle fonction pour redresser les perspectives. Elle fonctionne très bien et est vraiment pratique.
Photographe professionnel