Spring - Struts - Hibernate
Introduction I worked on a project that uses Jersey RESTful web services that depend on other classes to do the actual work. For example a web service that uses a data access object to get information out of a data repository. Since I like to use Spring to manage dependencies between classes, I needed to learn how to integrate Spring and Jersey.
Bruce Phillips Blog on Java, ColdFusion, Flex and Spry: Using Jersey (RESTful Web Services) and Spring (Dependency Injection) Together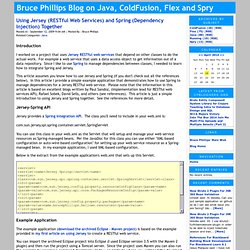 nnotations have been part of the Spring Model-View-Controller (MVC) Framework since Spring 2.0. In Spring, annotations can greatly reduce the amount of XML bean configuration and wiring needed. Given the many components of the Spring MVC environment (handler mapping, controller, view resolver, and view), XML configuration can turn unwieldy in a hurry.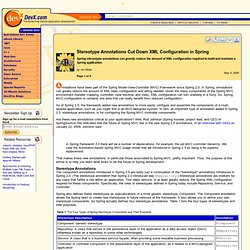 Stereotype Annotations Cut Down XML Configuration in Spring
:: DeveloperIQ.in - Asia's #1 Software Technology magazine ::
Posted On April 26, 2011 by GB Shah filed under Programming , Java In the earlier articles we saw that Spring and Hibernate are established frameworks for middle tier and persistence tier respectively and Struts2 is one of the hottest frameworks for the web tier. The actions in Strut2 not only contains code to service requests but also act as data carriers and hence are model objects. For each request, an action object is created and this affects performance but makes coding simple. No separate data transfer objects (DTOs) are required and the action object pushed into the value stack are pulled by view objects and the data is retrieved and sent to the client. This makes Struts2 a pull MVC2 framework.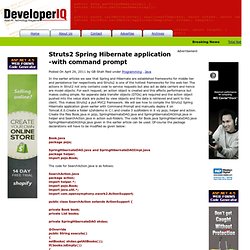 This weekend I played a bit with Struts2. Obviously my first thought was to put together "fellowship of the ring" ie Struts, Spring and Hibernate. Now, we have two ways for integrating Hibernate and I've chosen the Java Persistence Architecture approach, because is the latest trend in terms of persistence in the J2EE landscape. For the sake of simplicity I'll take a simple example that contains Books and Authors.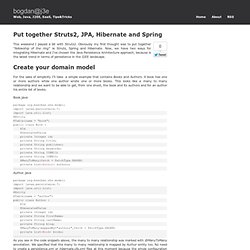 Put together Struts2, JPA, Hibernate and Spring | bogdan@j3e
Java Struts Spring Hibernate Tutorial - github.com/ chrishulbert/ JavaTutorial
Struts2, Spring 2 sans XML - Site de capitalisation technique d'Objet Direct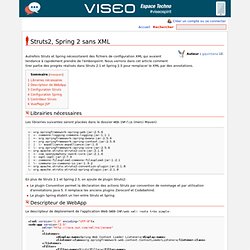 Un article de ODcWiki. Autrefois Struts et Spring nécessitaient des fichiers de configuration XML qui avaient tendance à rapidement prendre de l'embonpoint. Nous verrons dans cet article comment tirer partie des progrès réalisés dans Struts 2.1 et Spring 2.5 pour remplacer le XML par des annotations.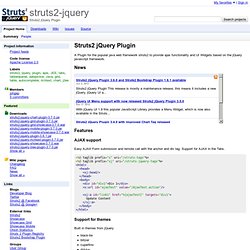 A Plugin for the popular java web framework struts2 to provide ajax functionality and UI Widgets based on the jQuery javascript framework. News Features AJAX support Easy AJAX Form submission and remote call with the anchor and div tag. Support for AJAX in the Tabs.
struts2-jquery - Struts2 jQuery Plugin
Struts, Spring, Hibernate
Hibernate Tutorial
Spring Tutorial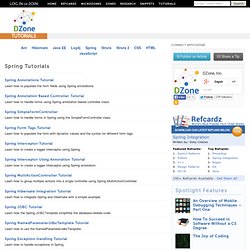 Spring IoC Tutorial Learn how the DI can be used to decouple the dependencies between different components. Spring IDE Learn how to install the spring ide and to create a simple hello world example using it. An Introduction To Spring AOP
Bruce Phillips - Java Spring Framework
Rich user interface components By building your application from the hundreds of polished components that are available, you can focus on designing the best user experience. Built on HTML5 Lightning fast rendering and modern web technologies let you move even the most demanding applications to the web platform with ease. No need for installations or plug-ins. Looks matter Your application is percieved to be as good as its user interface.
Stateful and Stateless Session Bean Life Cycle