Spring - Struts - Hibernate
Introduction
Bruce Phillips Blog on Java, ColdFusion, Flex and Spry: Using Jersey (RESTful Web Services) and Spring (Dependency Injection) Together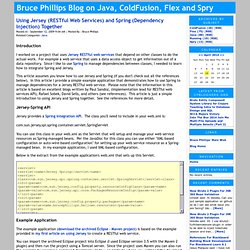 nnotations have been part of the Spring Model-View-Controller (MVC) Framework since Spring 2.0. In Spring, annotations can greatly reduce the amount of XML bean configuration and wiring needed. Given the many components of the Spring MVC environment (handler mapping, controller, view resolver, and view), XML configuration can turn unwieldy in a hurry.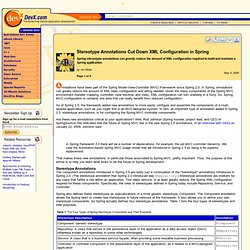 Stereotype Annotations Cut Down XML Configuration in Spring
:: DeveloperIQ.in - Asia's #1 Software Technology magazine ::
Posted On April 26, 2011 by GB Shah filed under Programming , Java In the earlier articles we saw that Spring and Hibernate are established frameworks for middle tier and persistence tier respectively and Struts2 is one of the hottest frameworks for the web tier.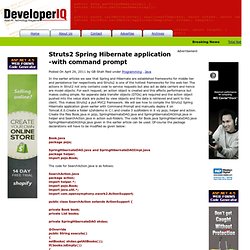 This weekend I played a bit with Struts2.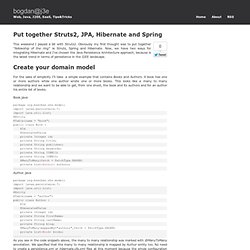 Put together Struts2, JPA, Hibernate and Spring | bogdan@j3e
Java Struts Spring Hibernate Tutorial - github.com/ chrishulbert/ JavaTutorial
Struts2, Spring 2 sans XML - Site de capitalisation technique d'Objet Direct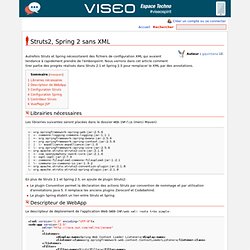 Un article de ODcWiki. Autrefois Struts et Spring nécessitaient des fichiers de configuration XML qui avaient tendance à rapidement prendre de l'embonpoint. Nous verrons dans cet article comment tirer partie des progrès réalisés dans Struts 2.1 et Spring 2.5 pour remplacer le XML par des annotations.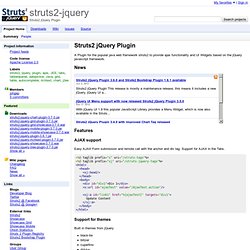 A Plugin for the popular java web framework struts2 to provide ajax functionality and UI Widgets based on the jQuery javascript framework. News
struts2-jquery - Struts2 jQuery Plugin
Struts, Spring, Hibernate
Hibernate Tutorial
Spring Tutorial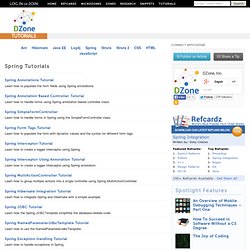 Spring IoC Tutorial Learn how the DI can be used to decouple the dependencies between different components. Spring IDE Learn how to install the spring ide and to create a simple hello world example using it. An Introduction To Spring AOP
Bruce Phillips - Java Spring Framework
Stateful and Stateless Session Bean Life Cycle