Kinda cool
Crafting MacGyver: Circular Logic - StumbleUpon. Happy Hippity Hop! We're taking a long weekend off here for the Easter break (we're working on a new website with hopes of getting a bit more done with the extra day tucked in there).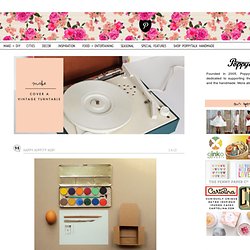 So we're bidding you farewell early with a few links and this cute little picture tutorial (see more below) sent to our e-mail from the folks at Present&Correct. Happy wishes for your Easter and Passover break. We're heading over here later to learn how to make some marshmallow peeps! Inspired Entertaining: DIY Chalkboard Wine Glasses - StumbleUpon. Last month I got an email from one of those "deal of the day" websites featuring a very cute set of wine glasses with chalkboard stems from a company called Chalkboard China.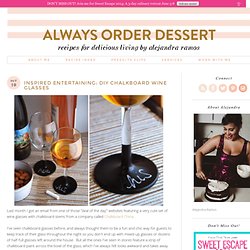 I've seen chalkboard glasses before, and always thought them to be a fun and chic way for guests to keep track of their glass throughout the night so you don't end up with mixed-up glasses or dozens of half-full glasses left around the house. But all the ones I've seen in stores feature a strip of chalkboard paint across the bowl of the glass, which I've always felt looks awkward and takes away from the beauty of the wine or beverage in the glass. What I like about this version is that the writing part is at the bottom on the stem and foot of the glass, so it doesn't compete with the beverage. I also like that the simple black foot on the glass is in itself an elegant design element, and would work just as well with no writing on it. Push Pin Tree Tutorial. I am loving the challenge of coming up with new, creative, simple and redefined tutorials for my blog and today's project is simple but a great alternative to spending lots of money on decorative trees.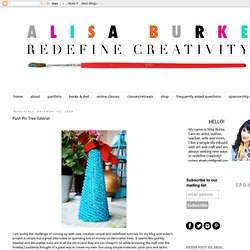 It seems like sparkly, beaded and decorative trees are in all the store (and they are not cheap!!!) So while browsing the mall over the holiday I suddenly thought of a great way to create my own- but using simple materials- push pins and tacks! Button Xmas Ornaments. Christmas Buttons.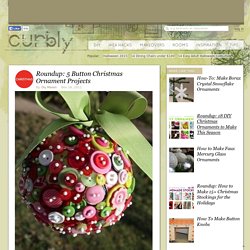 So sweet and colorful, they're just aching to be turned into Christmas ornaments. The one pictured above is from Leslie Ashe. There isn't a tutorial, but it looks like the maker used a styrofoam ball and white ball head stick pins. Milk jog Lunch Box. DIY dress. Yarn Vase. This is a simple project that combines two of our favorite elements about crafting: using leftover supplies from a previous project (in this case, the yarn) and reusing something that was on its way to our recycle bin (the glass vase). yesterday morning as derek and i were brainstorming ideas for this week's diy wednesday project, he came up with the idea of wrapping a glass vase with various colors of yarn. fortunately we had a few leftover skeins from last weekend's weaving workshop at the store, and i was able to fashion this yarn-wrapped vase out of some brown and green in a matter of minutes. since the flowers i picked up lent themselves to the '70s rec room vibe that was going on with the brown and green, i thought this would be a good bouquet for a boy and plan on giving it to derek to keep on his desk at work this week!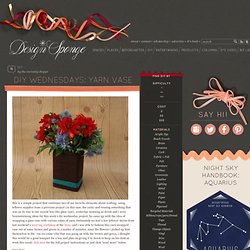 Click here for the full project instructions or just click "read more" below. have fun! Lauren (& derek too!) Bottle Cap Ponytail Holder. I have had all these bottle caps laying around and yesterday day it dawned on me to try them out as ponytail holders.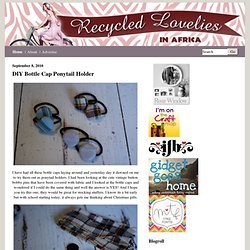 I had been looking at the cute vintage button bobby pins that have been covered with fabric and I looked at the bottle caps and wondered if I could do the same thing and well the answer is YES! And I hope you try this one, they would be great for stocking stuffers. I know its a bit early but with school starting today, it always gets me thinking about Christmas gifts. Materials Needed: Eco Travel Lid: « Back to Eco Travel Lid Perfect for picnics or parties...Eco friendly and very Mod.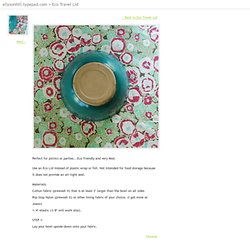 Use an Eco Lid instead of plastic wrap or foil. Not intended for food storage because it does not provide an air-tight seal. Materials: Cotton fabric (prewash it) that is at least 3" larger than the bowl on all sides Rip-Stop Nylon (prewash it) or other lining fabric of your choice. Post Halloween Decor. I'm in denial that Christmas is coming.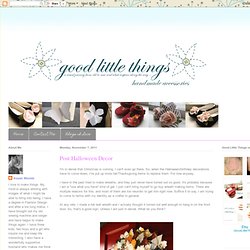 I can't even go there. So, when the Halloween/birthday decorations have to come down, I've put up more fall/Thanksgiving items to replace them. For now anyway.
---