Studium
Logisim ist eine kostenlose Software, die unter den Bedingungen der GNU General Public License, Version 2 herausgegeben wird. Es sollte auf jeder Plattform mit Java-Unterstützung, Version 5 oder höher, laufen. Logisim benötigt Java 5 oder höher. Wenn Sie noch kein Java auf Ihrem Rechner haben, so können Sie dieses unter java.sun.com bekommen. Laden Sie Logisim von Logisims Seite auf SourceForge.net herunter.
Logisim: Download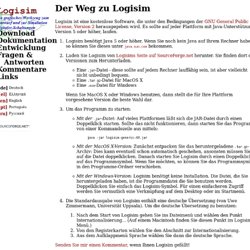 Index Page — Intelligent Autonomous Systems Group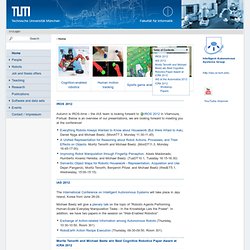 Autumn is IROS-time – the IAS team is looking forward to IROS 2012 in Vilamoura, Portual. Below is an overview of our presentations, we are looking forward to meeting you at the conference! The IAS team will be involved in two demonstrations at the Automatica trade fair: Our PR2 will prepare popcorn for the visitors at the CoTeSys booth in hall B1, booth 321. As part of the DLR booth, parts of the team will present first results of the SAPHARI project, namely DLR lightweight arms playing with BRIO wooden toy railways (hall B3, booth 520/521).
O'Reilly's CD bookshelf
MVG - U-Bahn, Bus und Tram für München
BaFöG Online Antrag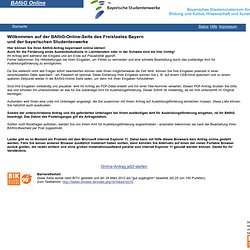 Hier können Sie Ihren BAföG-Antrag bayernweit online stellen! Auch für die Förderung eines Auslandsstudiums in Liechtenstein oder in der Schweiz sind sie hier richtig! Ihr Antrag wird während der Eingabe und am Ende auf Plausibilität geprüft.