Visual arts
Jim Dingilian is one of those rare artists who stretch the limits of creativity with their amazing creations. He uses candle smoke to paint picture-perfect images on the inside of empty bottles. "The miniature scenes I depict are of locations on the edge of suburbia which seem mysterious or even slightly menacing despite their commonplace nature. The bottles add to the implied narratives of transgression.
The Bottled Smoke Art of Jim Dingilian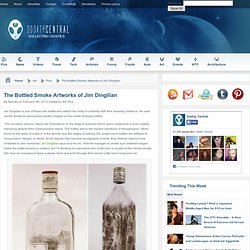 Seconds Of Beauty - 1st round compilation on Vimeo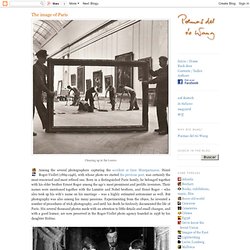 The image of Paris
Cleaning up in the Louvre Among the several photographers capturing the accident at Gare Montparnasse, Henri Roger-Viollet (1869-1946), with whose photo we started the previous post, was certainly the most renowned and most refined one. Born in a distinguished Paris family, he belonged together with his elder brother Ernest Roger among the age's most prominent and prolific inventors. Their names were mentioned together with the Lumière and Nobel brothers, and Henri Roger – who also took up his wife's name on his marriage – was a highly estimated astronomer as well.
Sand Man - The Sand Art of Peter
Unbelievably Cool - Swedish Subway System photos images stock
by Maria Popova What Manhattan's biceps have to do with Austrian ballet, bird migrations and flamenco. As a hopeless lover of maps, creative cartography and, especially, maps as art, I was utterly enchanted by the work of mixed-media visual artist Ingrid Dabringer, who uses acrylic paint to draw — or, more precisely, find — extraordinary, playful characters and vignettes in ordinary maps. I like to elevate the mundane. The Mundane is so saturated with meaning if we just take an extra second to dwell on it.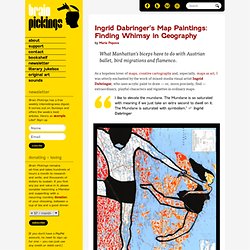 Ingrid Dabringer's Map Paintings: Finding Whimsy in Geography
Using a style known as pictorialism, Chinese artist Dong Honh-Oai was able to create a series of amazing photographs that look like Chinese traditional paintings. Born in 1929, in Guangzhou, China's Guangdong province, Dong Hong-Oai left his home country when he was just 7, after the sudden death of his parents. The youngest of 24 siblings, he was sent to live within the Chinese community of Saigon, Vietnam. There he became an apprentice at a photography studio owned by Chinese immigrants and learned the basics of photography.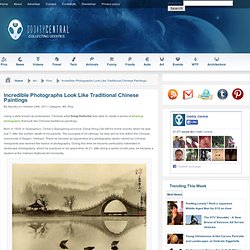 Don Hong-Oai Takes Photographs That Look Like Traditional Chinese Paintings
This magnetic typography by Dominic Le-Hair is a
Iceland in the Midnight Sun
alexdipple: Dots 6 2011 http://t.co/yw
Artist and illustrator Glenton Mellow, who writes the Flying Trilobite blog, also co-authors a new blog for Scientific American called Symbiartic, along with scientific illustrator Kalliopi Monoyios. The tagline for Symbiartic is "The art of science and the science of art", and topics range freely across that nebulous and fascinating intersection. In a recent post Mellow gives a nicely succinct overview of The Chemistry of Oil Painting, with a bit of history, discussions of the principal types of oil used and a mention of artistic concerns such as glazing and "fat over lean".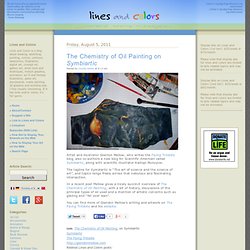 The Chemistry of Oil Painting on Symbiartic
Watermelon Special Fruitcarving, Gallery.
Laughing Squid Wonderfully Creepy Sculptures Carved From Bananas by EDW Lynch at 5:00 pm on April 12, 2011 Maybe it's their gooeyness or their unsettling curvature, but these sculptures carved from ripe bananas by Japanese artist y_yamaden are wonderfully creepy. via Geekologie
Wonderfully Creepy Sculptures Carved From Bananas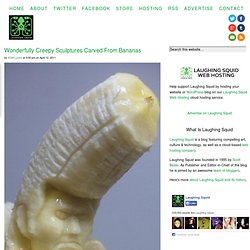 unnamed pearl
Double Dahl (2007) Plywood, ink, acrylic paint 22 x 53 x 16 inches RGB Ibex (2009) Balsa wood, ink, acrylic paint 41 x 28 x 16.5 inches Schrödinger's Hat (2009) Bass wood, ink, gauche, acrylic paint, felt fedora 10 inch diameter x 22 inches Game (2006)Plywood48 x 72 x 48 inches Puff (2011)Balsa wood, bass wood, ink, acrylic paint30 x 28 x 23 inches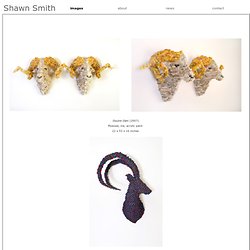 A tornado has scrambled the contents of a small town square, leaving upturned automobiles, lopsided telephone poles and a confused cow planted smack in the middle of very unfamiliar patch of grass. Cracked yellow instrument panels, rusty dials and broken gauges are all that remain of a nuclear power plant control room, devoid of human presence in the aftermath of a meltdown. A glowing orange fire blazes through jagged black trees, rushing in a fury towards a tiny aluminum camper, its inhabitants ignorant of the impending danger. No, these bizarre scenarios are not plucked from obscure science fiction novels, surrealist dystopias or old folk tales; they are grounded quite solidly in the real world. Except that world is three feet tall.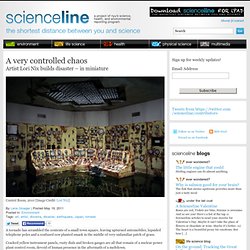 A very controlled chaos
Chewing gum artist: Painting miniature masterpieces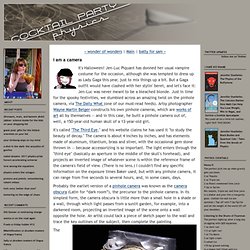 Cocktail Party Physics: i am a camera
It's Halloween! Jen-Luc Piquant has donned her usual vampire costume for the occasion, although she was tempted to dress up as Lady Gaga this year, just to mix things up a bit. But a Gaga outfit would have clashed with her stylin' beret, and let's face it: Jen-Luc was never meant to be a bleached blonde. Just in time for the spooky festivities, we stumbled across an amazing twist on the pinhole camera, via The Daily What (one of our must-read feeds). Artsy photographer Wayne Martin Belger constructs his own pinhole cameras, which are works of art all by themselves -- and in this case, he built a pinhole camera out of, well, a 150-year-old human skull of a 13-year-old girl. It's called "The Third Eye," and his website claims he has used it "to study the beauty of decay."
Next public talks - workshops Video instructions for opening beer cans safely can be found here, (1 minute in) New - Camera obscura creation page HERE
Pinhole photography by Justin Quinnell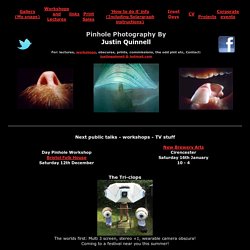 When Graphic Artists Get Bored
VIDEO: Banksy's Opening For The Simpsons (Which He Storyboarded and Directed)
National Portrait Gallery, London | Humanist Heritage
National Portrait Gallery The National Portrait Gallery is an art gallery primarily located in London but with various satellite outstations located elsewhere in the UK. It houses portraits of historically important and famous British people, selected on the basis of the significance of the sitter.
Since humankind first put brush to canvas, artists have played with the mind and the senses to create sublime atmospheres and odd impressions. It is only recently, with a blossoming understanding of the way the brain deconstructs images, that neuroscientists and psychologists have finally begun to understand how these tricks work. Here we take you on a grand tour of the burgeoning field of neuroaesthetics. You'll find out how Claude Monet bypasses your consciousness and plugs straight into your emotions, how Salvador Dali triggers neural conflicts and how Renaissance art and trompe l'oeil fool us into believing the impossible.
Six ways that artists hack your brain
British artist Patrick Hughes fools our response to perspective in his "reverspective" artworks, revealing how the brain divides up the work of seeing PERSPECTIVE is one of the strongest depth cues out there. The British artist Patrick Hughes uses this to advantage in his "reverspective" artworks, painted on wedges or truncated pyramids which project forward. What's cunning about these works is that the parts of the canvas closest to the observer are depicted in perspective, as though they are the farthest away. Despite the physical structure coming out of the wall, when we look at them straight on we get the impression that they recede into it.
Brain-hacking art: Pictures that turn inside out - life - 24 September 2010
During the three decades of Augustus Saint-Gaudens' remarkable career, he redirected and invigorated the course of American sculpture away from a worn-out Neoclassical aesthetic to a lively, naturalistic style, while also ardently promoting the nationalistic concept of an American school of sculpture flourishing on American shores. An artist of exceptional talent, Saint-Gaudens was born in Dublin, Ireland, son of a French father and an Irish mother. When he was an infant, his family... More »
Heilbrunn Timeline of Art History | The Metropolitan Museum of A
The Land of Giants™ Award Winner 2010 Boston Society of Architects Unbuilt Architecture Design Recognition Award 2008 Icelandic High-Voltage Electrical Pylon International Design Competition Finalist
Choi + Shine Architects - The Land of Giants - Icelandic High-Voltage Electrical Pylon Competition - Honorable Mention
Westworld_ver2.jpg (JPEG Image, 300×460 pixels)
Photography, Pictures, Galleries, Wallpapers, Photo Tips - National Geographic
F**kART: The Complete Series… possibly
The art of sharpening pencils
Faber-Castell: The future of the pencil
Tate Collection: British art and international modern and contemporary art
I can see right through you   this isn't happiness.™
Practical architecture: Making life easier