Visual arts
Jim Dingilian is one of those rare artists who stretch the limits of creativity with their amazing creations.
The Bottled Smoke Art of Jim Dingilian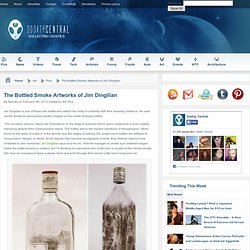 Seconds Of Beauty - 1st round compilation on Vimeo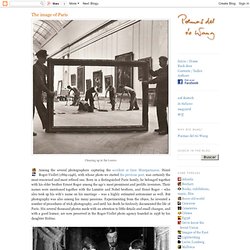 The image of Paris
Cleaning up in the Louvre
Sand Man - The Sand Art of Peter
Unbelievably Cool - Swedish Subway System photos images stock
by Maria Popova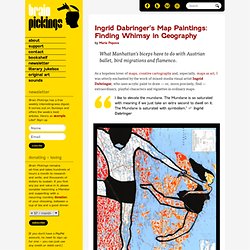 Ingrid Dabringer's Map Paintings: Finding Whimsy in Geography
Using a style known as pictorialism, Chinese artist Dong Honh-Oai was able to create a series of amazing photographs that look like Chinese traditional paintings.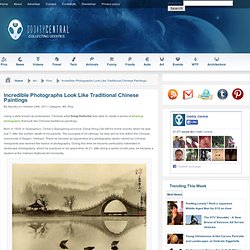 Don Hong-Oai Takes Photographs That Look Like Traditional Chinese Paintings
This magnetic typography by Dominic Le-Hair is a
Iceland in the Midnight Sun
alexdipple: Dots 6 2011 http://t.co/yw
Artist and illustrator Glenton Mellow, who writes the Flying Trilobite blog, also co-authors a new blog for Scientific American called Symbiartic, along with scientific illustrator Kalliopi Monoyios. The tagline for Symbiartic is "The art of science and the science of art", and topics range freely across that nebulous and fascinating intersection. In a recent post Mellow gives a nicely succinct overview of The Chemistry of Oil Painting, with a bit of history, discussions of the principal types of oil used and a mention of artistic concerns such as glazing and "fat over lean".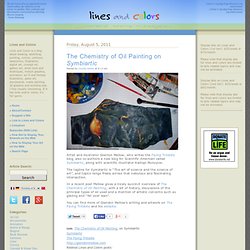 The Chemistry of Oil Painting on Symbiartic
Watermelon Special Fruitcarving, Gallery.
Laughing Squid
Wonderfully Creepy Sculptures Carved From Bananas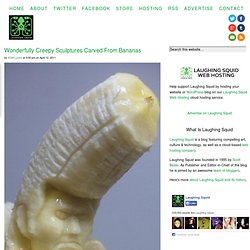 unnamed pearl
Double Dahl (2007) Plywood, ink, acrylic paint 22 x 53 x 16 inches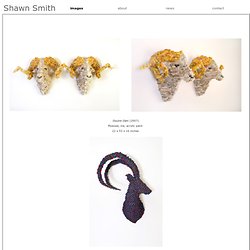 A tornado has scrambled the contents of a small town square, leaving upturned automobiles, lopsided telephone poles and a confused cow planted smack in the middle of very unfamiliar patch of grass.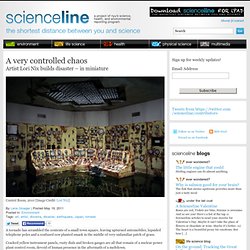 A very controlled chaos
Chewing gum artist: Painting miniature masterpieces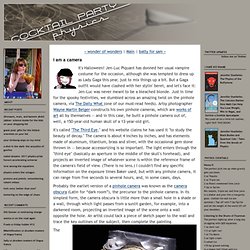 Cocktail Party Physics: i am a camera
It's Halloween! Jen-Luc Piquant has donned her usual vampire costume for the occasion, although she was tempted to dress up as Lady Gaga this year, just to mix things up a bit.
Pinhole photography by Justin Quinnell
When Graphic Artists Get Bored
VIDEO: Banksy's Opening For The Simpsons (Which He Storyboarded and Directed)
National Portrait Gallery, London | Humanist Heritage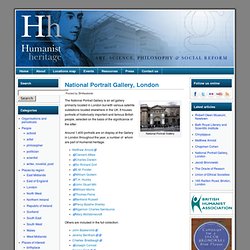 National Portrait Gallery The National Portrait Gallery is an art gallery primarily located in London but with various satellite outstations located elsewhere in the UK. It houses portraits of historically important and famous British people, selected on the basis of the significance of the sitter.
Since humankind first put brush to canvas, artists have played with the mind and the senses to create sublime atmospheres and odd impressions.
Six ways that artists hack your brain
British artist Patrick Hughes fools our response to perspective in his "reverspective" artworks, revealing how the brain divides up the work of seeing
Brain-hacking art: Pictures that turn inside out - life - 24 September 2010
During the three decades of Augustus Saint-Gaudens' remarkable career, he redirected and invigorated the course of American sculpture away from a worn-out Neoclassical aesthetic to a lively, naturalistic style, while also ardently promoting the nationalistic concept of an American school of sculpture flourishing on American shores.
Heilbrunn Timeline of Art History | The Metropolitan Museum of A
The Land of Giants™ Award Winner
Choi + Shine Architects - The Land of Giants - Icelandic High-Voltage Electrical Pylon Competition - Honorable Mention
Westworld_ver2.jpg (JPEG Image, 300×460 pixels)
Photography, Pictures, Galleries, Wallpapers, Photo Tips - National Geographic
F**kART: The Complete Series… possibly
"Evil Dave" came from a well known web pic of David Cameron. Using my new *Painting by Numbers* technique; reducing tone and shape to essential colour blocks – I can knock these out quickly enough to stop me getting bored.
The art of sharpening pencils
Faber-Castell: The future of the pencil
Tate Collection: British art and international modern and contemporary art
I can see right through you   this isn't happiness.™
Practical architecture: Making life easier