Science
The Willpower Circuit | Wired Science 
The marshmallow test needs no introduction.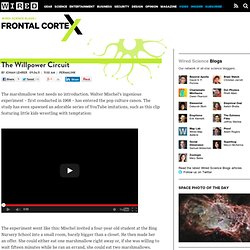 Back in 1936, renowned sculptor Isamu Noguchi was in Mexico working on a 72-ft-long public mural when he hit a snag: for some reason, he couldn't precisely recall the famous formula, E=mc².
ENERGY EQUALS MASS TIMES THE SPEED OF LIGHT SQUARED STOP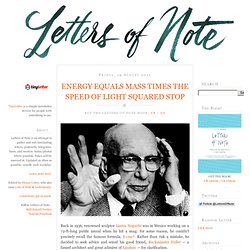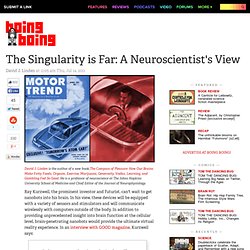 David J. Linden is the author of a new book,The Compass of Pleasure: How Our Brains Make Fatty Foods, Orgasm, Exercise, Marijuana, Generosity, Vodka, Learning, and Gambling Feel So Good.
The Singularity is Far: A Neuroscientist's View – Boing Boing
Facebook will destroy your children's brains | Science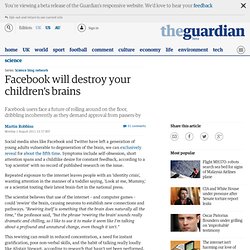 Social media sites like Facebook and Twitter have left a generation of young adults vulnerable to degeneration of the brain, we can exclusively reveal for about the fifth time. Symptoms include self-obsession, short attention spans and a childlike desire for constant feedback, according to a 'top scientist' with no record of published research on the issue.
"Majestically Scientific" Federal Study On BPA Has Stunning Findings: So Why Is The Media Ignoring It? - Trevor Butterworth - Medialand
Reef Madness Begins: Louis Agassiz, Creationist Magpie | Wired Science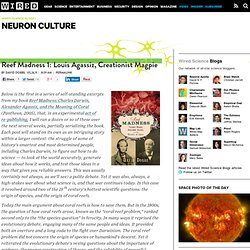 Below is the first in a series of self-standing excerpts from my book Reef Madness: Charles Darwin, Alexander Agassiz, and the Meaning of Coral (Pantheon, 2005), that, in an experimental act of re-publishing, I will run a dozen or so of these over the next several weeks, partially serializing the book.
Climate-controlled clothing: Don't forget to recharge your jacket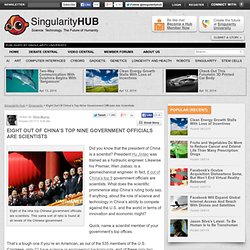 Eight of the nine top Chinese government officials are scientists. This same sort of ratio is found at all levels of the Chinese government.
Eight Out Of China's Top Nine Government Officials Are Scientists
You Know More Than You Know | Wired Science 
There's a fascinating new paper in Psychological Science by the Dutch psychologist Ap Dijksterhuis on the virtues of unconscious thought when it comes to predicting the outcome of soccer matches. It turns out that the conscious brain – that rational voice in your head deliberating over the alternatives – gets in the way of expertise. Although we tend to think of experts as being weighted down by information, their intelligence dependent on a vast set of explicit knowledge, this experiment suggests that successful experts don't consciously access these facts.
You know that friend you have, the one who likes cars, watchin' action flicks and talking about physics, except the last time they actually "studied" any science was in junior high? Yeah, that friend… Well, I read the book for them today. E=MC²: Simple Physics: Why Balloons Rise, Apples Fall, and Golf Balls Go Awry by Jeff Stewart, published by Readers Digest. A kind publicist sent a copy of the latest in the Reader's Digest Blackboard Books™ series last week and I have to say, it was a pretty cute read. The book basically covers all of the content that you'd find in a high school curriculum, but without any math, making it ideal for an adult learner looking for a qualitative picture of physics. It also ends with a little bit of general relativity, quantum mechanics, and cosmology, because, frankly, that's where popular interest lies (and should, because it's the good stuff, after all).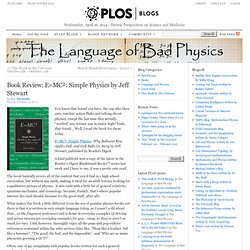 Book Review: E=MC²: Simple Physics by Jeff Stewart | The Language of Bad Physics
Skulls in the Stars | The intersection of physics, optics, history and pulp fiction
Harrison Ford and Dr. E.O. Wilson to Hold Press Conference | Rebecca Costa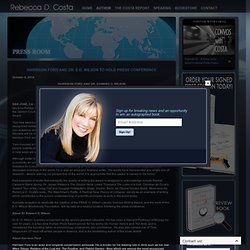 October 6, 2010
DNA Ends: Just the Beginning (Nobel Lecture) - Szostak - 2010 - Angewandte Chemie International Edition
Scienceblogging: science3.0.com – a Q&A with Mark Hahnel
The Sound of Science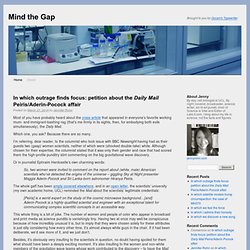 In which I notice a trend - Mind the Gap Blog | Nature Publishing Group
Even at moments of the most extreme duress, it is difficult for me to stop thinking like a scientist.
What if the Public Had Perfect Climate Information?
Eggplants in the 14th Century An interesting website, Zester, explores the culture of food and drink – including a range of different species with potential for exploitation, as well as recipes about cooking them. Hopefully it does not give too much encouragement of wild collection (Sept 17: see comment below) or unsustainable fishing practices! I was particularly interested in an article, "Eggplant's Rich History: From ancient Arab diets to Sicilian recipes, the versatile eggplant has evolved around the globe". Two papers in Annals of Botany provide a remarkable insight into the appearance of the earliest eggplants/aubergines used as food, and the ways they were cultivated. Amazingly, the first reliable written record comes from China in 59 BC.
The Rich History of Eggplant or Aubergine
So easy a cat can do it! - Image by Vicki's Pics via Flickr I'm a student blogger – that is to say an undergraduate student blogger – and undergraduates as we all know are lazy, underacheiving, skivers…. or at least that is the impression you would get if you talk to most adults in the UK, my dad included, and read too many newspapers (sadly about the only thing red-tops and the telegraph agree on). Obviously I would beg to differ, given that I maintain this blog, a personal website, write for my secondary school alumni newspaper, work within my students union and on my degree. That said of course I would be willing to be proven wrong, and given some of the activities I have witnessed at university I can see that not being too difficult.
On Student Bloggery « BenjaminDBrooks' Blog
Why let your waste go to waste when it could be powering your mobile phone – or even your car? IT IS a bright spring morning here at Heriot-Watt University in Edinburgh, UK, where I have come to meet my interviewee for this article, Shanwen Tao . Normally when I interview someone, I give them a business card and maybe the latest issue of New Scientist .
Pee is for power: Your electrifying excretions - tech - 24 August 2010
In The Shadow Of The Sun
The light of the Sun is the primary source of the free energy that potentiates life on Earth. Solar energy is naturally harnessed by chlorophyll in the leaves of trees and plants; and together with water from the soil and carbon dioxide from the atmosphere, the process of photosynthesis propagates the release of oxygen. As humans, therefore, we have an indirect dependence on the sun and without it, we would all perish. Remarkably, we are also able to harness solar energy by using solar panels, as ways of producing electricity both domestically and commercially. On Saturday 21st August, as part of the British Film Institute's Film Science season, Dr Adam Rutherford hosted an event called In the Shadow of the Sun at BFI Southbank.
Thanks to the graces of the intertubes I came across this rare and fascinating video of R B Woodward put up by some kind soul a couple of months ago.
Stimulating quasi-erotic excitement through organic structure determination
What is scientific practice? | False vacuum: a weblog by Aaron Sidney Wright
How Many Deep-Sea Nematodes Are There & Why We Many Never Know
Oppositional Defiant Disorder: I am Opposed « Shirah Vollmer MD
Cocktail Party Physics: mucus, slime and killer snot monsters
How to become a fossil « Thoughtomics
What happens when you teach monkeys to use money? « O'Really?
Sex at Dawn
Problems with Pitch: Congenital Amusia and Tone Languages
How About That!
How About That!
New Biotopes in the North Sea: Wind Turbines Create Artificial Reef - SPIEGEL ONLINE - News - International