Humanism
Chatbot Wears Down Proponents of Anti-Science Nonsense
Nigel Leck, a software developer by day, was tired of arguing with anti-science crackpots on Twitter. So, like any good programmer, he wrote a script to do it for him. The result is the Twitter chatbot @AI_AGW. Its operation is fairly simple: Every five minutes, it searches twitter for several hundred set phrases that tend to correspond to any of the usual tired arguments about how global warming isn't happening or humans aren't responsible for it. It then spits back at the twitterer who made that argument a canned response culled from a database of hundreds. The responses are matched to the argument in question – tweets about how Neptune is warming just like the earth, for example, are met with the appropriate links to scientific sources explaining why that hardly constitutes evidence that the source of global warming on earth is a warming sun.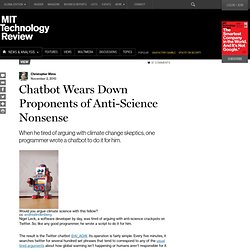 Atheist Media Blog
Press | Humanist Heritage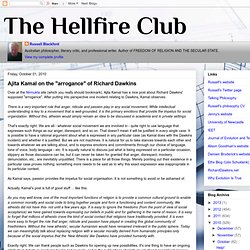 Ajita Kamal on the "arrogance" of Richard Dawkins
Over at the Nirmukta site (which you really should bookmark), Ajita Kamal has a nice post about Richard Dawkins' supposed "arrogance". After putting into perspective one incident relating to Dawkins, Kamal observes: There is a very important role that anger, ridicule and passion play in any social movement. While intellectual understanding is key to a movement that is well-grounded, it is the primary emotions that provide the impetus for social organization. Without this, atheism would simply remain an idea to be discussed in academia and in private settings. That's exactly right.
By NY TIMES, JERRY COYNE, RUSSELL BLACKFORD - NY TIMES, WEIT, METAMAGICAN AND THE HELLFIRE CLUB Added: Sunday, 03 October 2010 at 6:49 PM [Update 04-Oct] via Russell Blackford More on CFI, with some actual information for a change Ophelia Benson - Butterflies and Wheels I've said more than once that I don't have a firm opinion about who is more right (or wrong) in the dispute between the Center for Inquiry and its founder and former director Paul Kurtz. I still don't, but one thing I do think is that when the dispute gets into a major media outlet, the reporting is incomplete.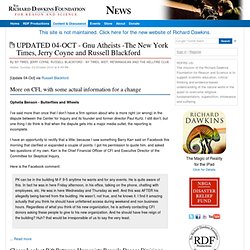 The New York Times, Jerry Coyne and Russell Blackford on the Gnu Atheists - NY Times, Jerry Coyne, Russell Blackford - NY Times, WEIT, Metamagican and the Hellfire Club
:: Darwin Correspondence Project
The Complete Work of Charles Darwin Online
Writer. Darwin, science & more. 4 books: Piospheres, Darwin in Scotland, Serial Killers. Current project is THE DISSENT OF MAN. Born near London, raised near Primrose Hill and in Lincolnshire, and studied at the Universities of Bangor, York and Edinburgh for degrees in Biochemistry, Bioelectronics and Biological Computation, and a PhD in African Ecology. Mainly working in British and African universities, but also in Spain, Brussels, Mongolia and Australia, to date, publication history is mostly in academic journals, on aspects of computational biology, pastoralism and on Charles Darwin and evolution.
Rich Pickings | OSQUALITUDE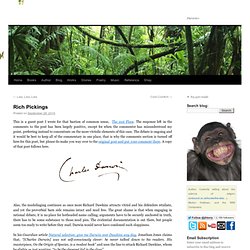 Christian group declares jct 9 on M25 cursed
Spare us five minutes for a short survey about end user computing? A group of Christian evangelicals has declared junction 9 of the M25 "hexed" and is staging regular prayer meetings to cleanse the benighted interchange. According to the Surrey Advertiser, Gerald Coates of the Pioneer Engage Church in Leatherhead has attributed a rash of accidents and footbridge suicides around the junction to someone "motivated by dark forces".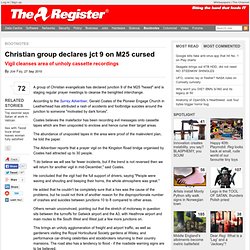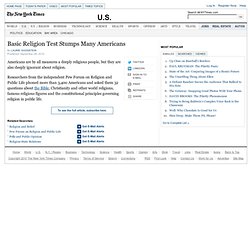 Researchers from the independent Pew Forum on Religion and Public Life phoned more than 3,400 Americans and asked them 32 questions about , Christianity and other world religions, famous religious figures and the constitutional principles governing religion in public life. On average, people who took the survey answered half the questions incorrectly, and many flubbed even questions about their own faith. Those who scored the highest were and agnostics, as well as two religious minorities: Jews and Mormons. The results were the same even after the researchers controlled for factors like age and racial differences.
Atheists Outdo Some Believers in Survey on Religion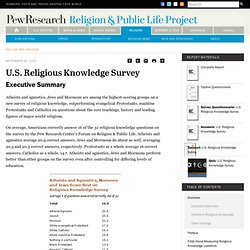 Executive Summary
U.S. Religious Knowledge Survey
The Moral Landscape: Q & A with Sam Harris :
From the Free Press: Sam Harris's first book, The End of Faith, ignited a worldwide debate about the validity of religion. In the aftermath, Harris discovered that most people—from religious fundamentalists to non-believing scientists—agree on one point: Science has nothing to say on the subject of human values. Indeed, our failure to address questions of meaning and morality through science has now become the most common justification for religious faith.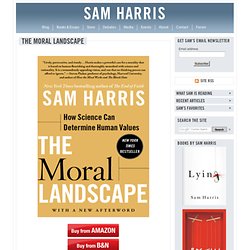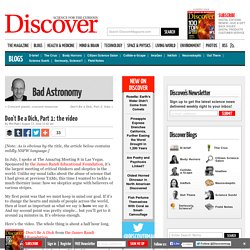 Don't Be a Dick, Part 1: the video
[Note: As is obvious by the title, the article below contains mildly NSFW language.] In July, I spoke at The Amaz!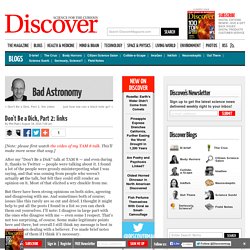 [Note: please first watch the video of my TAM 8 talk. This'll make more sense that way.]
Don't Be a Dick, Part 2: links
Don't Be a Dick, Part 3: the aftermath
[Note: This is the third of three posts on my "Don't Be a Dick" speech. Please first watch the video of my TAM 8 talk, and you can also read Part 2 which has links to others' thoughts on this topic.]
Christopher Hitchens on Billy Graham, $cientology and religious hypocrisy
Welcome - The Richard Dawkins Foundation for Reason and Science
Video: George Carlin on religion and God | GrrlScientist | Science
Preachy Twits: Please Go Away! | Good Math, Bad Math
And I fell into a rant... Please pardon this off-topic diversion. I'm almost certainly going to get myself into trouble with this, but I don't care. I'm sick of being harassed by twits of all stripes. (Do go listen to the song at that link; it's a very fun bit of silly modern Klezmer by a really brilliant performer.)
Equality Now speech
Joss Whedon on Humanism
Planet of the apes Stephen Cave - Financial Times 9 What we really know about our evolutionary past – and what we don't - - Ancestors Trail Walk 12 WALK DARWIN'S TREE OF LIFE ~ 26 AUGUST 2012 - event begins on Saturday 25 August
Christianity Debate - NonStampCollector - YouTube.com
tags: Phil Plait: Don't Be A Dick, faith, religion, scepticism, magic, afterlife, fantasy, reality, science, atheism, believers, Bad Astronomer, Phil Plait, streaming video In late July 2010, Bad Astronomer and skeptic, Phil Plait, gave a thoughtful public presentation called "Don't Be A Dick." This presentation discusses how one presents their skepticism to the public and how they discuss it publicly. There was a lot of positive reaction to the talk, but also some criticism.
Phil Plait: Don't Be A Dick | This Scientific Life
Divided Minds, Specious Souls
Birmingham Skeptics
HumanistHeritage's Channel