Finding out about
Tom Morris - Hari-gate: behind the scenes at Wikipedia. I was asked by David Allen Green, the writer behind the Jack of Kent blog, to write about the situation with Johann Hari who recently apologised for various acts of journalistic malpractice including substituting interview copy with background material, and editing articles on Wikipedia using at least one pseudonymous account ( User:David r from meth productions - hereafter 'David r').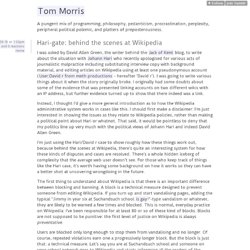 I was going to write various things about it when the story originally broke. I originally had some doubts about some of the evidence that was presented linking accounts on two different wikis with an IP address, but further evidence turned up to show that there indeed was a link. Instead, I thought I'd give a more general introduction as to how the Wikipedia administrative system works in cases like this.
Google. Google Scholar. MIT OpenCourseWare. Ten Simple Rules for Editing Wikipedia. Citation: Logan DW, Sandal M, Gardner PP, Manske M, Bateman A (2010) Ten Simple Rules for Editing Wikipedia.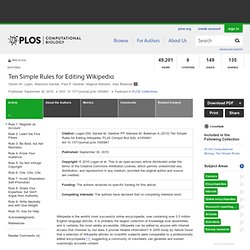 PLoS Comput Biol 6(9): e1000941. doi:10.1371/journal.pcbi.1000941 Published: September 30, 2010. Map of who owns the Arctic. Do you know who owns the Arctic?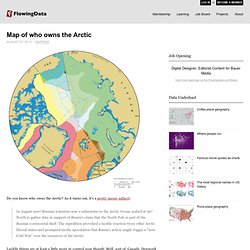 As it turns out, it's a pretty messy subject: In August 2007 Russian scientists sent a submarine to the Arctic Ocean seabed at 90° North to gather data in support of Russia's claim that the North Pole is part of the Russian continental shelf. The expedition provoked a hostile reaction from other Arctic littoral states and prompted media speculation that Russia's action might trigger a "new Cold War" over the resources of the Arctic. Luckily things are at least a little more in control now though. Reading Strategies for Coping with Information Overload, ca.1550-1700.
New Spice | Study like a scholar, scholar. Max Planck Society - Max-Planck-Portal - website of the Max Planck Society - basic and fundamental scientific research.
---