ICT & Society
Links centered on the intersection of ICT (information & communication technologies) and society (culture, public policy, law, etc...). Dec 14
Home | Canadian Internet Policy and Public Interest Clinic (CIPPIC) - Canadian Internet Policy and Public Interest Clinic (CIPPIC)
The CRTC issued Broadcasting Decision CRTC 2013-310 today, in which it approved the merger of Canada's largest and most heavily integrated communications company (Bell) and Canada's last significant independent (and non-integrated) broadcaster (Astral). In its submissions to this proceeding, CIPPIC called on the Commission to refuse the merger a second time, pointing to a number of flaws in the current regulatory framework that a merged Bell/Astral could exploit in order to harm competition and innovation in Canadian services. Specifically, CIPPIC was concerned post-merger Bell will drive up costs, limit online innovation by centralizing online distribution and restrict customer choice by constraining program packaging.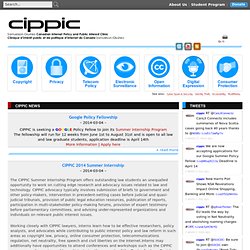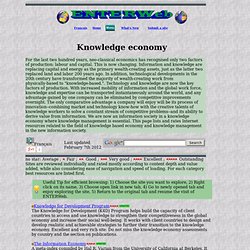 Knowledge for Development Program The Knowledge for Development (K4D) Program helps build the capacity of client countries to access and use knowledge to strengthen their competitiveness in the global economy and increase their social well-being. It works with client countries to design and develop realistic and achievable strategies to further their transition to the knowledge economy. Excellent and very rich site. Do not miss the knowledge economy assessments by country and the section on publications.
knowledge economy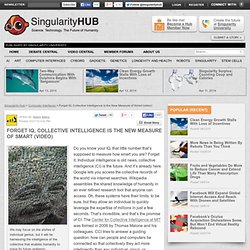 We may focus on the stories of individual genius, but it will be harnessing the intelligence of the collective that enables humanity to solve its future problems. Do you know your IQ, that little number that's supposed to measure how smart you are? Forget it.
Forget IQ, Collective Intelligence is the New Measure of Smart (video
The Collective Intelligence Genome - The Magazine - MIT Sloan Management Review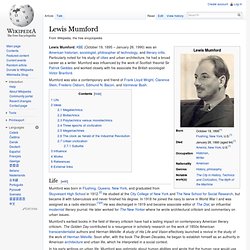 Lewis Mumford, KBE (October 19, 1895 – January 26, 1990) was an American historian, sociologist, philosopher of technology, and literary critic. Particularly noted for his study of cities and urban architecture, he had a broad career as a writer. Mumford was influenced by the work of Scottish theorist Sir Patrick Geddes and worked closely with his associate the British sociologist Victor Branford.
Technics and Civilization is a 1934 book by American philosopher and historian of technology Lewis Mumford. The book presents the history of technology and its role in shaping and being shaped by civilizations. According to Mumford, modern technology has its roots in the Middle Ages rather than in the Industrial Revolution.
Technics and Civilization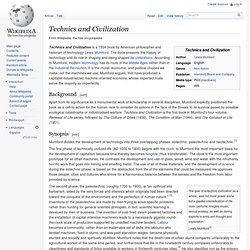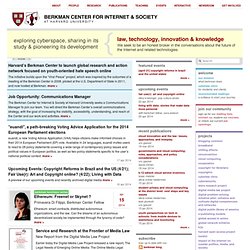 2013 Internet Monitor Annual Report: "Reflections on the Digital World" Internet Monitor is delighted to announce the publication of Internet Monitor 2013: Reflections on the Digital, the project's first-ever annual report. The report—a collection of essays from roughly two dozen experts around the world, including Ron Deibert, Malavika Jayaram, Viktor Mayer-Schönberger, Molly Sauter, Bruce Schneier, Ashkan Soltani, and Zeynep Tufekci, among others—highlights key events and recent trends in the digital space:
Economy: The New Paradigm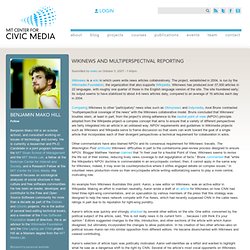 Wikinews and Multiperspectival Reporting | MIT Center for Future Civic Media
Wikinews is a wiki in which users write news articles collaboratively. The project, established in 2004, is run by the Wikimedia Foundation, the organization that also supports Wikipedia. Wikinews has produced over 37,000 articles in 22 languages, with roughly one quarter of those in the English language version of the site.