Infographic
Black Friday Is Moving Forward as Shoppers Start on Thanksgiving
vanityfair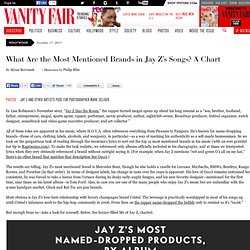 In Lisa Robinson's November story, "Jay Z Has the Room," the rapper turned mogul opens up about his long résumé as a "son, brother, husband, father, entrepreneur, mogul, sports agent, rapper, performer, movie producer, author, nightclub owner, Broadway producer, festival organizer, watch designer, soundtrack and video-game executive producer, and art collector." All of these roles are apparent in his music, where H.O.V.A. often references everything from Picassos to Pampers. He's known for name-dropping brands—those of cars, clothing labels, alcohols, and weaponry, in particular—as a way of marking his authenticity as a self-made businessman. So we took on the gargantuan task of reading through the musician's lyrics to sort out the top 15 most mentioned brands in his music (with an ever grateful hat tip to RapGenius.com).
Infographic: Which fall shows generated the most social TV buzz this summer?
With summer officially over and fall premieres around the corner, Crimson Hexagon looked back at the social TV buzz during summer 2013. Crimson Hexagon's analysts, monitoring Twitter engagement with shows debuting this fall, measured the impact of events on the social buzz. The hashtag #CoulsonLives, for Agents of SHIELD, was a clear standout for Twitter hashtag campaigns. After the show was officially ordered on May 10, @AgentsOfShield and @ClarkGregg called on fans to tweet using the hashtag to reveal an exclusive trailer. Between May 10 and May 15, #CoulsonLives generated 102,271 tweets. As a whole, Agents of SHIELD received the most buzz this summer of any new fall show.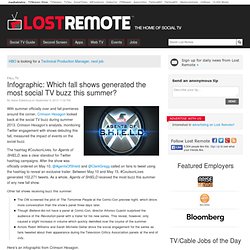 Improve Your Facebook Page Using The Hasbro Classic ... | Infographics
How Are Different Social Media Platforms Like Drugs? ... | Infograp...
What Are Some Dos And Don'ts Of Mobile App Marketing? ... | Infogra...
How to design a hipster logo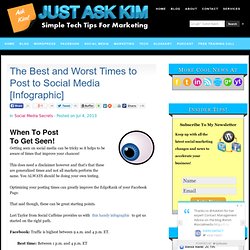 When To Post To Get Seen! Getting seen on social media can be tricky so it helps to be aware of times that improve your chances! This does need a disclaimer however and that's that these are generalized times and not all markets perform the same.
The Best and Worst Times to Post to Social Media [Infographic]
Social Media Wars Told in 'Game of Thrones' Style [INFOGRAPHIC]
Classic What Would Don Draper Do? #MadMen #infographic #flowchart
Classic What Would Don Draper Do?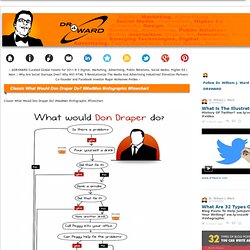 A Deep Dive into the Internet Meme [Infographic] | Top Internet Memes of 2012
Internet memes are cultural ideas that spread virally throughout the Web. In 2012, these Internet pop culture snippets rapidly rose in popularity and power as they captured the moments that got everyone talking, tweeting, mocking, and rocking .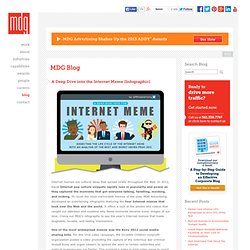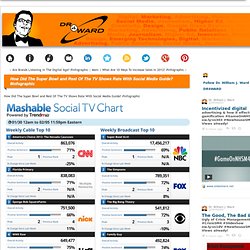 How Did The Super Bowl and Rest Of The TV Shows Rate With Social Media Guide
How Did The Super Bowl and Rest Of The TV Shows Rate With Social Media Guide? #infographic By Mashable
The Usual Clients infographic - Central Desktop
Infographics / Creating a Superior Web Strategy #infographic
The Dollars and Senselessness of Political Campaigning [Interactive Infographic]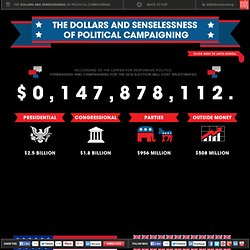 According to the center for responsive politics, Fundraising and campaigning for the 2012 election will cost an estimated Presidential
The Evolution of Digital Advertising
The tactile pleasure of worn pages between your fingers is hard to replace.
Are Books Doomed? The Rise of the e-Reader [INFOGRAPHIC]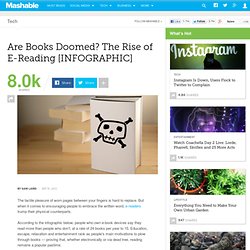 Infographics / An #Infographic About Infographics
Film & Music That I Like. / What Your Band T-Shirt Says About You [Infographic] » Clutch Blog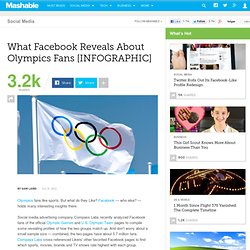 Olympics fans like sports. But what do they Like? Facebook — who else?
What Facebook Can Tell Us About Olympics Fans [INFOGRAPHIC]
Fitness / Why Coffee and Tea are Amazing for You #infographic hollaaaa
Infographics / Money in the food industry #infographic
Infographics / Best jobs in America. Too late to rethink my major ? #infographic
Infographics / #socialmedia vs. Traditional Media. #marketing #webmarketing #infographic
Infographics / The rise and fall of advertising media #infographic
Where do ideas come from INFOGRAPHIC « Newhouse Ad Creative
If you were to look at Social Media the United States and many other parts of the world, you would believe that the world of Social Media was flat, dominated by social continents including Facebook, Twitter, blogs, YouTube, and Flickr. As we zoom in, we visualize other established and emerging social services that depict provinces and outlying settlements of our social atlas. Upon publishing the original Conversation Prism , which was the culmination of a year's work documenting and organizing the social web by usage and conversational patterns, the world responded by creating Conversation Prisms specific to each country.
The State of Social Media Around the World 2010 Brian Solis
Over the past few years, we've seen social media used in the job market in a number of ways — startups , small businesses and large corporations alike are diving into the socialverse to find top talent, and job seekers are likewise getting creative with social media.
How Not To Make An Infographic #infographic
How Not To Make An Infographic #infographic