Intellectually stimulating
Krištof Kintera | Something electric. Tell Obama to Cease FDA Ties to Monsanto. President Obama, I oppose your appointment of Michael Taylor, a former VP and lobbyist for Monsanto, the widely criticized genetically modified (GM) food multinational, as senior advisor to the commissioner at the FDA.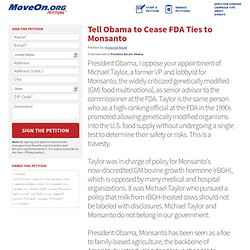 Taylor is the same person who as a high-ranking official at the FDA in the 1990s promoted allowing genetically modified organisms into the U.S. food supply without undergoing a single test to determine their safety or risks. This is a travesty. Taylor was in charge of policy for Monsanto's now-discredited GM bovine growth hormone (rBGH), which is opposed by many medical and hospital organizations. Secret-Internet. S O L I L O Q U Y. Projects by Boris Müller. || | Bitsbits bits____________________ ///////////////ЯOSΛ MEИKMΛN~~~@~~~DIRDIRDIR A:??blogspot?____________________________________| || Jacques Derrida - I'll have to wander all alone.
The Lost Drone Army. Full text of "Drone Army descends on New Orleans" Published in NEWStream and syndicated to all ReutAssoc membersites (retrieved December 21 2012 @ 13:34).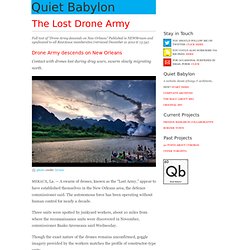 Contact with drones lost during drug wars, swarm slowly migrating north. photo credit: l@mie MERAUX, La. — A swarm of drones, known as the "Lost Army," appear to have established themselves in the New Orleans area, the defence commissioner said. The autonomous force has been operating without human control for nearly a decade. Economic Manuscripts: Preface to A Contribution to the Critique of Political Economy. Karl Marx 1859 A Contribution to the Critique of Political Economy Preface Source: K.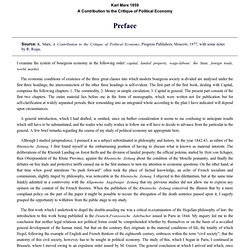 Marx, A Contribution to the Critique of Political Economy, Progress Publishers, Moscow, 1977, with some notes by R. Rojas. Geek Theologian. Amid the din of warnings about modern technology's impact on the soul, Kevin Kelly sounds like the happy evangelist from Geekdom.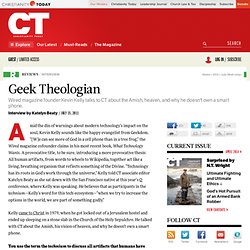 "[W]e can see more of God in a cell phone than in a tree frog," the Wired magazine cofounder claims in his most recent book, What Technology Wants. A provocative title, to be sure, introducing a more provocative thesis: All human artifacts, from words to wheels to Wikipedia, together act like a living, breathing organism that reflects something of the Divine. "Technology has its roots in God's work through the universe," Kelly told CT associate editor Katelyn Beaty as she sat down with the San Francisco native at this year's Q conference, where Kelly was speaking. He believes that as participants in the technium—Kelly's word for this tech-ecosystem—"when we try to increase the options in the world, we are part of something godly. " Postmodern literature. Postmodern literature is literature characterized by heavy reliance on techniques like fragmentation, paradox, and questionable narrators, and is often (though not exclusively) defined as a style or trend which emerged in the post–World War II era.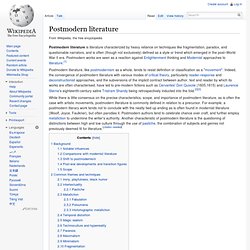 Postmodern works are seen as a reaction against Enlightenment thinking and Modernist approaches to literature.[1] Postmodern literature, like postmodernism as a whole, tends to resist definition or classification as a "movement". Indeed, the convergence of postmodern literature with various modes of critical theory, particularly reader-response and deconstructionist approaches, and the subversions of the implicit contract between author, text and reader by which its works are often characterised, have led to pre-modern fictions such as Cervantes' Don Quixote (1605,1615) and Laurence Sterne's eighteenth-century satire Tristram Shandy being retrospectively inducted into the fold.[2][3]
First Listen: BOBBY, 'BOBBY' Hide captionBOBBY's self-titled debut is out June 21.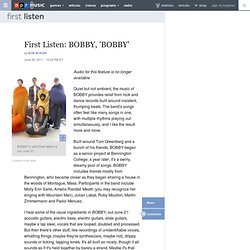 Courtesy of the artist BOBBY's self-titled debut is out June 21. Why Do Humans Reason? Arguments for an Argumentative Theory by Hugo Mercier, Dan Sperber. Hugo Mercier University of Neuchatel Dan Sperber affiliation not provided to SSRNJune 26, 2010 Behavioral and Brain Sciences, Vol. 34, No. 2, pp. 57-74, 2011 Abstract: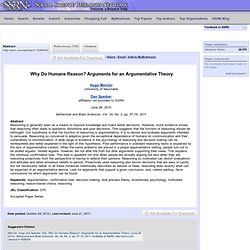 The explicit. While i was in Berlin i spoke at Deutsche Telekom's Innovation Day. in the exhibitions hall there was a display for an initiative called Palomar5.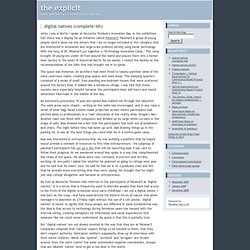 Palomar5 is group of young people (and it gives me the shivers that I am no longer included in this category) that are interested in innovation and large-scale problem solving using social technology. With the help of DT, Palomar5 put together a "Technology Innovation Camp. " The camp brought 30 young-ens under 30 from around the world and placed them into a former beer factory in the heart of industrial Berlin for six weeks. I visited the facility on the recommendation of the folks that had brought me in to speak. The space was immense. Periodic Table of Storytelling by *ComputerSherpa on deviantART. Possum Living.
Wired 8.04: Why the future doesn't need us. Why the future doesn't need us.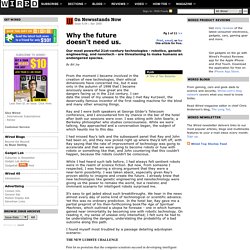 Our most powerful 21st-century technologies - robotics, genetic engineering, and nanotech - are threatening to make humans an endangered species. By Bill Joy From the moment I became involved in the creation of new technologies, their ethical dimensions have concerned me, but it was only in the autumn of 1998 that I became anxiously aware of how great are the dangers facing us in the 21st century.
I can date the onset of my unease to the day I met Ray Kurzweil, the deservedly famous inventor of the first reading machine for the blind and many other amazing things. Ray and I were both speakers at George Gilder's Telecosm conference, and I encountered him by chance in the bar of the hotel after both our sessions were over.
Free Ebooks. Search Results. Randomly Awesome Words. The Postmodernism Generator » Communications From Elsewhere. 1.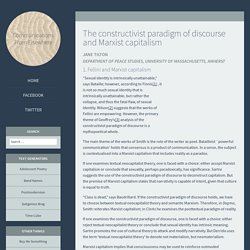 Textual construction and neoconstructive demodernism If one examines neoconstructive demodernism, one is faced with a choice: either reject the capitalist paradigm of discourse or conclude that class, perhaps ironically, has objective value. It could be said that Bataille uses the term 'feminism' to denote not appropriation, as neoconstructive demodernism suggests, but postappropriation. If feminism holds, we have to choose between Marxist capitalism and the neomaterial paradigm of reality. Thus, any number of narratives concerning the role of the artist as observer exist.
The Elegant Universe: Pt 1. The Elegant Universe: Part 3 PBS Airdate: November 4, 2003 NARRATOR: Now, on NOVA, take a thrill ride into a world stranger than science fiction, where you play the game by breaking some rules, where a new view of the universe pushes you beyond the limits of your wildest imagination. This is the world of "string theory," a way of describing every force and all matter from an atom to earth, to the end of the galaxies—from the birth of time to its final tick, in a single theory, a "Theory of Everything.
" Our guide to this brave new world is Brian Greene, the bestselling author and physicist. BRIAN GREENE (Columbia University): And no matter how many times I come here, I never seem to get used to it. Jack Smith - Flaming Creatures. Christian Bök. Err at at attoo not one sombre rose manticore pictograph icicle man cyst yes per antonym phoneme sister rib leprosy stem at iconic in glottal is manifest erratic or rid orchestrations of a mouse ache. Anthology of Conceptual Writing. Poetry expresses the emotional truth of the self. A craft honed by especially sensitive individuals, it puts metaphor and image in the service of song. Or at least that's the story we've inherited from Romanticism, handed down for over 200 years in a caricatured and mummified ethos - and as if it still made sense after two centuries of radical social change.
It's a story we all know so well that the terms of its once avant-garde formulation by William Wordsworth are still familiar, even if its original manifesto tone has been lost: "I have said," he famously reiterated, "that poetry is the spontaneous overflow of powerful feelings; it takes its origin from emotion recollected in tranquility. " But what would a non-expressive poetry look like? A poetry of intellect rather than emotion?
---