Intellectually stimulating
Krištof Kintera | Something electric
Tell Obama to Cease FDA Ties to Monsanto
President Obama, I oppose your appointment of Michael Taylor, a former VP and lobbyist for Monsanto, the widely criticized genetically modified (GM) food multinational, as senior advisor to the commissioner at the FDA. Taylor is the same person who as a high-ranking official at the FDA in the 1990s promoted allowing genetically modified organisms into the U.S. food supply without undergoing a single test to determine their safety or risks. This is a travesty. Taylor was in charge of policy for Monsanto's now-discredited GM bovine growth hormone (rBGH), which is opposed by many medical and hospital organizations.
S O L I L O Q U Y
Projects by Boris Müller
|| | Bitsbits bits____________________ ///////////////ЯOSΛ MEИKMΛN~~~@~~~DIRDIRDIR A:??blogspot?____________________________________| ||
Jacques Derrida - I'll have to wander all alone
Full text of "Drone Army descends on New Orleans" Published in NEWStream and syndicated to all ReutAssoc membersites (retrieved December 21 2012 @ 13:34).
The Lost Drone Army | Quiet Babylon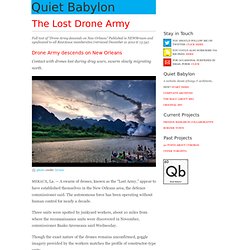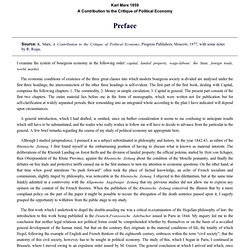 Karl Marx 1859 A Contribution to the Critique of Political Economy
Economic Manuscripts: Preface to A Contribution to the Critique of Political Economy
Geek Theologian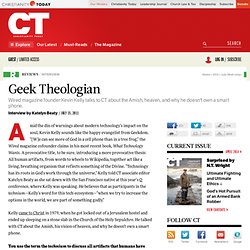 A mid the din of warnings about modern technology's impact on the soul, Kevin Kelly sounds like the happy evangelist from Geekdom. "[W]e can see more of God in a cell phone than in a tree frog," the Wired magazine cofounder claims in his most recent book, What Technology Wants .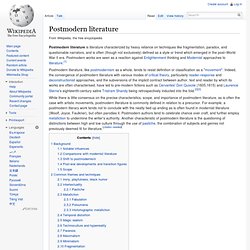 Postmodern literature is literature characterized by heavy reliance on techniques like fragmentation, paradox, and questionable narrators, and is often (though not exclusively) defined as a style or trend which emerged in the post–World War II era.
Postmodern literature
First Listen: BOBBY, 'BOBBY'
BOBBY's self-titled debut is out June 21. Courtesy of the artist Audio for this feature is no longer available.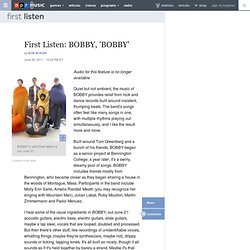 Why Do Humans Reason? Arguments for an Argumentative Theory by Hugo Mercier, Dan Sperber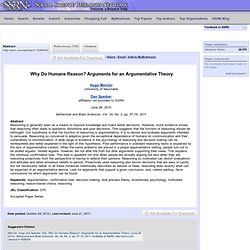 Hugo Mercier University of Pennsylvania; University of Neuchatel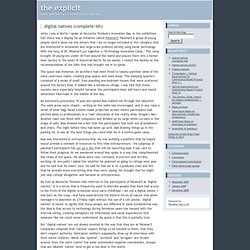 the explicit
while i was in Berlin i spoke at Deutsche Telekom's Innovation Day. in the exhibitions hall there was a display for an initiative called Palomar5. Palomar5 is group of young people (and it gives me the shivers that I am no longer included in this category) that are interested in innovation and large-scale problem solving using social technology.
Possum Living
Search Results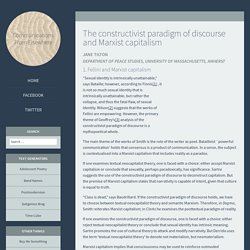 1. The postdialectic paradigm of consensus and the cultural paradigm of context
The Elegant Universe: Part 3 PBS Airdate: November 4, 2003 NARRATOR: Now, on NOVA, take a thrill ride into a world stranger than science fiction, where you play the game by breaking some rules, where a new view of the universe pushes you beyond the limits of your wildest imagination. This is the world of "string theory," a way of describing every force and all matter from an atom to earth, to the end of the galaxies—from the birth of time to its final tick, in a single theory, a "Theory of Everything." Our guide to this brave new world is Brian Greene, the bestselling author and physicist. BRIAN GREENE (Columbia University) : And no matter how many times I come here, I never seem to get used to it.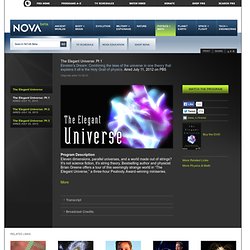 Jack Smith - Flaming Creatures
err at at at too not one sombre
U B U W E B :: Christian Bök
U B U W E B :: Anthology of Conceptual Writing
Poetry expresses the emotional truth of the self. A craft honed by especially sensitive individuals, it puts metaphor and image in the service of song.