NewhouseSM4
11 Facebook Marketing Tips and Tactics for B2B Marketers. Facebook has an image problem.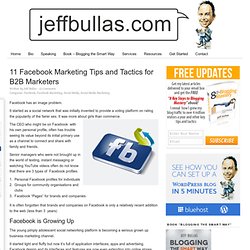 It started as a social network that was initially invented to provide a voting platform on rating the popularity of the fairer sex. It was more about girls than commerce. The CEO who might be on Facebook with his own personal profile, often has trouble seeing its value beyond its initial primary use as a channel to connect and share with family and friends. Senior managers who were not brought up in the world of texting, instant messaging or watching YouTube videos often do not know that there are 3 types of Facebook profiles.
Pinterest offers more opportunity to retailers than not. Since debuting several months ago, Pinterest has been one of the most discussed social media sites so quickly out of the gates.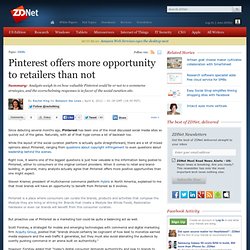 Naturally, with all of that hype comes a lot of backlash too. While the layout of the social curation platform is actually quite straightforward, there are a lot of mixed opinions about Pinterest, ranging from questions about copyright infringement to even questions about leadership behind the scenes. Right now, it seems one of the biggest questions is just how valuable is the information being posted to Pinterest, either to consumers or the original content providers.
When it comes to retail and brand-building, in general, many analysts actually agree that Pinterest offers more positive opportunities than one might expect. Sofia Vergara Takes on SNL. Saturday Night Live returned with a new episode after three weeks of repeats.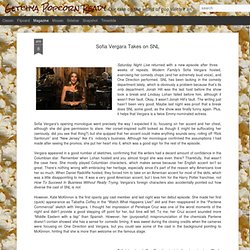 Modern Family's Sofia Vergara hosted, exercising her comedy chops (and her extremely loud voice), and One Direction performed. SNL has been lacking in the comedy department lately, which is obviously a problem because that's its only department. New company launches 'pay by click' social commerce model. A Belgium-based company has launched a new online payment method, specifically designed to deal with small transactions, such as paying for a single click to access a piece of content.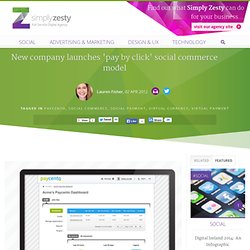 The company, Paycento, claims that they are currently launching an experiment with a major European media player, and they are hoping to transform the way small transactions are carried out online. The system will work by setting up an account initially with Paycento, then any time you want to access a single piece of content, such as reading an article or downloading a song, you do so just by clicking, without the need to fill in any credit card details. As long as you're logged in with Paycento, you won't need to enter any additional details.
They are hoping to mimic the simple action of liking something or retweeting via a tweet button, only this time you'll be paying for something. Access to Content. Which Retailer Is the Most Relevant? Amazon! TEBOWING - 'Draw Something' Pictures by SI Readers - Photos. Move over Words With Friends.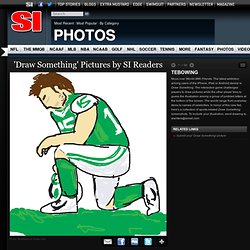 The latest addiction among users of the iPhone, iPad or Android device is Draw Something. The interactive game challenges players to draw pictures while the other player tries to guess the illustration among a group of jumbled letters at the bottom of the screen. Top 10 Marketing Trends of 2012. Like most businesses, you will probably have your marketing plan for 2012 already in place.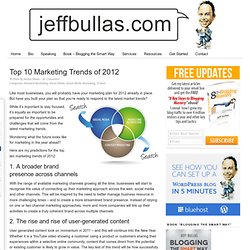 But have you built your plan so that you're ready to respond to the latest market trends? While it's important to stay focused, it's equally as important to be prepared for the opportunities and challenges that will come from the latest marketing trends. Wondering what the future looks like for marketing in the year ahead? Here are my predictions for the top ten marketing trends of 2012: 1. Facebook's Global Ambitions Lure Advertisers. InShare106 How the digital giant's worldwide march affects brands, agencies, and vendors.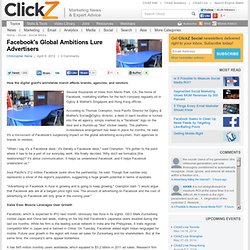 Several thousands of miles from Menlo Park, CA, the home of Facebook, marketing staffers for the tech company regularly sit in Ogilvy & Mather's Singapore and Hong Kong offices. According to Thomas Crampton, Asia Pacific Director for Ogilvy & Mather's Social@Ogilvy division, a desk in each location is tucked into the ad agency, simply marked by a "facebook" logo on the door and a thumbs-up "like" sticker nearby. The platform-in-residence arrangement has been in place for months, he said. It's a microcosm of Facebook's burgeoning impact on the global advertising ecosystem, from agencies to brands to vendors.
Android Tops 50% Market Share in the U.S. [STUDY] Android's share of the U.S. smartphone market topped 50% for the first time in February, according to comScore's MobiLens.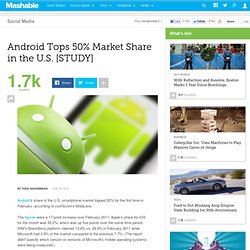 The figures were a 17-point increase over February 2011. Apple's share for iOS for the month was 30.2%, which was up five points over the same time period. RIM's BlackBerry platform claimed 13.4% vs. 28.9% in February 2011 while Microsoft had 3.9% of the market compared to the previous 7.7%. Seeing Social | a peak at social media. This Creepy App Isn't Just Stalking Women Without Their Knowledge, It's A Wake-Up Call About Facebook Privacy.
This app is meant to all be in good fun, but it's potentially a weapon in the hands of stalkers.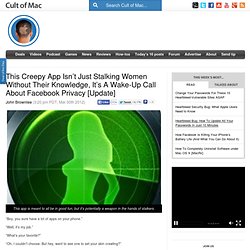 "Boy, you sure have a lot of apps on your phone." "Well, it's my job." "What's your favorite?" 3 Twitter Rumors and What They Could Mean for Brands. David Clarke is CEO and co-founder of BGT Partners, a 2010, 2011 and 2012 Ad Age Top 15 Best Places to Work in the U.S. honoree.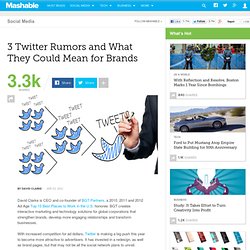 BGT creates interactive marketing and technology solutions for global corporations that strengthen brands, develop more engaging relationships and transform businesses. With increased competition for ad dollars, Twitter is making a big push this year to become more attractive to advertisers. It has invested in a redesign, as well as brand pages, but that may not be all the social network plans to unveil. According to a recent Ad Age report, the company is looking to add new experiences to its platform, in the hopes that the move will entice brands to spend more ad dollars. Pinterest Co-Founder Paul Sciarra Is Now. More developments for Pinterest co-founder Paul Sciarra, who we reported yesterday was leaving Pinterest as Ben Silbermann officially took helm as CEO.
Sciarra is going VC and joining Andreessen Horowitz as entrepreneur-in-residence. The move follows the bigger trend of startup execs/founders getting snapped up by the VC firms, to help them get a bit smarter in how they work with their portfolio companies. Just yesterday, First Round Capital hired Scribd's Jack Leidlein as head of talent. Online Giving Still Fastest Growing Fundraising Channel with Almost 16 Percent Increase in 2011; Mirrors Retail E-Commerce Growth Rate for Last Six Years. Pinterest co-founder Paul Sciarra said to be leaving company.
Update: Sciarra, in a Pinterest blog post, confirmed his departure. Is there trouble in Pinterest paradise? Paul Sciarra (pictured, left), co-founder of digital pin-board sensation Pinterest, is said to be on his way out the door. Stuff Happened This Weekend. - Kansas and Kentucky advanced to the Finals, as I tried (and failed) to care about the Final Four after another year with an early 'Cuse loss and a busted bracket.
Plus, I really can't look at this unibrow any longer. - Ashton Kutcher is reportedly playing Steve Jobs in a biopic. It was sheer coincidence that someone also tweeted this as a April Fools joke. - My roommate John bought this, prompting me to get way too excited for the 4th of July: - The Hunger Games spent its second consecutive weekend on top of the box office charts, crushing the underwhelming openings of both Wrath of the Titans and Mirror Mirror. Do you use other forms of technology (iPhone, iPad, laptop, etc) while watching live TV?
COM 400 - Social Media U Need 2 Know #NewhouseSM4 Spring 2012 "To Do" List - Due Sun., April. 8. COM 400 - Social Media U Need 2 Know #NewhouseSM4 Spring 2012 "To Do" List - Due Sun., April. 8 COM 400 Class Hashtag: #NewhouseSM4. You can also find the class schedule and progress here: COM 400 Social Media U Need 2 Know #NewhouseSM4 Spring 2012 - What We've Accomplished So Far! Presentations - COM 400 - Social Media U Need 2 Know #NewhouseSM4 Spring 2012 Team Teaching Presentation. E-COMMERCE / Walmart expands its Web presence to keep up with Amazon.com. Five years ago, the world's largest retail chain didn't have to worry much about the world's largest online mall. Only about a quarter of Walmart customers shopped at Amazon.com, according to researcher Kantar Retail. Today, half of Walmart customers say they've shopped at both merchants. That's leaving the mega-retailer - which long ago bested brick-and-mortar merchandise stores and supermarkets across America - with a huge online competitor that is too tough to ignore.
Threatening Walmart's dominance are two trends: The discounter's traditional customers - bargain hunters making less than $50,000 a year - are getting more tech-savvy, and more-affluent shoppers who began frequenting Walmart during the recession are returning to Amazon as their finances improve. Social Commerce: Active Social Media Users Say Companies Can Do More with Social Networks. Social Commerce Breakdown: How Levi's and Facebook Prompt Your Friends To Improve Your Buying Experience. Small Businesses Adopt Facebook Commerce. 99Dresses is e-commerce "crack for women" MasterCard to release e-commerce anti-fraud tool. AMC Stands Up For Bully. Selling on Facebook works—for some.
Optimism, But Not Quite .500. Are Blogs Dying? 5 trends that will drive e-commerce strategy. Turning Fashion E-Commerce into a First-Person Experience | FashInvest - Where Fashion Meets Finance. Harry Potter Ebooks Finally Arrive. 5 Ecommerce Social Media Marketing Tips. COM 400 - Social Media U Need 2 Know #NewhouseSM4 Spring 2012 "To Do" List - Due Sun., April. 1. ...But If Watch Community, I Bet You'll Love It. Social Media Becoming an Invaluable eCommerce Tool for Sports and Entertainment. Why ecommerce is critical for marketers. Wal-Mart's E-Commerce Plays Catch-Up to Amazon, How Hiring Makes Uniqlo Successful, Tiffany Profit Dips - Heard on the Runway.
Indian e-commerce market may touch $ 260 billion by 2025: Report - The Economic Times. What makes Pinterest so addictive? Google's new social report focuses on dollars instead of Likes. Facebook Marketing Even Works For Niche Retailers. Why You Should Root For Community (Even If You Don't Like It) How E-commerce Has Remodeled Offline Stores. Features / BrandLine : It's a Kodak moment! THR Poll: 9 out of 10 Call Social Media New Form of Entertainment; Young People Want Texting in Movies. The Hunger Games.
Online retailers like social media buttons. An Artistic Look At The iPhone 5. Slicing Up The iPhone 4: What It Really Costs. Zynga's bid for Draw Something may top $200 million. COM 400 - Social Media U Need 2 Know #NewhouseSM4 Spring 2012 "To Do" List - Due Sun., Mar. 25. The Right (and Wrong) Way to Adapt a Screenplay. The downloads & song plays an artist must sell to earn a US monthly minimum wage might surprise you. The Twitter Impact of SXSW. How To Customize Timeline On A Facebook Page. HBO's Girls Gets Rave Reviews. Box Office Shocker: 'Hunger Games' Tracking to Open Bigger Than 'Breaking Dawn' 21 Jump Street, Cabin in the Woods. 'Willy Wonka And The Chocolate Factory' Cast: Where Are They Now? SXSW debate: Social networks must require real names | Privacy Inc. SXSW 2012: '21 Jump Street,' And How Studios Have Started Using Austin To Launch R-Rated Comedies. New STAR WARS IDENTITIES Posters Ask "What Forces Shape You?" How Social TV Helped Save a Fox Sports Marketing Campaign | Trending Topics: What's Hot Right Now in Social Media.
Twitter, Google+ And Facebook – 5 Reasons Why You Should Never, Ever Cross The Streams. TV viewing being driven by social media buzz, says report - Media News. Employers Asking Applicants for Facebook Passwords. PearlTrees. Live Tweeting with Ken Burbary in NewhouseSM4 · Izzo_Michael. Live Tweeting with Ken Burbary in NewhouseSM4 · Izzo_Michael. A Wiki of Social Media Monitoring Solutions. CHART OF THE DAY: The iPad Is Outselling Every Single PC. How Do Games Make Kids Smarter? Ted.com #video. Volkswagen's Augmented Reality Advertising Campaign #video. "7 Minutes in Heaven" Is Time Well Spent. 6 Excellent iPhone Apps Worth Paying For. A day in the internet. Texting from the toilet. Here's three brand new insane Skittles spots. MLB Playoff Expansion? Wake Me For October.
---