Curation
It's counter-intuitive--especially to Americans. But often less is more. When Erin Scime wrote a blog titled: "Content Strategist as Digital Curator", it's pretty clear that she didn't expect to stir up a whole lot of emotions and anger.
Robert Scoble On Online Curation blip.tv
Maybe you don't have the resources to develop a lot of content, or maybe you're a professional association that wants to serve its members better by being super helpful. Add that there are many more content creators, inside and outside organizations, and you see how curating information as content strategy could be a very elegant option . Noting the evolution on the World Wide Web quickly to show you a pattern that went in lockstep with use. You had forums and discussion boards, many still very active, Web sites, then journals, which evolved into blogs with RSS (real simple syndication) capability to package and read feeds, social bookmarking and networks, and then media sites to upload and view videos, photographs, etc. Each set of tools building on the next, thriving when filling a specific need, and evolving or morphing into something else as appropriate.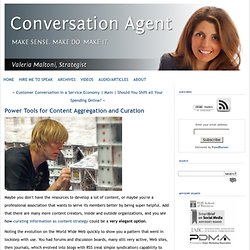 A Brief History of Curating (Documents) (9783905829556): Lucy Lippard, Hans Ulrich Obrist, Walter Hopps, Pontus Hulten
A few weeks ago now, I posted an opinion piece on Technorati titled, ' Why Social Media Curation Matters '. Following this I received quite a lot of feedback and it's thanks to one of these comments – posted by on my blog – that I was led to Pearltrees . In addition to this, I was also motivated to re-evaluate my position on the subject of curation and take a closer look at what I perceived that to be. At first I made the rather naïve assumption that the difference between Pearltrees and the services I'd discussed in my previous articles both here and on my blog , was purely aesthetic – Pearltrees has a beautifully designed Flash interface. However, as I delved further into the service, and further contemplated readers' feedback, I began to realise that there were actually some fundamental differences both in the approach of the developers and in my perception of curation.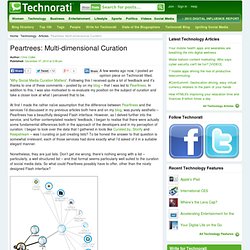 Steven Rosenbaum is a curator, author, filmmaker and entrepreneur. He is the CEO of Magnify.net , a real-time video curation engine for publishers, brands, and websites. His book Curation Nation is slated to be published this spring by McGrawHill Business. As the volume of content swirling around the web continues to grow, we're finding ourselves drowning in a deluge of data.