Iwwt
germé
consultant web
The Twenty Ten Course - Golf in Wales, The Celtic Manor Resort, UK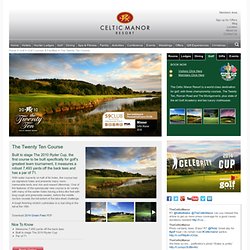 Built to stage The 2010 Ryder Cup, the first course to be built specifically for golf's greatest team tournament, it measures a robust 7,493 yards off the back tees and has a par of 71. With water hazards on half of its holes, the course has six signature holes and presents many more memorable tests and risk-and-reward dilemmas.
web-analytics et Mesure d'audience
Tout le monde entendu parlé de Twitter.com, ce service de MicroBlogging qui permet d'envoyer des messages de 140 caractères à ses correspondants. Mais cet outil ne s'est pas encore démocratisé, et il est encore l'apanage d'une minorité férue de technologie. Pourtant cet outil recèle un énorme potentiel pour trouver des clients, améliorer le référencement d'un site internet, garder le contact avec ses prospects… C'est pourquoi nous allons vous présenter comment utiliser Twitter pour un usage professionnel. Pourquoi utiliser Twitter ? Au départ Twitter est un outil dont on ne voit pas trop l'intérêt, car si on veut envoyer un message il y a les emails, si on veut gérer ses contacts il y a Facebook, si on veut chatter il y a MSN, si on veut écrire des articles il y a les blogs et pour partager des liens intéressants il y a les Digg Likes… Alors pourquoi Twitter ?