Anarchism and Freedom
24-types-of-authoritarians.jpg (JPEG Image, 532×799 pixels)
It's not often that you get to witness the birth of a new philosophy. However, according to the UK Home Office, a new philosophy is at the heart of their new Surveillance Camera Code of Practice, published this month, and currently subject to a badly publicized consultation process.
Leading surveillance societies in the EU and the World 2007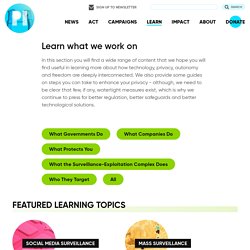 It's over. There can be no hope for the state now. Its time has finally come to an end.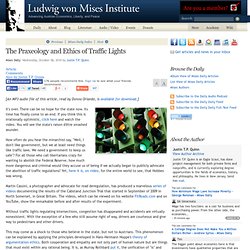 The Praxeology and Ethics of Traffic Lights - Justin T.P. Quinn
paradigm14.PDF (application/pdf Object)
PLEASE READ!!!!! italic text This site will become inactive within probably a month. I have switched everything over to a new site that is ad free and a better design, please visit that one instead, and link to it. For simplicity sake, you can go to againstcivilization.tk or if you want to be able to link to individual articles at the site, you can go to againstcivilization.allalla.com , they are both the same website, but the .tk domain name will never change regardless of where you're at on the site whereas the allalla.com will change with the page just like this site. I am still updating that site but everything from here is on it.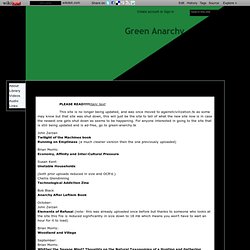 About - Green Anarchy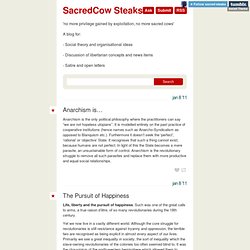 Life, liberty and the pursuit of happiness . Such was one of the great calls to arms, a true raison d'être, of so many revolutionaries during the 18th century. Yet we now live in a vastly different world. Although the core struggle for revolutionaries is still resistance against tryanny and oppression, the terrible two are recognised as being explicit in almost every aspect of our lives. Primarily we see a great inequality in society, the sort of inequality which the slave-owning revolutionaries of the colonies too often seemed blind to. It was the chauvinism of the north-western hemisphere which allowed them to determine freedom as being their own right to make money and exploit the New World, rather than freedom for all of humanity.
SacredCow Steaks
SacredCow Steaks
The new pirate political party in Sweden, which takes a stern anti-copyright stance, and helps out torrent-sharer Pirate Bay , now plans to launch the world's first "pirate ISP."
Sweden Getting World's First Pirate-Friendly ISP
This classic statement of anarchism was written by a diverse group of anarchists in Cardiff around 1980 and it is an interesting historical record of the optimism of mainstream anarchist thought at that time. Terry Phillips There is probably more rubbish talked about anarchism than any other political idea.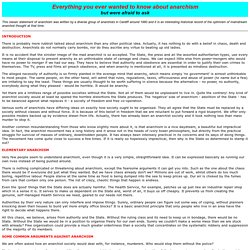 George Bush and his supporters like to point to the absence of major terrorist attacks since 9-11 as a vindication: "His policies kept us safe." Lisa Simpson once parodied such arguments: "By your logic, I could say this rock keeps tigers away." Homer: "Oh, how does it work." Lisa: "It doesn't work.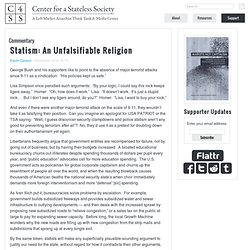 Statism: An Unfalsifiable Religion