New Electronic Musik
rGqlq.png (1386×1592)
1000 Most Influential Tracks on SoundCloud - Dec 2011 | SoundCloudWall
Handcrafted internet radio | 8tracks
play queue Apostolic Truth (Original Mix) Hanibal Kutmusic
▶ Kutmusic :: Tracks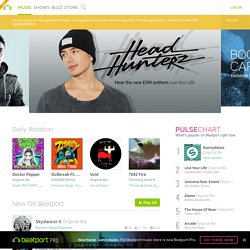 1320 Mixtape Volume II [1320 Records
Music (Tunes and Releases) information about releases and discussion about tunes you heard somewhere (nights, radio, mixes etc) Forum rules Thread format: ARTIST - TITLE [LABEL] (cat number and release date optional) and post audio if possible. [Free releases] can be posted here and highlighted after tune information in thread name, but please do not post mixes or dubs here.
View forum - Music (Tunes and Releases)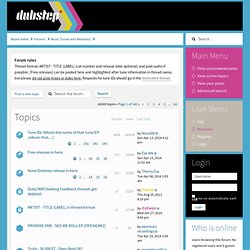 Radio 1 - DJs/Shows - DJs
Dubstep.fm - Dubstep Radio - The World Is Listening
Dubstep 101 | Dubstep Tracks, Dubstep News & Dubstep Interviews
Can we make a list of Songs, Tunes and Music that everyone has heard but rarely knows the name? : AskReddit
BassHub - The Bass Music Network
LessThan3
Beatport
url?sa=t&rct=j&q=&esrc=s&source=web&cd=1&sqi=2&ved=0CCUQFjAA&url=http%3A%2F%2Fthissongissick
Can we make a list of Songs, Tunes and Music that everyone has heard but rarely knows the name? : AskReddit
Today I stumbled across a genre of music called "electro-swing" that combines big-band era swing with modern era electronic music. It's the coolest god damn fusion I've ever heard. : videos
Only new music releases. Singles, Remixes, Mixes, LiveSets, RadioShows, Charts and many more. Filesonic, torrent, mediafire, megaupload, zippyshare, rapidshare. | MP3 Download
What is one band/artist that, through multiple albums, has never ever disappointed you? : AskReddit
Latest Songs From MP3 & Music Blogs / The Hype Machine
From the depths of his sophomoric yet mischievous mind, Doomcloud has returned to unleash his latest creation, The Masquerade. This album is aggressively smothered with four original NES productions that even the Underworld would approve of. Please experience these tunes at your own risk.
8bitpeoples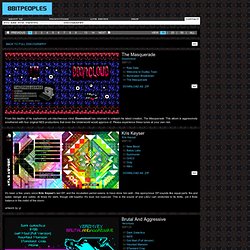 Hello World!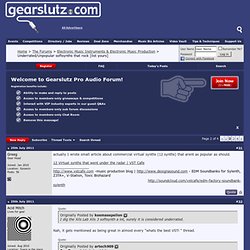 Underrated/Unpopular softsynths that rock [list yours] - Page 2
Quote: Originally Posted by SWAN808 Not many people talk about it - but I think Tone 2 Gladiator 2 is a pretty good soft synth...
LIVE | Pause
Dead Air Space
Office chart without an Umbrella .. or an Ark ... yet 1.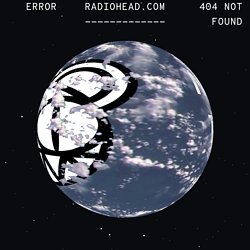 New releases pertaining to the, erm, (worldwide) bass scene. So that's from uk.garage, dubstep, and grime to future.garage and "post.dubstep" via uk.funky and including the likes of drum.and.bass, house, and techno. Not forgetting wonky, 2step, juke, tech.house, deep.house, those autonomic guys, and footwork. For the sake of completeness, let's also say: experimental, idm, acid, dance, minimal, ambient, beats, trip.hop and hip.hop.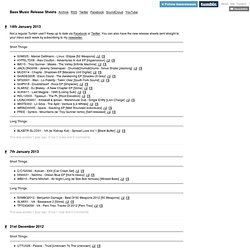 Bass Music Release Sheets
Downloads Recent Releases in All Genres - Page 1
Tuesday, 07 January In 2013 the reissue machine cranked out some real beauties: from the celestial soul of Iasos to Saâda Bonaire's deeply sexy dance-pop and the narcotic psychedelia of Vox Populi!, we were all blessed with an abundance of vintage music ripe for reappraisal. The rarified world of early '80s private pressings yielded incredible treats such as Conrad & Gregor Schnitzler's pop project and the studio rituals of Conny Plank and Holger Czukay's Les Vampyrettes, alongside American goodies such as The Space Lady's enchanting 'Greatest Hits' compilation and the mystic swirl of Leven S… Read more Monday, 06 January Distance and Commodo rep rooted, vintage and modern takes on Mala's classic 'Changes'.