New Electronic Musik
rGqlq.png (1386×1592)
1000 Most Influential Tracks on SoundCloud - Dec 2011 | SoundCloudWall
Handcrafted internet radio | 8tracks
▶ Kutmusic :: Tracks
1320 Mixtape Volume II [1320 Records
View forum - Music (Tunes and Releases)
Radio 1 - DJs/Shows - DJs
Dubstep.fm - Dubstep Radio - The World Is Listening
Dubstep 101 | Dubstep Tracks, Dubstep News & Dubstep Interviews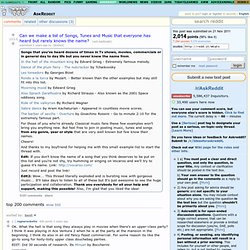 Songs that you've heard dozens of times in Tv shows, movies, commercials or in general day to day life but you never knew the name from. In the hall of the mountain king by Edvard Grieg - Extremely famous melody. Dance of the plum fairy - The nutcracker by Tchaikovsky Les toreadors By Georges Bizet Rondo a la turca by Mozart. - Better known than the other examples but may still fit into this list. Moorning mood by Edward Grieg
Can we make a list of Songs, Tunes and Music that everyone has heard but rarely knows the name? : AskReddit
BassHub - The Bass Music Network
LessThan3
Beatport
url?sa=t&rct=j&q=&esrc=s&source=web&cd=1&sqi=2&ved=0CCUQFjAA&url=http%3A%2F%2Fthissongissick
Can we make a list of Songs, Tunes and Music that everyone has heard but rarely knows the name? : AskReddit
Today I stumbled across a genre of music called "electro-swing" that combines big-band era swing with modern era electronic music. It's the coolest god damn fusion I've ever heard. : videos
A great place for video content of all kinds. Direct links to major video sites are preferred (e.g. YouTube, Vimeo, etc.) No politics. Political videos (including ones related to current political figures) should be submitted to r/politics, r/worldpolitics, etc.No personal information such as names, Facebook pages, phone numbers, addresses, etc. This is grounds for an immediate (and likely permanent) ban, so consider this a warning.No witch-hunting or incitement to witch hunt.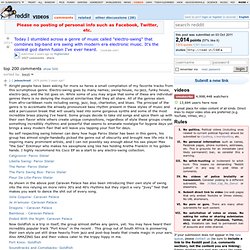 Only new music releases. Singles, Remixes, Mixes, LiveSets, RadioShows, Charts and many more. Filesonic, torrent, mediafire, megaupload, zippyshare, rapidshare. | MP3 Download
VA-Mash-Up Your Bootz Party Sampler Vol. 82 (2014) Genre: Club, Dance, Pop, R&B, Disco Quality: 320Kbps 44100Hz Full Stereo Exclusive, Fresh and Promo Tracks Tracklist: 01. Nirvana vs. DJ Fresh, Jay Fay & Ms.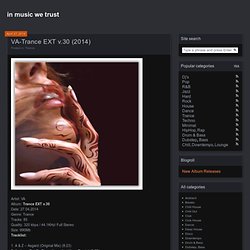 For me, it would be Modest Mouse. Every single album, every single song. Isaac Brock is a dysfunctional inspiration to me. Edit: Holy shit this blew up.
What is one band/artist that, through multiple albums, has never ever disappointed you? : AskReddit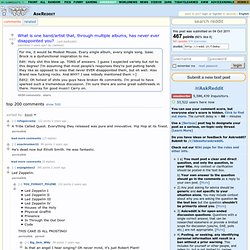 Latest Songs From MP3 & Music Blogs / The Hype Machine
From the depths of his sophomoric yet mischievous mind, Doomcloud has returned to unleash his latest creation, The Masquerade. This album is aggressively smothered with four original NES productions that even the Underworld would approve of. Please experience these tunes at your own risk.
8bitpeoples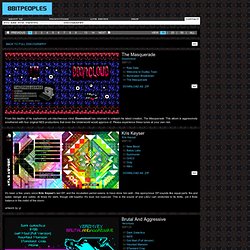 Hello World!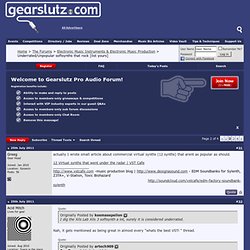 Underrated/Unpopular softsynths that rock [list yours] - Page 2
Quote: Originally Posted by SWAN808 Not many people talk about it - but I think Tone 2 Gladiator 2 is a pretty good soft synth...
LIVE | Pause
Dead Air Space
This photo of the Earth was taken by Voyager 1 in February, 1990. The spacecraft was 3.7 billion miles away from Earth. "Look again at that dot.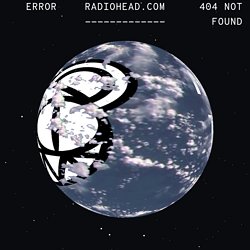 New releases pertaining to the, erm, (worldwide) bass scene. So that's from uk.garage, dubstep, and grime to future.garage and "post.dubstep" via uk.funky and including the likes of drum.and.bass, house, and techno. Not forgetting wonky, 2step, juke, tech.house, deep.house, those autonomic guys, and footwork. For the sake of completeness, let's also say: experimental, idm, acid, dance, minimal, ambient, beats, trip.hop and hip.hop.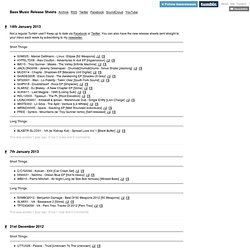 Bass Music Release Sheets
Downloads Recent Releases in All Genres - Page 1
Monday, 14 April Review to follow shortly… "Rhys Chatham has trailblazed a course through late 20th century music, equally knowing in post-minimalist composition as he is in punk. Not since Roebling laid his span across the East River has there been an artist who builds bridges in both how we hear music and how we can appreciate art. His latest album, Outdoor Spell, is a further impressive document thats hard to classify, recording for trumpet and voice, both electrified and dry. "...one of the downtown greats looming larger than the Federal Reserve building." —Pitchfork."