Webtools
Joomla. The leading free stock photography site. Download. Artisteer - web design software and joomla template maker. JavaScript by GreyWyvern. JavaScript is a lot like PHP in syntax so I find it relatively easy to switch between the two.
The Orca Scripts, for example, use a lot of dynamically generated JavaScript which fades away seamlessly if it's disabled in the client browser. As it happens, I am a stickler for building JavaScript that doesn't "mess up" the page when it's disabled. I test all my JavaScript in Opera, MSIE, Firefox and Safari/Chrome. ... or in an external file with a .js extension.
So if you're unsure of where to put some code you've downloaded off this site, that's where it goes! Mysql1 Tutorial, ICER.nl. Programmeren in PHP/Inleiding. Aanvankelijk stonden de letters PHP voor Personal Home Page (de volledige naam van de software was Personal Home Page/Forms Interpreter, PHP/FI).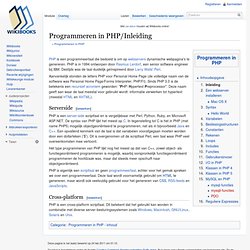 Sinds PHP 3.0 is de betekenis een recursief acroniem geworden: "PHP: Hypertext Preprocessor". Deze naam geeft aan waar de taal meestal voor gebruikt wordt: informatie verwerken tot hypertext (meestal HTML en XHTML). Serverside[bewerken] PHP is een server-side scripttaal en is vergelijkbaar met Perl, Python, Ruby, en Microsoft ASP.NET. PHP Beginners handleiding - PHP tutorials - PHPhulp.
Joomla! nieuws, informatie en blogs | JoomlaCommunity.eu. Projecten > Dutch Translation Team > Bestanden > Bladeren door Frs pakket. Joomla! Handleiding HTML - De Nederlandse informatiebron op het gebied van HTML en CSS.
---