Bible Study
Brief Overview - Caesar Augustus, Caesar Nero, Herod the Great, High Priests, Tax Collectors, Herod Antipas, Herod Agrippa I, Pontius Pilate, Jewish Literature, Pharisees, Scribes, Samaritans, Paul's First Missionary Journey, Paul's Second Missionary Journey, Court of the Gentiles, Map of Jesus' Ministry, New Testament Cities, Chronology of Jesus' Life, New Testament Books, Jewish Calendar, Messianic Prophecy, Herod's Temple, Ancient History Timeline, Israel and Judah, David's Kingdom, Seven Nations of Canaan, Ancient Oil Lamps, Destruction of Israel, Assyria and Bible Prophecy, Archaeology and Assyria, Assyria Social Structure, Destruction of Judah, Babylonian Captivity, Black Obelisk, Court of the Women, Antonia Fortress, Israel's Sacred Year, more to come. The Bible Knowledge Accelerator Programs - Informational Bible studies with a brief overview of various people, places, and events in the ancient world.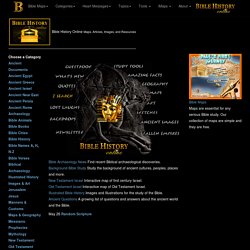 This survey covers a small part of the huge body of New Testament studies --- how the Church selected certain writings as authoritative and separated them from a larger body of early Christian literature. In view of the central importance that the New Testament has within Christianity, it is amazing that there is an absence of detailed accounts of such a significant process. My goal is to collect and organize the information that is available, and make it easily accessible in the form of hypertext (see the Hypertext Conventions). I especially hope this site will be useful to persons who cherish the New Testament, but are unfamiliar with the history of its development.
The Development of the Canon of the New Testament - Home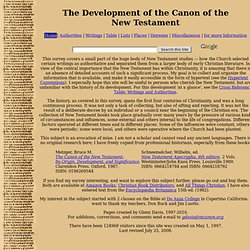 Table of ContentsPrefaceAn Introduction To Textual CriticismKey To AbbreviationsMatthew: 1:7-10:3 10:25-18:15 18:26-28:6Mark: 1:1-7:28 8:10-16:20 Luke: 1:17-9:2 9:26-14:5 15:16-24:52 John: 1:15-8:57 8:59-21:25 Acts: 1:19-11:23 12:25-20:15 20:21-28:29 Romans: 1:13-9:23 10:9-16:27 1 Corinthians: 1:4-16:24 2 Corinthians: 1:6-13:4 Galatians: 1:3-6:13 Ephesians: 1:1-6:20 Philippians: 1:14-4:16 Colossians: 1:2-4:15 1 Thessalonians: 2:7-5:27 2 Thessalonians: 2:3-3:16 1 Timothy: 1:12-6:7 2 Timothy: 2:14-4:10 Titus: No Major Variants Philemon: 6-25 Hebrews: 1:2-13:25 James: 1:17-5:12 1 Peter: 1:8-5:13 2 Peter: 1:1-3:18 1 John: 1:4-5:18 2 John: 8-12 3 John: No Major Variants Jude: 5-23 Revelation: 1:5-14:3 14:13-22:21 Appendix: The Style of the Long Ending of Mark Copyright © by Ralph Bruce Terry 1985, 1998 All Rights Reserved.
The Biblical View on Abortion -- John MacArthur