Web_design
With your inbox bulging with email newsletters - from small businesses you've never heard of to major retailers such as Amazon - it soon becomes clear how needlessly complex some newsletters can be, and how quickly they disappear into your trash folder. These simple but visually stunning newsletter designs are a selection of the few that have caught our eye... 01. Freshbooks Accountancy is not the most glamorous of topics, nor is it an industry particularly renowned for clean, simple digital marketing. But Freshbooks, the online accounting service based in Edinburgh, has nailed it with this clean looking template.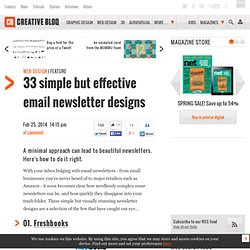 33 simple but effective email newsletter designs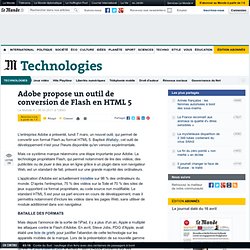 L'entreprise Adobe a présenté, lundi 7 mars, un nouvel outil, qui permet de convertir son format Flash au format HTML 5. Baptisé Wallaby, cet outil de développement n'est pour l'heure disponible qu'en version expérimentale. Mais ce système marque néanmoins une étape importante pour Adobe.
Adobe propose un outil de conversion de Flash en HTML 5
Bonnes feuilles : Ergonomie Web illustrée
There is a thin line between design and development, and as we move into a new decade, this line is becoming extremely blurry. Is it enough to draw beautiful mock ups in Photoshop? Maybe 5 years ago.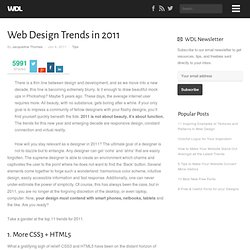 Recently, I've been getting into html5 a lot more. I maybe a little late, but I don't think there's something new out right now, so I will keep learning more about it until something else comes out. In this post, I have 9 Website to Learn the Basics About html 5.
9 Websites to Learn the Basics About html 5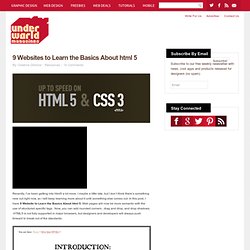 Par Olivier Duffez, Jeudi 4 novembre 2010 La rapidité d'un site est devenue un critère pris en compte dans le référencement Google en 2010... Comment améliorer le temps de chargement des pages de votre site ?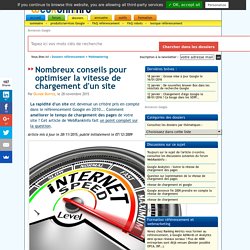 Comment rendre son site plus rapide : toutes les solutions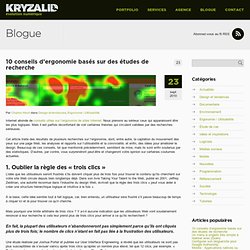 Internet abonde de conseils utiles sur l'ergonomie de sites Internet. Nous prenons au sérieux ceux qui apparaissent être les plus logiques. Mais il est parfois réconfortant de voir certaines théories qui circulent validées par des recherches sérieuses. Cet article traite des résultats de plusieurs recherches sur l'ergonomie, dont, entre autre, la captation du mouvement des yeux sur une page Web, les analyses et rapports sur l'utilisabilité et la convivialité, et enfin, des idées pour améliorer le design.