Services Web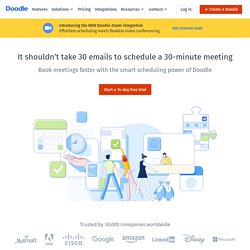 Find a date for a meeting 2x faster Doodle cooperates with your calendar No switching between your calendar and Doodle Avoid conflicting bookings Automatically sync appointments to your calendar
Pollen
Pollen est une application de consultation web. Elle est destinée aux petites entités qui veulent un moyen simple de gérer des consultations tout en restant maître de leurs données. Le but de Pollen n'est pas de permettre de faire du vote en ligne et de remplacer les scrutins existant mais d'introduire de nouveaux usages de consultation/sondage/vote là où il n'y en a pas. De ce fait aucune réflexion sur la sécurité des votes a été conduite, car ce n'est pas notre but. Pas besoin de créer de compte utilisateur...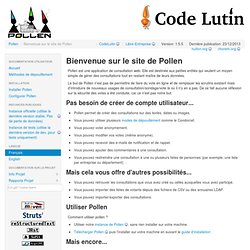 Pollen
WebToMail
Posted: May 9th, 2012 | Author: webtomail | Filed under: Internet | Tags: FBI warns , hotel WLANs , malware update The U.S. federal police FBI has issued an alert to warn the owners of mobile computers from public networks. Especially in hotel WLANs you have watched recently that users will be "foisted" on a routine update disguised malware. How the FBI on the government side ' Internet Crime Complaint Center '(IC3), a joint task force of several U.S. agencies, writes that it was able to observe more recently that the users in hotel networks malicious software could be captured. Here travelers have tried to build the hotel rooms have an Internet connection. She then received a pop-up with a notification that informed them that there was an update for widespread and frequently updated software products.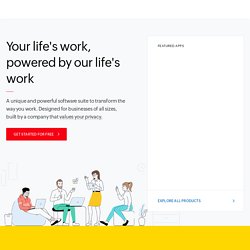 With Zoho, you focus on your business while we take care of the rest with apps that help you get more sales, get paid, support your customers and make your business more productive. "One of our favorite cloud office suites comes from Zoho" "Zoho is the most comprehensive suite of web-based programmes for small businesses..." "I typed this story in Zoho Writer, even though I had never even tried it until this week. So far, so good..."