Services Web
Easy Scheduling. Pollen. Pollen. Pollen est une application de consultation web.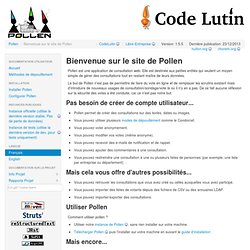 Elle est destinée aux petites entités qui veulent un moyen simple de gérer des consultations tout en restant maître de leurs données. Le but de Pollen n'est pas de permettre de faire du vote en ligne et de remplacer les scrutins existant mais d'introduire de nouveaux usages de consultation/sondage/vote là où il n'y en a pas. De ce fait aucune réflexion sur la sécurité des votes a été conduite, car ce n'est pas notre but.
Pas besoin de créer de compte utilisateur... Tradukka | Translation in real time. WebToMail. Online Office, Word Processor, Spreadsheet, Presentation, CRM and more. An Open Source Web Office. Remember The Milk. Programmation facile.
---