Photographie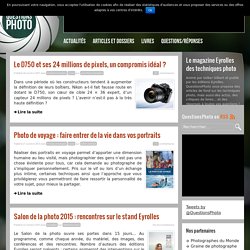 Le Nikon D610 a remplacé le D600 fin 2013, qui avait acquis la réputation d'appareil maudit du fait du nombre conséquent d'exemplaires ayant dû retourner au SAV pour cause de présence récurrente de poussières, notamment dans l'angle supérieur droit de l'image. Nikon n'a pas communiqué sur la cause de ces défauts (certains ont soupçonné des éclats de peinture se détachant du revêtement interne, qui « aspirés » par l'obturateur étaient ensuite « hachés menus » par les lames de ce dernier), mais semble y avoir remédié : pas de retour sur d'éventuels problèmes de poussière sur le D610, or nul doute que s'ils existaient, les forums Internet du monde entier s'en feraient l'écho. Le D610 comporte par ailleurs un nouvel obturateur permettant la prise de vue en mode rafale de façon plus silencieuse que son prédécesseur. Lire la suite
Questions Photo
Le monde de la photo
Le magasine Chasseur d'image
Portfolio | Julien TACK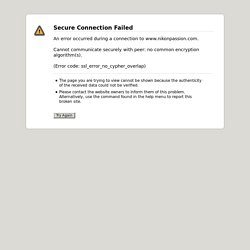 Les secrets de la photo de nuit : matériel, technique, esthétique Les secrets de la photo de nuit est un guide pratique sur le matériel, la technique et l'esthétique propres à la photographie en conditions sombres. Il est écrit par Vittorio Bergamaschi, photographe professionnel et formateur […] Comparaison Nikon D3200 – D3300 – D5200 – D5300 Difficile de s'y retrouver quand on cherche un reflex abordable pour s'initier à la photo numérique ou pour remplacer son compact ou son bridge par un modèle plus performant ! Nikon D3200 – D3300 Nikon […]
Nikon Passion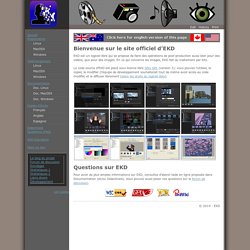 EKD est un logiciel libre qui se propose de faire des opérations de post-production aussi bien pour des vidéos, que pour des images. En ce qui concerne les images, EKD fait du traitement par lots. Le code source d'EKD est placé sous licence libre GNU GPL (version 3): vous pouvez l'utiliser, le copier, le modifier (l'équipe de développement souhaiterait tout de même avoir accès au code modifié) et le diffuser librement (selon les droits du logiciel libre). Pour avoir de plus amples informations sur EKD, consultez d'abord l'aide en ligne proposée dans Documentation (et/ou Didacticiels). Vous pouvez aussi poser vos questions sur le forum de discussion.
EnKoDeur-Mixeur | Accueil / Accueil browse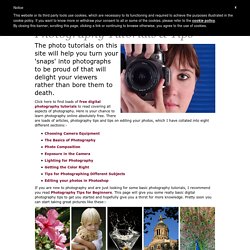 <a href="http://feed2js.org//feed2js.php?src=http%3A%2F%2Fwww.geofflawrence.com%2Fblog%2F%3Ffeed%3Drss&num=3&desc=100>1&date=y&tz=+1&utf=y&html=y">View RSS feed</a> The tutorials on this site will help you turn your 'snaps' into pictures that will delight your viewers rather than bore them to death. Click here to find free tutorials to read online, covering all aspects of photography. There are articles on all aspects of photography and photo editing, which I have collated into eight different sections;
Free Digital Photography Tutorial Site
Digital Photography Tutorials
Learn how to take and edit digital photographs using visual tutorials that emphasize concept over procedure, independent of specific digital camera or lens. This is a complete listing of all tutorials on this site; click the drop-down links in the top menu to see particular topics. Photography is going through an exciting transition period as many film photographers are beginning to explore the new capabilities of digital cameras. While the fundamentals have remained similar, other aspects are markedly different. This is a great time to get involved with digital photography. These tutorials are rarely influenced by changes in image editing software and camera equipment — due to their unique concept-based approach.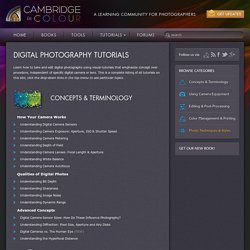 lastnightsparty
AMBREL ::..
Hey, hi there. Nikola Tamindzic here — the photographer behind Ambrel.net, in case we were never properly introduced. This was the home of the vain. Ok, so it has become pretty clear that something was afoot as the updates were becoming more and more spread out. Put simply, as a site dedicated solely to nightlife photography, Ambrel.net has run its course.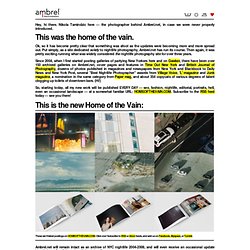 TAMARA LICHTENSTEIN
VirusPhoto - Forum photo numérique
Photo.net
Lensbaby Spark Review by Jackie DiBenedetto, April 2014 Itching to try out a new gadget? Stuck in a creative rut? Read about this inexpensive lens that forces you "out of the box."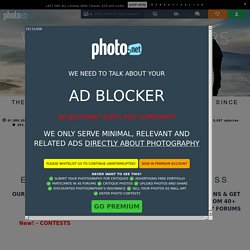 Les Numeriques